Chihong's Green Transformation Model
By staff reporter AN XINZHU
In May 2013, Yunnan Chihong Zinc and Germanium Co., Ltd. (Chihong Zn&Ge) bought 51 percent of the shares of two Bolivian mining companies and undertook a month-long evaluation of the mines' local environments. La Razón newspaper, which has the biggest circulation in Bolivia, reported Chihong's acquisition with the headline "China assesses the environmental impact of their investments," claiming that the mining projects were the first to pass the test in Bolivia. The report commended Chihong's respect for local religion, cultural tradition and folk customs, and environmental protection consciousness.
Chihong Zn&Ge has been on a course of change for many years, and has made headway in such fields as metallurgy technology, product innovation, energy conservation and emissions reduction. When Chihong explores its opportunities for international investment – in Canada, Australia and Latin America – it spotlights clean production.
Based in Qujing, Yunnan Province, Chihong Zn&Ge is the largest nonferrous metal processing company in the region, and a typical resource-based enterprise. But Yunnan, the frontier province in southwestern China, lags economically far behind the Yangtze River and Pearl River deltas, centered in Shanghai and Guangzhou, respectively.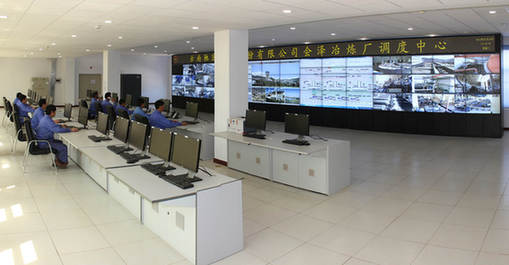 Inside the Huize Refining Branch Company, Chihong.
Transformation, No Easy Feat
Qujing in eastern Yunnan has the second largest industrial economic aggregate in the province, and is an important industrial base by virtue of its rich coal resources.
Under the pressure of aggravated pollution and the demand for sustainable growth, both local governments and enterprises now face the pressing task of economic restructuring and industrial upgrading, and a slew of policies have been promulgated in this regard. This trend has a huge impact on Qujing's industrial sector, which is resource-based and dominated by heavy chemical industry and primary processing. Consequently, the local economy increasingly feels the pinch of inherent problems like lack of structural diversity, short industrial chain, low added value and weak market competitiveness.
Looking back at China's development, there have been altogether three significant industrial upgrades and economic transformations in the 32 years since commencement of China's reform and opening-up to 2010. During this period the world proportion of Chinese manufacturing added value grew from 3.15 percent to 19.8 percent. To regional governments and enterprises, the pace and quality of industrial transformation are decisive to the competitiveness of the regional economy and the prospect of their future growth.
Therefore, transformation and upgrading are imperative for the steady and constant development of Qujing's industry.  
Established in 1951, Chihong Zn&Ge was the first enterprise in China to successfully extract the element germanium from lead-zinc oxide ores. In the wake of the financial crisis in 2008, Chihong, along with other resource-based enterprises in Qujing, had to face the challenge of transformation.
In June 2011, in order to improve productivity, Chihong overcame diverse difficulties and closed its 46-year-old smelter located in Huize County.
Services