Economic Transformation in Ningxia
By staff reporter ZHOU LIN
Ningxia Hui Autonomous Region in northwestern China forms an essential channel connecting Asia, Africa and Europe, a crucial route on the ancient Silk Road, where nomads, envoys and merchants frequently gathered and traveled between East and West.
For a long time, coal, electricity and raw materials have played a dominant role in Ningxia's industry, which recently confronted the challenges of heavy energy consumption and a short industry chain. In the face of such issues, Ningxia's economy is undergoing a strategic transformation to break the shackles of resource depletion.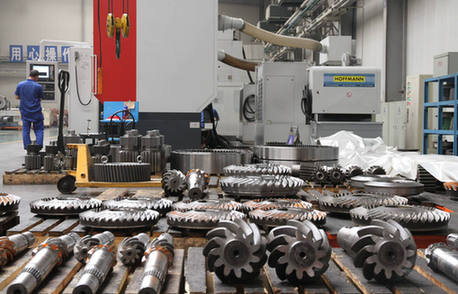 Mechanical components manufactured by a renowned enterprise in Shizuishan of Ningxia represent the city's transformation from a coalmining area to an industry hub.
Inland Openness
In the Ningxia Eco-Textile Demonstration Park, located in Helan County, Yinchuan City, capital of Ningxia Hui Autonomous Region, the hustle and bustle of spinners and cotton beaters has been replaced by the whir of huge machines, quickly and methodically working the mill.
"Our new automatic production facilities mean that the demand for workers has dramatically reduced from 6,000-plus to the less than 300 required to take care of the machines. This means huge savings on the cost of human resources," Yu Hengxing, president of Ningxia Ruyi Technology Fashion Industry Ltd, explained. "What you see now is the first-phase project of our company, which is expected to realize a RMB three billion output value by the end of this year, contributing RMB 150 million in tax revenues."
The company is an innovative enterprise, solely invested by Shandong Ruyi Group, one of China's Top 500 Enterprises and Top 10 Wool Textile Enterprises. On September 2, 2014, initiated by Ruyi Group and benefitting from the preferential policy adopted in the Yinchuan Comprehensive Bonded Area, China's first fully-automatic spinning production line went into operation. It is predicted that another RMB 20 billion in output value will be achieved by the end of June 2015 when the project is completed.
September 12, 2012 was a milestone on the course of reform and opening-up in Ningxia. At the Third China-Arab States Economic and Trade Cooperation Forum, Premier Li Keqiang announced that the State Council had approved the four-square-kilometer Yinchuan Comprehensive Bonded Area, making Ningxia the first open economic pilot district in China's inland.
Enterprises in the Yinchuan Comprehensive Bonded Area enjoy abundant preferential policies. In short, foreign products are not subject to import tariffs, while domestic enterprises can enjoy a rebate on export tax.
Ningxia is landlocked. But this doesn't deter the region from following its own path towards an open economy. In 2008, the research center of the Ningxia Hui Autonomous Region Development and Reform Commission carried out a research project entitled Accelerating the Progress of Ningxia's Opening to the Outside World and made the following discoveries: Ningxia's opening-up achieved a contribution rate of 24.44 percent to the regional economy, 20.12 percentage points lower than the national average of 44.56 percent; among the 31 inland provinces, autonomous regions and municipalities, Ningxia's openness ranked fourth from last, just ahead of Guizhou, Qinghai and Tibet.
Services