Moves Afoot to Subdue Smog
By staff reporter AN XINZHU
Smog has been the bane of Chinese people's lives in recent years. But as Premier Li Keqiang recently announced to the nation and the entire international community, China is to declare war on pollution. Although fraught with challenges, the campaign implies abundant investment opportunities.
The Global Cleantech Summit 2014 held in Beijing last September drew 200 or more clean-tech enterprise representatives and investors from China, North America and Europe. All participants put their heads together to analyze the demands of the Chinese market.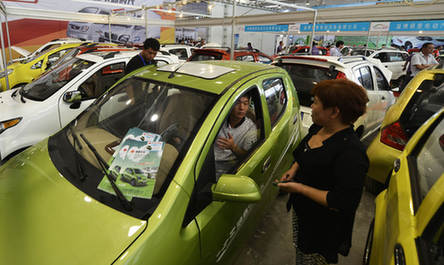 Visitors to the Shandong International Energy Saving and New Energy Vehicle Exhibition in Jinan in September 2014 learn about electric cars.
Clean Tech, New Engine for Economic Growth
Last fall and winter, voluminous, lingering smog shrouded 17 provinces, municipalities, and autonomous regions – one fourth of China's territory – affecting around 600 million people. It prompted the State Council Action Plan for Air Pollution Prevention and Control, published in September 2013. The plan initiated incorporation of PM 2.5 – particulate matter smaller than 2.5 micrometers in diameter – into the country's air quality control index, and environment quality into local official evaluations.
Eradicating Beijing's smog is a top priority in the country's endeavor to prevent and control air pollution. The findings of a simulation study by deputy director of the CAS Institute of Policy and Management Science Wang Yi, who is also a member of the National People's Congress Standing Committee, show that China's energy consumption and pollutant emissions will peak in the next 10-20 years. The new population policy (allowing a second child to couples where one spouse is a single child) will influence the country's demographic structure, but to a limited degree. It will not reach the plateau of around 1.5 billion until after 2030, according to Wang. China's total coal consumption and accompanying PM2.5 emissions are expected to peak in 2025. Carbon emissions as a result of urbanization and industrialization, however, will not reach their zenith till after 2030.
Lively debates on energy transition have ensued since the "energy revolution" concept was first raised last June at a meeting of the Central Leading Group for Financial and Economic Affairs. "Unless China adjusts its energy structure, controlling total quantity will be impossible," Wang warned at the Global Cleantech Summit. He went on to say that, given the country's vast energy consumption and the pressure it bears of slowing economic growth, China's energy transition faces huge challenges.
Clean technology will hence be China's new growth engine and means of controlling energy consumption and pollutant discharges. Wang acknowledges that controlling pollution through reduced use of resources will inevitably curb economic growth to some degree. But the country needs a new industry to prop up its economic growth, and that of clean-tech fits the bill.
Proactive Policies and Legislation
Sixty or more years ago, pollution in London was even worse than in Beijing today. Yet the level then of environmental technology and investment did not approach that now at Beijing's command. "London's success in clearing its smog testifies to the importance of policies and policy implementation," observed Hu Yuandong, head of the UNIDO's China investment and technology promotion office.
Services