Yangzhou Lion-head Meatballs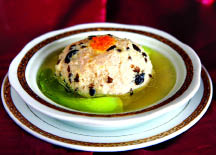 The traditional Han ethnic group dish of large meatballs is particularly popular in Yangzhou of Jiang-su Province. This nutritious meat treat is part of the Huaiyang cuisine that goes back to the Sui Dynasty (581-618). It originates in Emperor Yangdi's visit to Yangzhou specifically to see the jade flowers in blossom. The ruler was so taken with the local scenic spots that he lingered a while, and so impressed with its four famous sites Pine Mountain, Leopard Rockery, Ivory Grove, and Sunflower Hill that on his return he asked the court chef to create four dishes to memorialize his special trip to Yangzhou. It was indeed the custom of that time to present dishes as miniature landscapes. The imperial chef accordingly chose ingredients that evoked the scenery the emperor had so admired and created four superb dishes: Pine Mandarin Fish, Leopard Shrimp Cake, Ivory Chicken Fillet, and Sunflower Chopped Meat.
In the ensuing Tang Dynasty (618-907), Duke Xun held a banquet whose fare included the four well-known dishes. As Sunflower Chopped Meat in the form of large meatballs resembles a lion's head, one of the guests exclaimed that its shape recalled the nine-headed lion marshal seal that stood testament to the duke's meritorious military achievements. The duke was so gratified at this lion head epithet that he renamed the dish Lion Head Meatball.
The large meatball usually consists of 60 percent fat and 40 percent lean meat, to which chopped leek, ginger and eggs are added. The mince is then divided into fist-sized portions. The degree of heat and length of cooking are crucial elements of this dish. The meatballs are simmered in a covered pot over a low fire for 40 minutes to make the meat tender. There are three cooking methods – boiling, steaming, and stewing. Popular variations include crab flavored meatball, stewed clam meatball, and stewed chicken meatball.
This meatball dish has been enjoyed for millennia and retains the fundamental cooking style that varies according to the season, diners, and their religious beliefs. It consequently encompasses a range of flavors.
To cook:
1. Mince the lean and fat meat and blend. Add chopped leeks, ginger, a spoonful of sugar and two eggs. Stir.
2. Mix 10 grams cornstarch with 50 grams water.
3. Use hands to roll the meat mince into 80 gram meatballs and coat in the starch mixture.
4. Put meatballs into a pan with some oil and fry long enough to keep the shape. Do not allow to turn brown.
5. Put the fried meatballs into a pot whose base is covered with cabbage.
6. Pour in enough hot water to cover the meatballs. Add a small amount of salt, soy sauce, Shaoxing rice wine, and sugar.
7. Simmer for two hours. Serve.
Services