Shaanxi Colored Steamed Buns
Shaanxi colored steamed buns are dough sculptures in various forms and often presented as ceremonial gifts.
The Central Shaanxi Plain, nicknamed "800-li rice and grain landscape" (one li is 500 meters), is an east-to-west corridor located to the west of Tongguan in Shaanxi Province, east of Tianshui in Gansu Province, north of the Qinling Mountains, and south of the Loess Plateau. Benefiting from fertile soil, favorable latitude, plenty of sunshine, and abundant rainfall, the Central Shaanxi Plain is an ideal area for wheat cultivation. Throughout history, the wheat produced here fed the incumbents of the Imperial Palace from dynasty to dynasty. Distinctive cooked wheat foods remain the local staple food.
Colored steamed buns are made from wheat flour, beans, dried dates, and raisins. The dough is sculpted using everyday items, such as scissors, combs, and kitchen knives, and the creative techniques used include cutting, kneading, pinching, pulling, pressing, twisting, plucking, printing, and molding. Sometimes, rice and beans are used to decorate the steamed buns; at the same time, carrots, purple sweet potatoes, and pumpkins are pulped into juice to dye the dough. The result is ornamental and artistic.
The steamed buns, a millennia-long folk custom, feature vivid sculptures, flamboyant colors, and exquisite workmanship. They are presented as gifts or offerings on special occasions and at festivals, from birthdays to the celebration of newborn babies' first months, and from weddings to at funerals.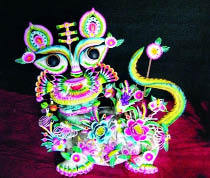 Make Your Own
1. Dissolve a fermenting agent in warm water. Mix in the flour and water to form a glossy dough.
2. Juice carrots, purple sweet potatoes, and pumpkins. Add the juice to the dough and separate into various sizes.
3. Cover the dough with plastic food wrap and allow rising to double its original size. Roll into a bar shape and cut into small round pieces.
4. Mold the small lumps of dough into animal shapes, using a comb to create patterns, and black beans, red beans, or raisins for the eyes. Scissors can be used to carve the shapes of eyebrows and limbs. Bits of dried dates can be used for the mouths.
5. Add plenty of cold water to a steamer. Put a piece of wet gauze on the steamer basket and place the dough on top. Wait 10 minutes for the dough to ferment and then turn on the heat.
6. Heat for 10 minutes on a high fire. When the pot starts to steam, set the timer for 20 minutes and leave to cook. Turn down the heat, remove the lid, and leave for 3-5 minutes before serving.
Services