Spotlight on Southwest China's Small Towns
By staff reporter ZHOU LIN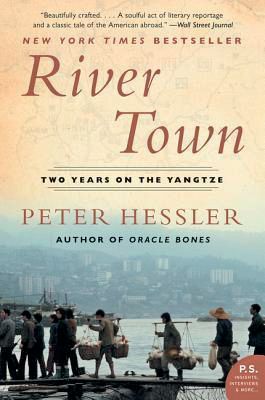 River Town: Two Years on the Yangtze 
Author: Peter Hessler  Translator: Li Xueshun
Price: US $10.66  Paperback, 446 pages   Published by Harper Perennial
THIS is not a book about China. It is only about one particular tiny part of China at a certain brief period in time. Fuling was situated in the middle reaches of a river, both geographically and historically, and sometimes it was hard to see where things came from and where they were going. Peter Hessler wrote in the author's note of his non-fiction writing River Town:
"I came to Fuling on the slow boat downstream from Chongqing. It was a warm, clean night at the end of August in 1996.
There was no railroad in Fuling. It had always been a poor part of Sichuan Province and the roads were bad. To go anywhere you took the boat, but mostly you didn't go anywhere. For the next two years the city was my home.
Sometimes I was an observer, while at other moments I was very much involved in local life, and this combination of distance and intimacy was part of what shaped my two years in Sichuan.
By the time the book was published in 2001 in the United States, a superhighway had been completed to Chongqing, and almost no one took the Yangtze boats to Fuling anymore."
Fuling's position on this historical junction came into remarkably sharp focus when Peter Hessler arrived in the summer of 1996. It was the first time in over half a century that the city had been home to an American. He found himself teaching English and American literature at the local college, discovering how Shakespeare and other great writers looked when seen through the eyes of students who had been raised in the Sichuan countryside and educated in a traditional Chinese way. His students, though, are the ones who taught him about the ways of Fuling and about the complex process of understanding that needs to take place when one is immersed in a radically different society.
According to Hessler: "The chapters of this book describe my life in Fuling, while the interspersed sketches focus on the local landscape, its history, and the people. All of these sketches were written while I still lived there, and I've used this structure to give the reader some sense of the two roles that a foreigner plays in a town like Fuling."
Hessler's Chinese name is He Wei. He has been the New Yorker's Beijing correspondent, and has also worked as a freelance writer for National Geographic Magazine and other publications. He grew up in Columbia, Missouri, majored in English and Creative Writing at Princeton University and then furthered his studies at Oxford University where he completed his Masters in English Literature. 
As he learned the language and got to know the people, Hessler began to see that it was indeed a unique moment in time for Fuling. In making his way around Fuling and traveling by boat and train throughout Sichuan Province and beyond, Hessler was able to paint vivid descriptions of the people he met, from priests to peasants and professors, letting their individual voices be heard. This is both an intimate personal story of Hessler's own life in Fuling, and a colorful, beautifully written account of the surrounding landscape and its history. Imaginative, poignant, funny, and utterly compelling, River Town is an unforgettable portrait of a city that, much like China itself, is seeking to understand both what it was and what it someday will be.
Hessler's unique observations on China and his vivid narration made his book a bestseller in the United States and garnered worldwide critical acclaim.
Leung Man-tao, anchor with Hong Kong's Phoenix Satellite Television, commented on his program that reading River Town is like observing China through two lenses – a focus lens and a telephoto lens. For Hessler, residents on the street were complete strangers; while for local Chinese people, the small town was completely familiar to them. The book provides a different perspective with which to re-examine an ordinary Chinese town.
"Suffused with candor, compassion, insights, and intimate knowledge, River Town is a wonderful read," Chinese American writer Ha Jin – winner of the National Book Award – said about the book.
Los Angeles Times also praised River Town – "Hessler tells his story in a prose that is both forceful and precise."
When talking about how he started writing River Town, Hessler recalled that he once sent an email to his college teacher John McPhee discussing about his plans to be a foreign correspondent in China. The professor replied:
Fuling itself is a story. Write a book on it with patience. You can either start from this summer vacation, or prepare till you are ready at the end of two-year teaching period. A letter form with sixty or seventy thousand words would make it an absorbing book.
Nowadays, Hessler is famous for his trilogy of travel writing about China: River Town: Two Years on the Yangtze; Oracle Bones, A Journey Through Time in China; and Country Driving. River Town topped the New York Times bestseller list for weeks after its publication in the United States and won the Kiriyama Pacific Rim Book Prize in 2001. Oracle Bones was a non-fiction finalist for The National Book Award in 2006. His latest book, Country Driving, won awards from The Economist and the New York Times in 2010. His works are praised for writing about a constantly changing China.
"Fuling is where I started to recognize China and the place where I became an author," Hessler said. "Two years there was like a rebirth which turned me into a completely different person."
Services