Small Fry in the Melting Pot of History
By staff reporter ZHOU LIN
My narrative begins around the year 1600 because it is only by starting at this time that I feel we can get a full sense of how China's current problems have arisen, and of what resources – intellectual, economic, and emotional – the Chinese can call upon to solve them."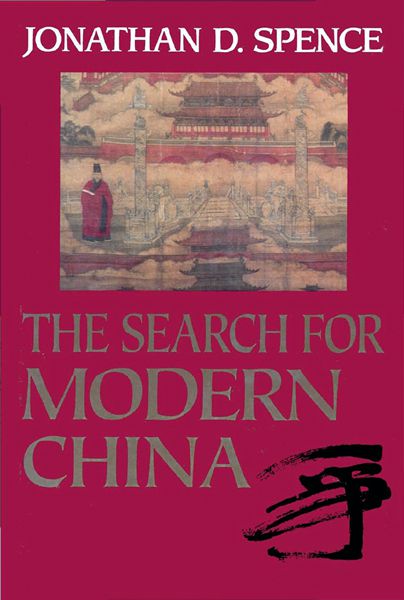 The Search for Modern China
Author: Jonathan D. Spence
Paperback, 912 pages  Price: GBP 47.29
Published by W. W. Norton & Company
By entitling this story The Search for Modern China, Jonathan Spence, a prestigious sinologist at Yale University, wishes to discover the reason why China lagged behind modern nations for such a long period of time, while the Western world evolved into more modern societies.
Born in Surrey, England, in 1936, Jonathan Spence studied at Winchester College and the University of Cambridge, and got his PhD at Yale University in 1965. He afterwards became a professor at Yale and was also made Dean of the History Department and Director of the Council on East Asian Studies. He is well known for his books on the history of China, including The Chan's Great Continent, Ts'ao Yin (Cao Yin) and the K'ang-hsi (Kangxi) Emperor, and The Death of Woman Wang.
Distinctive observations on Chinese history based on years of research and a unique story-telling style, make his books insightful, thought-provoking, and very readable. Being both a sinologist and a best-seller has won him a worldwide reputation.
The book is divided into five parts: 1) Conquest and Consolidation, 2) Fragmentation and Reform, 3) Envisioning State and Society, 4) War and Revolution, and 5) Living in the World. When narrating stories, Spence pays great attention to the historical background and its influence on the protagonist's thoughts. However, the author is not confined to ideological and cultural themes, but also discusses some important indicators of social and economic development in certain periods of modern history, providing an illustrated timeline. Using this data, readers can get a clear picture of the ups and downs of China's economic development and also in general shape of development.
Spence seems to know the antecedents and consequences of every incident in Chinese history, making his book a magnet for readers.
His case-studies encompass a wide range of people, from emperors, senior officials and intellectuals to some of the poorest people struggling in rural areas. To avoid subjective judgment, the author never discusses the role of a historical figure from the perspective of the ruling class, or according to military power or social position. Instead, he tries to present real history in all its complexity.
Spence keeps on searching for the answer to one question: If modern China does exist, when was it first established? To some extent Spence's question is similar to the late Ray Huang's research, whose main focus was on the comparison between Chinese and European history and the reason why European-style capitalism was not adopted in China.
"This remains a book about an ongoing search rather than about the conclusion of a search. I understand a 'modern' nation to be one that is both integrated and receptive, fairly sure of its own identity yet able to join others on equal terms in the quest for new markets, new technologies, new ideas. If it is used in this open sense, we should have no difficulty in seeing 'modern' as a concept that shifts with the times as human life unfolds, instead of simply relegating the sense of 'modern' to our own contemporary world while consigning the past to the 'traditional' and the future to the 'postmodern.' I like to think that there were modern countries – in the above sense – in 1600 AD or earlier, as at any moment in the centuries thereafter."
Spence hopes that the focus on the search for modern China as an ongoing pursuit will make it clear how much China's history illuminates its present.
The book, published by W. W. Norton & Company which is famous for college textbooks and classical works, has replaced Xu Zhongyue's The Rise of Modern China and become the authority on Chinese Studies amongst American universities and colleges. Praised as a miracle of readability and scholarly authority, The Search for Modern China offers students a matchless introduction to China's history.
Qiayi Wen, translator of the book, praised it as follows, "Diversified cultural exchanges, collisions, and integration are recurring themes in Spence's books. His writings include many representative figures such as Emperor Kangxi and his bondservant Cao Yin, Italian missionary Matteo Ricci, a Chinese Catholic John Hu, Italian adventurer Marco Polo, and the leader of a peasant uprising, Hong Xiuquan. In Spence's narrative, all these historical figures are brought to life and through their stories, readers can view the integration of Manchu and Han cultures as well as Eastern and Western cultures."
It is necessary for a historian to be an excellent storyteller, which is somehow a gift rather than a competence. Spence has an obvious natural talent for researching historical documents and writing China's stories with a world outlook, as well as a sophisticated use of textual researches, narration, analysis, comprehension, and all kinds of theories. And The Search for Modern China is the best illustration of his talents.
Services