Beijing Forum for Overseas Talents: Attracting Overseas Talents to Beijing
By LI HONG
SU Bin nailed down a job in China at the recent Beijing Forum for Overseas Talents 2015. Beijing Youan Hospital offered the scientist, at that time working in France, a full-time job, which he initially accepted. He owed this success to the Beijing Forum, where he exchanged ideas with the hospital and had an opportunity to see his future workplace. Su expected to conduct research on HIV/AIDS protection, control and treatment at Youan Hospital. He also had plans to set up a lab that would strengthen collaboration between China and France.
The Beijing Forum for Overseas Talents, which has held six sessions, is jointly organized by the Beijing Municipal Organization Department, Beijing Municipal Human Resources and Social Security Bureau, and Beijing Overseas Talents Center (BOTC).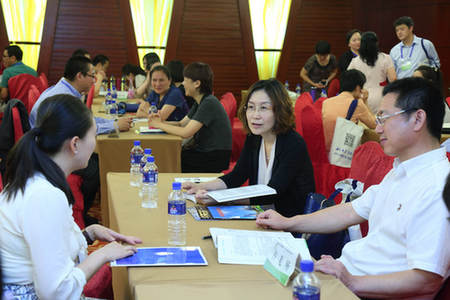 The forum acts as a platform for face-to-face exchanges between overseas talents and potential employers.
Brighter Outlook for Overseas "Brains"
The Beijing Forum for Overseas Talents provides an idea-exchanging platform for talents studying and working overseas who are considering starting businesses in China. The 2015 session drew 103 professionals and entrepreneurs from 16 countries and regions, including the U.S., Canada, Australia, and Britain. The forum enabled them to familiarize themselves with Beijing's business environment through activities that included the overseas talents forum, symposiums, dialogues among innovative talents, and presentations of entrepreneurial projects.
In his keynote speech at the 2015 forum, Vice Director Yan Cheng of the Organization Department of Beijing Municipal Government declared that the forum is a gold brand that draws large numbers of high-level talents from abroad. The demand-oriented 2015 forum invited 103 participants working in the fields of biomedicine, digital information, and other key sectors of the capital's development. Another highlight was the enthusiasm of neighboring Tianjin City and Hebei Province for the forum, and their willingness to participate in the concerted development of the Beijing-Tianjin-Hebei region.
Director Yuan Fang of the BOTC explained that the Beijing Overseas Talents Program aims to introduce overseas talents to Beijing. Xia Yi, director of the General Office of the Beijing Development and Reform Commission, spoke of the capital's economic and social development over recent years.
Beijing is currently undergoing a critical phase of industrial restructuring and adjustment. As the city's population, real estate and markets tend to saturate, its industries are moving to nearby Tianjin and Hebei. Overall planning of resource allocation and concerted efforts to optimize the region's economic restructure and spatial industrial structure, as well as bring more opportunities for innovative talents, are necessary in this respect.
The 2015 Beijing Forum for Overseas Talents was Pan Yanjun's first experience of this event. From his standpoint as vice director of Department I of Tianjin Foreign Experts Affairs Bureau, Pan elaborated on the municipality's status quo against the backdrop of concerted Beijing-Tianjin-Hebei development. Tianjin's development formerly subsisted on high consumption of natural resources, he said, but is now desiderate of restructure. Conscious of Tianjin's need for high-level talents and high-tech, Pan exhorted participating entrepreneurs to set up their headquarters in Beijing and their manufacturing centers in Tianjin.
Chen Weiguo, an official of the Hebei Provincial Department of Human Resources and Social Security, spoke at the forum about the pharmaceutical, automobile, and satellite navigation industries in Hebei. He made particular mention of the high-speed railway from Baoding in Hebei to Tianjin that went into service at the end of 2015, and which has shortened to 90 minutes the time span of traffic from Hebei's capital Shijiazhuang to Tianjin.
At the overseas talents forum, selected candidates for the Beijing Overseas Talents Program and Recruitment Program of Global Experts shared experiences of starting their own businesses in Beijing. They included Wu Jun, vice president of North Micro Electronics; Guan Hongliang, president of Peacemap; Xiong Xiaoge, co-founding partner of IDG and well-known venture investor; and Huang Liping, chief engineer of the electrocar project of BAIC Motor Corporation.
Presided over by Vice Director Xu Zhijun of the Beijing Human Resources and Social Security Bureau, the Beijing Forum for Overseas Talents provided talents with an in-depth perspective on the city's policies, business climate and opportunities.
Talent Fair
Employers at the exchange fair, including hospitals, colleges and companies, conducted thoroughgoing exchanges with job-hunting participants. Representatives of Beijing Tongren Hospital and Beijing Xuanwu Hospital, for example, listed their requirements as regards talents and described the working environments. Among the 65 participants aiming to find jobs, many achieved their initial intentions at the fair.
Li Junbin is vice director of the Human Resources Department of Beijing Hospital of Traditional Chinese Medicine. After the 2014 forum, his hospital invited a scientist from a Swedish university to work full-time as director of a core department. The new recruit soon began to play a key role in team building and research projects. As more preferential policies are formulated at both the national and municipal level, Li's hospital has begun allocating RMB 1 million to support the work and research of each invited talent. Compared with the 2014 session, Li found that the 2015 forum drew even more professionals. TCM needs advanced technologies to realize modernization and internationalization.This is why it opens its arms to overseas talents in the expectation of revitalizing its tradition through their efforts.
Eighty-five percent of invited participants at the 2015 forum had doctorate degrees and wanted to start a career in Beijing. All 38 participants in the entrepreneur category brought to the forum projects ranging from biomedicine, telecommunications, finance and management, culture and education, to new energy and new materials.
Ji Jianguang is an associate professor at Lunds University of Sweden. After talking with representatives from the Beijing Friendship Hospital, he expressed hope of and confidence in working and possibly creating his own business in Beijing. He noted that the forum focuses on particular industries, specialties, and even positions, so making it an effective platform for overseas Chinese who want to return and work in China.
Oxford graduate Huang Honglei has long worked in the field of infectious diseases. The forum offered him the opportunity to sit down and talk face-to-face with potential employers. He was impressed with the sincere attitude local employers and the BOTC host presented to candidates.
The forum organizers also invited outstanding representatives of the Recruitment Program of Global Experts and the Beijing Overseas Talents Program to give speeches about their experiences in creating businesses and working in Beijing. Among them were Zhou Xin, president of Define Technology; Zhao Lei, CEO of Symbow Medical; Xiao Wei, dean of the School of Life Sciences, Capital Normal University; and Jiang Yinzhong, chief engineer at Beijing Automotive Technology Center, BAIC Motor Corporation. The three-hour exchange gave visiting participants an in-depth perspective on Beijing's all-round environment.
Another highly appreciated activity was the "matchmaking" event for start-up projects and capital. These projects left deep impressions on investors at the forum, who included IDG Capital Partners, PKU Venture Capital, SB China Capital, Navi Capital and the Overseas Students Pioneer Park.
A Window on Beijing
Qiang Lu, born in 1987, recently graduated with a PhD from the College of Business, City University of Hong Kong. She spoke frankly about her hesitation as regards self-positioning and job-hunting, and hoped the forum would help her to prepare for the future. After attending a series of symposiums and visiting Beijing University of Technology and the Beijing Benz Automotive Company, she decided to find a job at a college or strategic sector of a company.
Qiang also observed that many participants of the forum were high-caliber professionals, and that growing numbers of overseas talents are willing to come back and work in China. The latest Ministry of Education statistics show that as of November 2014, more than 353,500 overseas students came back to China, and that Beijing is the most popular career destination, followed by Shanghai and Guangzhou. This is attributable to Beijing's competitiveness in technology, education, R&D, culture and human resources.
BOTC Director Yuan Fang said in an interview that the Beijing Forum aims to provide a window on Beijing for high-level overseas talents that are interested in working in the capital. Six years after its launch, the forum has won widespread approval among overseas talents. Upon the opening of applications to attend the 2015 forum, more than 300 people signed up. Space considerations limited the selection of participants to 103.
The emphasis of the 2015 forum was on job-hunting, as more than 60 percent of candidates expected to find work in Beijing. They were snapped up by employers at the forum badly in need of high-end talents. Another feature was the participation of neighboring Tianjin City and Hebei Province. The demand for high-level personnel thus continues to rise, and meanwhile participants have more choices. In contrast to previous forums, the 2015 forum took place over three days to give participants a better understanding of Beijing's business climate and policies.
As early as December 2008, the Beijing Municipal Government took the decision to introduce high-level overseas personnel to the capital by setting up the Beijing Overseas Talents Center, officially established on December 23, 2008. On April 2009, the city unveiled the Beijing Overseas Talents Program that scouts for and recruits overseas talents. Since then, the program has recruited 759 high-level experts and entrepreneurs, 192 of whom were also admitted to the state-level Recruitment Program of Global Experts. The returning talents, who are leading scholars and entrepreneurs in various fields, have made important contributions to the country's economic and social development. Their products and projects have bridged technological gaps and facilitated industrial upgrades. Many of them have become star companies, such as baidu.com, Vimicro, Peacemap, LandOcean, and Navtech, to name but a few.
Services