Constructing an Environment for Sustainable Human Rights Development
By staff reporter LU RUCAI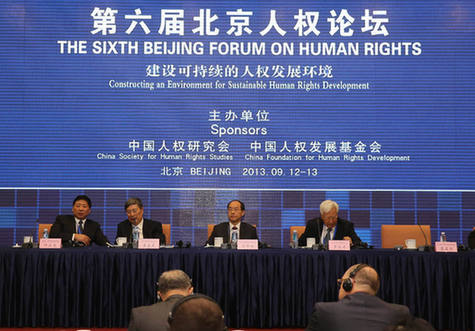 The Sixth Beijing Forum on Human Rights opens on September 12, 2013, under the theme Constructing an Environment for Sustainable Human Rights Development.
THE realization of human rights not only requires laying claims to rights, but also demanding a social environment favorable to human rights development. China's priorities for the cause of human rights protection are to create a social order favorable to the full realization of human rights, and to construct an environment for sustainable human rights development," said Luo Haocai, president of the China Society for Human Rights Studies (CSHRS), during his opening-ceremony address at the Sixth Beijing Forum on Human Rights.
The two-day forum opened in Beijing on September 12, attracting over 100 officials and human rights experts from the United Nations as well as from 33 countries and regions.
This year marks the 65th anniversary of the Universal Declaration of Human Rights, the 20th anniversary of the Vienna Declaration and Program of Action, as well as the 20th anniversary of the CSHRS. "China's human rights environment has been improving each year. Issues involving China's human rights that have received foreign criticism are either being addressed, or are yet to be encountered," Li Junru, vice-president of the CSHRS, told China Today. "Human rights realization ultimately relies on social development realities and meeting the demands of people's actual interests."
Blazing a New Trail
Li reiterated there is no universal definition of human rights, which is often misinterpreted by certain people from developed countries who use their own standards as the universal measure. "The realization of human rights is decided by whether the demands and the interests of the people of a country at a certain phase are met," said Li. He believes that, in a populous developing country such as China, human rights realization is being achieved step by step. Before the founding of the People's Republic of China in 1949, the country could not defend its sovereignty, let alone advance human rights. Immediately after October 1949, the government was faced with the tasks of meeting people's needs for food, clothes and shelter, and thus prioritized the guaranteeing of people's subsistence and development rights. Therefore, taking economic development as the central task at that time became the government's sole path to achieving human rights. With the reform and opening-up process over the past three decades, Chinese people in general no longer suffer from shortages of food or clothing. The government has put social services, such as education, medical care, employment opportunities and support for the elderly, high on its agenda. "The priority now for the cause of human rights is to improve people's livelihood by providing quality public services," said Li.
China has adhered to economic development as a central task, combining the cause of human rights development with the promotion of economic, political, cultural, social and ecological progress, while striving to achieve comprehensive, balanced and sustainable development. In fact, by doing so, China has found a human rights development path suitable to its own realities.
In 2012, the proportion of China's GDP to the world total increased from 1.89 percent (calculated according to US $ exchange rate) in 1980 to 11.57 percent, and its per capita GDP grew from US $205 to US $6,064, increasing almost 30-fold. Meanwhile, the proportion of the population enduring poverty decreased from 84 percent in 1980 to 13 percent in 2012. In the past five years, the central government expenditures from public finances to improve people's livelihoods add up to RMB 16.89 trillion, with an annual increase of 21.1 percent, accounting for more than two thirds of total central government public finance expenditures.
The government has steadily increased its investments in improving access to education, job opportunities and social security. Public financial expenditures on education increased from RMB 1.255 trillion in 2010 to RMB 2.1165 trillion in 2012. From 2008 to 2012, China invested a total of RMB 197.3 billion in special employment funds, and provided jobs for 28 million university graduates and 8.3 million urban unemployed. After years of effort, China has realized full coverage of basic old-age insurance and basic medical care for both urban and rural residents. At the end of 2012, old-age insurance of various types covered 790 million people, and medical insurance of various types covered over 1.3 billion people.
The government has also attached great importance to promoting ecological progress in order to guarantee citizen rights to a sound environment. From 2008 to 2012 China closed down many outdated production facilities, including iron works with a total capacity of 117 million tons, steel mills with a total capacity of 78 million tons, and cement plants with a total capacity of 775 million tons. The energy consumption per unit of GDP fell by 17.2 percent in the same period, and the total chemical oxygen demands and sulfur dioxide emissions decreased by 15.7 percent and 17.5 percent respectively. Also in 2012, the central government included PM2.5 – an index for fine-particulate matter 2.5 microns or less in diameter – into national air-quality standards for daily monitoring. This measure shed light on the increasing awareness of the government and ordinary citizens of the need to protect the environment.
"China has made great strides in advancing human rights and found a path suitable for China's national conditions," said Akmal Kholmatovich Saidov, director of the National Human Rights Center in Uzbekistan. He spoke highly of the concept of "harmonious development" as proposed by China.
Steady Progress in the Rule of Law
Zhang Xiaoling, director of the Human Rights Studies Center of the Party School of the Communist Party of China (CPC) Central Committee, attended this forum for the sixth time. She delivered a speech on the protection of human rights under the rule of law. "We see practical progress every year in the advancement of human rights and the rule of law in China," she told China Today. China's Electoral Law has been amended to ensure that urban and rural deputies to People's Congresses are now elected on the basis of same population ratios, Zhang said, adding that community-level democracy has steadily developed. By the end of 2012, direct elections had been held in over 98 percent of village committees across the country, with villager participation reaching 95 percent. In terms of the protection of women's rights, more than 20 provinces, municipalities and autonomous regions have regulations banning domestic violence. The National People's Congress (NPC), China's top legislature, has also included an anti-domestic violence law in its legislative plan.
By the end of 2012, China had enacted 243 laws, including the current Constitution, 721 administrative regulations and 9,200 local regulations, which cover all social relations. Basic and major laws in each category have been formulated and combined with corresponding administrative regulations and local regulations.
In 2013, amended laws directly involving the protection of human rights, including the Criminal Procedure Law, the Civil Procedure Law, the Law on the Protection of the Rights and Interests of the Elderly, and the Labor Contract Law, have come into effect.
In his speech Luo Haocai noted that reeducation through the labor system, an administrative detention system to punish minor offenders which has become increasingly controversial, would cease within a year of approval by the NPC Standing Committee. The reform of the petitioning system is also being explored, and petitioning cases involving laws and lawsuits are hopefully to be separated from ordinary cases. Recently, the Committee on Political and Legal Affairs under the CPC Central Committee promulgated guidelines for preventing false allegations and mistrials, reiterating basic principles in lawsuits such as innocent until proven guilty, and the guarantee of the right to counsel, as well as specific demands for the proper handling of cases and principles of accountability.
As China is still a transitional society, the cause of human rights still faces enormous challenges and there is room for improvement in its rule of law, Zhang said. She advocates the promulgation of an anti-discrimination law, inheritance tax law, luxury tax law and social security law to enhance the protection of disadvantaged groups. "The CPC has emphasized the need to allow people to share in the fruits of development, which is equal to guaranteeing people's equal enjoyment of subsistence and development rights. Realizing this goal requires legislative efforts to adjust the relationships of interests, so that every individual's subsistence and development rights is realized," Zhang said.
Commenting on occasions where abuse of power by some law enforcement officers aroused public complaints, Zhang noted that China's national human rights action plan has a chapter on human rights education, which requires programs for training civil servants. "Unless law enforcers are aware of human rights protection, laws involving rights protection cannot be soundly implemented," Zhang said. "These human rights education programs are targeted at transforming the mindsets of law enforcement officials, to make them aware that law enforcement is, in essence, the provision of a service." The Party School of the CPC Central Committee has now included human rights courses in training programs for Party officials at different levels, and in graduate student curricula.
Sustained Efforts
"Constructing an environment for sustainable human rights development" is the theme of this year's forum. Huang Mengfu, chairman of the China Foundation for Human Rights Development, said this theme is consistent with the requirements and trends of human rights development. He said the protection of human rights in China has constantly improved because the Chinese government has focused on China's realities in creatively combining the values of human rights with the "people-oriented" thinking of traditional Chinese culture. It has thus chosen a path of human rights development suitable to the basic economic conditions and social environment of China.
"China is sending signals of its commitment to protecting human rights to the outside world. This annual event, which has been held for the sixth time, is a good example," said Maria Perrone, director of International Relations with Società Libera of Italy. "The initiatives by the CSHRS and China Foundation for Human Rights Development to promote human rights in China have been strongly supported by the Chinese government." She believes that China has chosen a development path different from those of Western countries and has managed to become a powerful economy within a short period of time. "If it could confirm its wisdom in completing the ongoing transition and combine respect for human rights with the peaceful and harmonious co-existence of different ethnic groups, through proper political and economic administration, China would present a useful reference model," said Perrone.
Zhang told China Today that cultivating a pro-human rights culture is a shared social task, part of which is to inform citizens of their rights and responsibilities.
Popularization of Human Rights Education
Chen Youwu, deputy director of the Center for Human Rights Research and Education of Guangzhou University, told China Today that as one of three national human rights education bases, his center is dedicated to both conducting research and providing training programs, the latter being its central task. He said, institutions of higher learning in China started to conduct human rights education as early as the end of the 1990s, first among undergraduate and graduate law students. It then became available to students of other majors on a selective basis.
Differing from Western countries, China's human rights education for primary and secondary students started late and is still at a trial stage. Chen said his center has a program to train primary and secondary school teachers and students on human rights in Guangzhou – a metropolis with more than 90,000 primary and secondary teachers. He said the program might face financial and personnel shortages as it progresses.
The government has been increasing support for conducting research and education on human rights, Chen added. Apart from the three national human rights training bases, the number of national human rights research institutions has jumped from less than 30 about 10 years ago to more than 60.
Experts at the forum agreed that with the rapid development of internet-related technologies the popularization of human rights values should accelerate. But the negative impact of the Internet on human rights is also irrefutable. Li said chaos might ensue on the Internet in its initial development phases, yet it should develop into a platform where citizens' rights are respected and protected under monitoring.
Services