Urbanize and Prosper
        By staff reporter LIU YI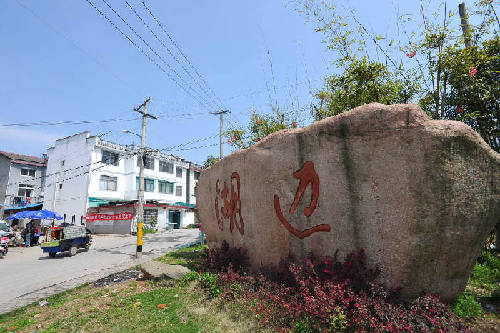 A stone engraved with the name "Hubian" close to villagers' new homes reminds them of a disappearing village. 
THE population of rural Tunxi District, seat of Huangshan City in Anhui Province, has fallen 10 percent over the last decade. Of the remaining 40,000 people still living in villages in the suburbs, most have jobs in the city. At the present pace of city expansion, urbanization should be completed within five years.
During the urbanization process, rural citizens have entered the urban public service system, and village assets have swelled in tandem with land acquisition and revaluation. It is, however, imperative to review and upgrade modes of asset management so as to benefit farmers who have relinquished their land.
Adjacent to the downtown area, Hubian, a village covering just two sq km, has accumulated considerable assets and capital over the last decade through land acquisitions and revaluations. In 2012, they had an estimated value of around RMB 270 million, and were managed by the village's CPC committee and villagers' committee. Those at management level, however, had differing opinions on the use of these funds.
As they related directly to welfare, these monies were of considerable concern to villagers, some of whom insisted on their even distribution among all those involved. "After the village liquidated its assets, residents became worried about money management," said Wu Jianqing, director of the Hubian Village Committee. "Some wanted to divide and distribute all of it down to the last penny. But these funds had accumulated through the efforts of all villagers over the years. Dividing and distributing them would have left nothing for our descendants."
Villager to Shareholder
In July 2012, the Tunxi district government launched a pilot scheme in 18 villages to transform village assets into a joint-stock company. By becoming shareholders, villagers stood to benefit from the collective's assets and capital that, moreover, seemed safer under their supervision.
As one of the pilot villages, Hubian dispatched a team of villagers to Jiangsu and Zhejiang provinces to learn how to proceed. But they soon found they were about to open a can of troublesome worms. Of all the villages concerned, Hubian had the most assets, including commercial buildings, land, a reservoir, and more than RMB 10 million of capital in the bank. Since the late 1970s, when farmland was first allocated to households, the village had twice reallocated its land. This made equity distribution extremely complex.
As every village's situation was different, the district government allowed each to formulate its own policy, on the strict proviso that all villagers enjoy equal benefits from the shares. Draft policies, therefore, could come into effect only after being approved at a general meeting of stockholders.
In Hubian, the policy was drafted five times in about four months. "Although only 1,700 people were involved, the situation was nonetheless complicated," Wu said. "Some people had farmland and others did not; some now lived in the city, among them people that had been away from the village for extended periods. As everyone had different views we solicited opinions door-to-door. The process was long and difficult, but villagers eventually approved the draft policy."
The newly established company was divided into 12,000 shares, each worth RMB 20,000. Every resident villager was allocated four shares and those who had moved away were given one. Resident villagers that owned farmland received two extra shares. The policy was exhaustively discussed, announced for public opinions, revised time and again and eventually received 95 percent of votes.
Villagers also voted for shareholder representatives. They, in turn, voted for a five-person board to manage collective assets and a three-person board of supervisors. Eighty percent of profits were to be allocated to shareholders and the remaining 20 percent used as operating capital. The policy also stipulated that shares could be inherited, but not transferred or withdrawn, to "allow offspring a bowl of rice," rather than "grabbing rice from offspring."
Services