Develop the "Brain" of High-speed Rail
By XU YING
AS a child, Chang Zhenchen, born in 1965, dreamed of becoming an engineer. His dream came true. Chang is now deputy chief engineer of Changchun Railway Vehicles Co., Ltd, a manufacturing and research subsidiary of China CNR Corporation Limited.
The company that Chang serves has 14,000 staff and is famous for its design and manufacturing of high-speed trains and city rail vehicles. Chang is a leader in the research and development of rail network control systems, which he believes are like the "brain and the nervous system" of high-speed rail.
In December, 2012, the CRH5 high-speed rail network control system development project headed by Chang passed an important examination and evaluation. In June, 2014, the team's research results passed the intellectual property evaluation process, crediting China with the capability to produce the "brain" of high-speed rail.
Today, China's high-speed rail operating mileage has reached 19,000 km, with 1,800 multiple-unit trains in service that carry 910 million passengers every year. China is endeavoring to promote its high-speed rail capacity, with the aim of expanding its progress in this field to other parts of the world.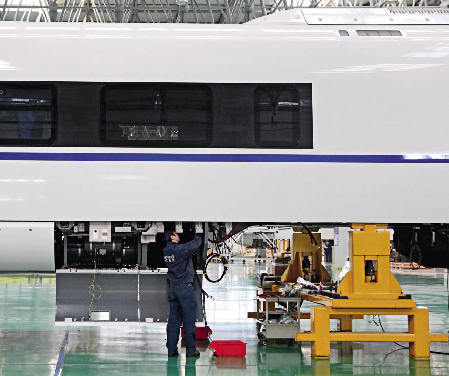 A Changchun Railway Vehicles Co., Ltd employee at work on December 8, 2014, on the manufacture of a high-speed train.
Devoted to High-speed Rail Development
Since 1905, when pioneering Chinese railroad engineer Zhan Tianyou built the Beijing-Zhangjiakou Railway across the mountainous area of northern Beijing, many patriotic Chinese with a broad vision have focused on train and railroad construction as a good starting point to realize their dreams of making China a stronger country.
Chang studied agricultural automation until his doctorate degree graduation in 2004. He then became a postdoctoral fellow of the scientific research work station at Changchun Railway Vehicles, where he worked for two years.
It was in 2004 that China rolled out the Mid-to-Long Term Rail Network Plan, which set the goal of constructing a fast passenger rail network totaling more than 12,000 km. The guiding principle is "bringing in cutting-edge technology to combine with domestic design and production to create China's own brands."
At that time, Changchun Railway Vehicles, in cooperation with France-based Alstom, introduced the CRH high-speed train that could run at 200 km/h. Chang, a newcomer to the company, was assigned the task of learning and absorbing the technology of the CRH high-speed rail network control system. To understand the structure and operation of the multiple-unit (MU) trains, Chang voluntarily applied to participate in the test run of the Changbaishan train.
As a symbol of China's high-speed rail capacity, the Changbaishan train, with a production cost exceeding RMB 100 million and a designed speed of 210 km/h, was co-developed by Changchun Railway Vehicles and Canada-based Bombardier. The Changbaishan train boasted the highest level of independent development in China before the debut of the CRH series.
During an experiment in September, 2004, the Changbaishan set a record of 254.5 km/h, a great surprise to Chang. But the tests did not always run smoothly. At one point the train lost traction after a software update and was pulled out for a thorough examination. "We found that the failure was caused by an incorrect wheel diameter. The error was 10 millimeters, which may seem small but denoted a serious malfunction." Chang recalled.
Following the 60-day long experiment, Chang not only acquired a deep understanding of the structure and operating principles of MU trains, but also realized that China's technology lagged far behind that of advanced Western countries.
The historic Changbaishan train went operation along the Shenyang-Dalian line in February, 2007. However, by 2012 a dearth of spare parts left the train idle.
According to Chang, the company was able to learn lessons from the Changbaishan in terms of traction as well as interior design while creating the CRH1 electric MU train, the first generation of the CRH series. In fact, some believe the Changbaishan launched the high-speed rail era in China.
The Changbaishan experiment marked the end of Chang's work as a postdoctoral researcher. Faced with many options, he chose to devote his time to high-speed rail, which he believed had the most potential for development.
A Hard Nut to Crack
In January, 2007, Chang led a seven-member work team in a two-month-long training program on train control systems at an Alstom factory in Italy. The team's major task was to learn the mechanisms of the train network control system and its interaction with various sub-systems.
However, Alstom did not include this into the training plan for the visiting Chinese engineers, despite it being stipulated in the contract the two sides signed.
"After several rounds of negotiation, we finally acquired the 3,000 pages of research materials that illustrated the mechanism of the train network control system, but it was in Italian," said Chang. It was the first time Chang had come into contact with the core technology of the world's most advanced MU train. But he first they had to tackle the problem of deciphering the Italian wording.
For confidentiality reasons, they were not allowed to hire translators. The seven Chinese technicians, who had never studied Italian before, armed themselves with an Italian-Chinese dictionary and cracked the toughest nut of their careers. It took them eight months to read all the materials.
On April 18, 2007, the CRH5 high-speed train that runs from Beijing to Harbin was formally operated. The train was named Hexie in Chinese, meaning harmony. Meanwhile, the country launched its sixth round of the "Speed-up" campaign and rolled out a new train timetable. The campaign raised the speed to 200-250 km/h on busy trunk lines. China's high-speed rail has since entered a new development phase.
After his time in Italy, Chang joined the testing team in the operation of the CRH5 train. An era of large-scale high-speed rail production thus dawned.
As far as Chang can recall, the production cycle for high-speed trains was quite tight. A design defect in the Alstom method and insufficient consideration of the operation environment in China caused a series of breakdowns in the initial period of the MU train's operation.
The train normally left Harbin at dawn and reached its final destination at 11 p.m. But that wasn't the end of Chang and his team's working day; they had to carry out maintenance and examination after each operation.
After eight months of analysis and experiment, Chang's team not only mastered the mechanisms of the CRH5 control system, but also ironed out the design defects and made their own suggestions for improvement.
The whole control network is made up of more than 1,000 different software programs. Technicians needed to design, develop and test each one and replace the foreign software with a local equivalent, one by one. They then had to conduct exhaustive tests, including static tests, above ground tests, and dynamic tests. It took a total of five years for Chang's team to finish all the development work.
Global Ambition
In the spring of 2009, the CRH5 high-speed train between Beijing and Taiyuan went into operation. Chang continued to conduct research on the traveling train but was eventually hospitalized due to exhaustion.
That time was considered as a "sprint" period for China's rail transport development. Chang and his team broadened their vision to the whole country by developing a network system that was suitable for China's geographical conditions. They dealt with technical difficulties one by one and conducted corresponding experiments.
Changchun Railway Vehicles started to develop independently the CRH380CL train with a service speed of 380 km/h, the highest in the world at that time. From Chang's point of view, this project signaled a steady step forward in China's independent research and development.
By 2010, China's high-speed rail network had hit 8,358 km, with nearly 1,200 MU trains operating daily.
Amid this triumphant advance, the Wenzhou rail crash occurred on July 23, 2011, making high-speed rail, which was intended to be built into a national brand, a target of public criticism.
"At that time I was busy with after-sales service work in Beijing. I was shocked at the accident and felt very bad," Chang recalled. The public began by questioning the train control system, which meant that Chang was partially quoted, attacked, and even framed. However, the final investigation result showed that the major fault lay in the management.
Although Changchun Railway Vehicles was not held responsible for the accident, the company volunteered to obtain a safety integrity certificate for its train network control system, and adopted stricter standards.
A year later, on August 23, 2012, the train network control system independently developed by Changchun Railway Vehicles obtained the relevant European safety certification.
"Today, Chinese engineers are paying greater attention to safety and reliability than ever before in the development of high-speed rail systems. Therefore, all multiple-unit trains designed and produced in China feature an 'automatic safety control' mode, which means that if any failure occurs, the system automatically ensures the train's safety," Chang said.
Since 2012, China has implemented a strategy of going global with its high-speed rail and comprehensively replacing the major systems of high-speed trains to ensure they are all home produced.
Chang said that the domestically produced train network control system features improved self-check functions and is more convenient for use and maintenance. The software can be adjusted according to customers' needs and the cost for making the system is relatively low. These factors have enhanced the competitiveness of China-made railway vehicles.
By the end of November, 2013, the world's high-speed rail operating mileage, excluding China's contribution, stood at 11,605 km, about the same as the figure for China. Starting from zero, it took only 10 years for China to achieve half of the proportion of the world's total. Now, the train network control system is made domestically, rather than relying heavily on foreign technology.
However, intense international competition in the high-speed rail sector keeps Chang and his team members on their toes. They are currently working on developing industrial Ethernet, which features a significantly increased transmission capability, the transmission speed rising 1,000-fold, greatly boosting the rate of information transmission between trains.
"This technology is also at its initial stage in foreign countries. I hope China can seize the initiative in this regard through the joint efforts of our team," Chang said.
Services