China's property market expected to continue stabilizing: official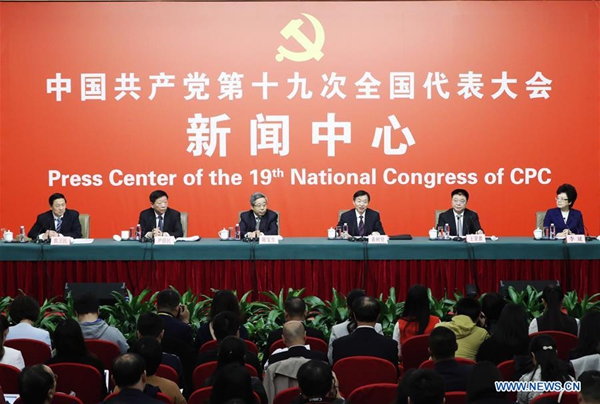 The press center of the 19th National Congress of the Communist Party of China (CPC) holds a press conference on securing and improving people's livelihood, in Beijing, capital of China, Oct. 22, 2017. China's Minister of Education Chen Baosheng (3rd L), Minister of Civil Affairs Huang Shuxian (3rd R), Minister of Human Resources and Social Security Yin Weimin (2nd L), Minister of Housing and Urban-Rural Development Wang Menghui (2nd R), and Minister of National Health and Family Planning Commission Li Bin (1st R) attended the press conference. (Xinhua/Shen Bohan)
BEIJING, Oct. 22 (Xinhua) -- China's property market is expected to continue stabilizing in the fourth quarter of this year, a senior official said Sunday.
The market will continue to see slower growth in transaction volume and stabilizing prices, Minister of Housing and Urban-Rural Development Wang Menghui told a press conference on the sidelines of the 19th National Congress of the Communist Party of China.
The government will not waver in its efforts to achieve the goals of property market regulation and will maintain continuity and stability of policies, Wang said.
He pledged to move faster to put in place a housing system that ensures supply through multiple sources, provides housing support through multiple channels, and encourages both housing purchase and renting.
Source: Xinhua
Services