Key Chinese Concepts
九州
/jiǔzhōu/
Nine Regions
中国的别称。《尚书·禹贡》中将中国划分为九州,分别是冀州、兖州、青州、徐州、扬州、荆州、豫州、梁州、雍州。同时代或稍后的典籍《周礼》、《尔雅》、《吕氏春秋》等有关"九州"的说法大同小异。"九州"作为行政区划在历史上并未真正实行过,但它反映了春秋末期以来中华先民栖息生活的大致上的地理范围。
This term is an alternative name for China. According to The Book of History, the country consisted of nine regions (zhou), namely, Jizhou, Yanzhou, Qingzhou, Xuzhou,Yangzhou, Jingzhou, Yuzhou, Liangzhou, and Yongzhou. There are similar references to the nine regions in classic works of the same or later period, such as The Rituals of Zhou, Er Ya, and Master Lü's Spring and Autumn Annals. The administrative devision of nine regions was never adopted, but it designates the general geographical area where the Chinese people lived since the late Spring and Autumn Period (770-476 BC).
◎九州生气恃风雷,万马齐喑究可哀。我劝天公重抖擞,不拘一格降人才。(龚自珍《己亥杂诗》)
(九州生机勃勃靠的是风雷激荡,万马齐喑的局面实在令人悲哀。奉劝上苍定要重振精神,打破一切清规戒律降生更多人才。)
The vitality of China depends on wind and thunder, yet the neighing of a single horse is not heard. I urge the Lord of Heaven to once again lift his spirits and, breaking all bonds and fetters, send talent of all kinds to the human world. (Gong Zizhen: Miscellaneous Poems Written in the Year of 1839)
◎吾恐中国之祸,不在四海之外,而在九州之内矣。(张之洞《劝学篇·序》)
(我恐怕中国的祸患,不在中国之外,而在中国之内。)
As I see it, the cause of China's disasters lies not overseas but within the country. (Zhang Zhidong: Preface to To Encourage Learning)
大同
/dàtóng/
Universal Harmony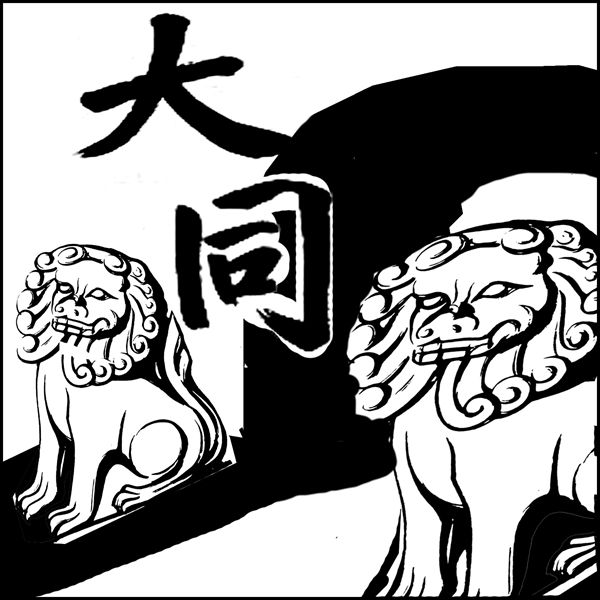 儒家理想中的天下一家、人人平等、友爱互助的太平盛世。儒家认为它是人类社会发展的最高阶段,类似于西方的乌托邦。其主要特征是:权力和财富归社会公有;社会平等,安居乐业;人人能得到社会的关爱;货尽其用,人尽其力。清末民初,"大同"又被用来指称西方传来的社会主义、共产主义、世界主义等概念。
This term refers to the time of peace and prosperity envisioned by Confucian scholars when all people under heaven were one family, equal, friendly, and helpful to one another. Confucianism takes universal harmony as the supreme stage of development of human society, somewhat similar to the Western concept of Utopia. Its main features are: all power and wealth belong to society as a whole; all people are equal and live and work in peace and contentment; everyone is cared for by society; everything is used to its fullest extent, and everyone works to his maximum potential. In the late Qing Dynasty (1644-1911) and the early Republic of China period (1912-1949), the term referred to the concepts of socialism, communism, or cosmopolitanism that had been introduced to China from the West.
◎大道之行也,天下为公,选贤与能,讲信修睦。故人不独亲其亲,不独子其子,使老有所终,壮有所用,幼有所长,矜寡孤独废疾者,皆有所养⋯⋯是谓大同。(《礼记·礼运》)
(大道实行的时代,天下为百姓所共有,品德高尚、才能突出的人被选拔出来管理社会,人与人之间讲究诚实与和睦,所以人们不仅仅爱自己的双亲,不仅仅抚养自己的子女,而是使老年人都能终其天年,壮年人都有用武之地,幼童都能得到抚育,无妻或丧妻的年老男子、无夫或丧夫的年老女子、丧父的儿童、无子女的老人以及残障者都能得到照顾和供养⋯⋯这就叫做大同社会。)
When great Dao (editor: Dao means the universal pattern followed by all things and beings) prevails, the whole world is owned by all the people. Those who are virtuous and competent are selected as administrators. People treat each other with sincerity and live in harmony. People not only love their parents and bring up their children, but also take care of all the aged. The middle-aged are able to put their talents and abilities to best use, children are well nurtured, and elderly widows and widowers, childless and unmarried elderly people, orphans, and the disabled are all provided for. This is universal harmony. (The Book of Rites)
Selected from Key Concepts in Chinese Thought and Culture published by Foreign Language Teaching and Research Press.
Services