New Portal to Help Poverty Reduction Worldwide
By Xu Lin
A new portal, the Global Poverty Reduction & Inclusive Growth Portal (GPIG), was launched at the 2016 China Poverty Reduction International Forum held in Beijing on Sunday, aimed at sharing the knowledge and best practices of poverty reduction in China and around the world.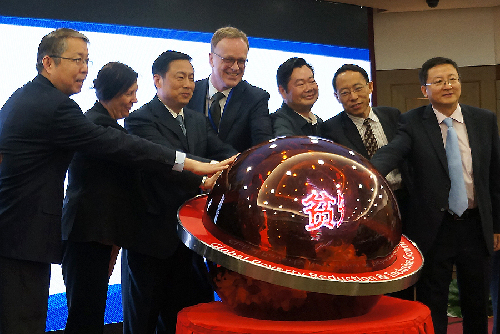 The Global Poverty Reduction & Inclusive Growth Portal (GPIG) is launched at the 2016 China Poverty Reduction International Forum held in Beijing on May 8, 2016. [Photo by Xu Lin / China.org.cn]
In his opening remarks at the forum, Fang Zhenghui, vice president of the China International Publishing Group, said that 2016 is the first year of the 13th Five-year plan and one of the goals of the plan is to achieve a moderately prosperous society in all respects. The Chinese government has created a series of measures, including the precise poverty alleviation scheme, to battle against poverty and lift 55.75 million impoverished people out of poverty in the next five years.
"We are here today, to discuss ways to achieve the poverty relief targets under the Sustainable Development Goals, share China's experience with the rest of the world, boost international exchange in poverty alleviation, and contribute wisdom to help end extreme poverty globally by 2030," Fang added.
Guo Weimin, vice minister of the State Council Information Office, highlighted that poverty reduction is the common duty of the entire world. In China, there are lots of touching stories of people and villages that have shaken off poverty. Their practices can be shared worldwide and the GPIG will serve as a platform for this.
Bert Hofman, the World Bank Country Director for China, Mongolia and Korea, pointed out the following three points that can help China continue to be successful in poverty alleviation. First, China needs to continue to have moderate economic growth, not necessarily as fast as in recent years. Second, China's industries are shifting more to the high-tech and service industries, and these kinds of investments will create more jobs. Third, China must improve productivity through innovation.
Introduced by the Program Poverty Think Tanks Coordinator Gladys H. Morales, the portal aims to become a platform to share knowledge on the policies of poverty reduction and the best practices in China, in Asia and around the world. The portal offers information on the latest research in the fields of poverty reduction and inclusive growth, experts' opinions, events, and news on trends and further opportunities for research and training as well as knowledge sharing initiatives available to partners, policy makers and the general public.
Initiated by the World Bank and supported by the Asian Development Bank, this website is operated by the International Poverty Reduction Center in China (IPRCC) and the China Development Gateway (CnDG). About 80 officials, experts and international organizations attended the forum. Think tanks from Asia, Africa and South America were also invited to contribute their wisdom.
To find more information, please visit the portal: http://www.iprcc.org.cn/South/Index/index.html.
Source: China.org.cn
Services