Foreign Investment Welcomed in China's Senior Care Market
By staff reporter DANG XIAOFEI
THE inexorable growth of China's aging population has made its senior care services industry a focus of social attention. Regarded by many as a "gold mine" second only to the real estate sector, the enormous potential of private senior care business is proving extremely attractive to foreign investors.
A Promising Market
Prior to retiring, Wu Zhigao, now 86, was a journalist at China National Radio. Three years ago his wife was diagnosed with Parkinson's disease, and the couple decided to move to a nursing home in Beijing. The professional and considerate care she receives there has put a smile back on his wife's face, so Wu has no regrets about this decision.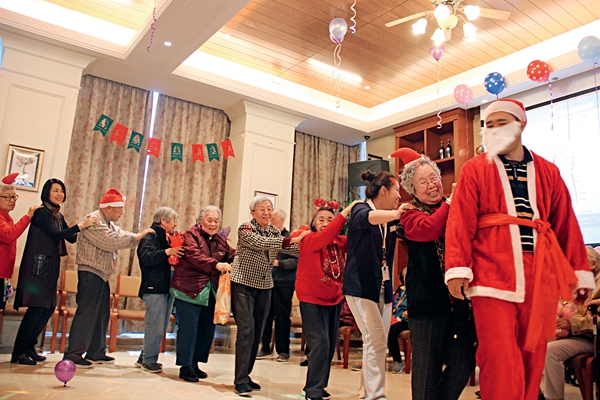 Residents at the Senior Living L'amore dance a Christmas conga.
But he was unwilling at first. "After 55 years of marriage," he asked himself, "how can I put her there just because she has fallen ill?" The couple's son works in Shanghai and their daughter runs a company in Beijing. Neither has time to give them the care they need. At Wu's age, he no longer had the energy to be his wife's sole carer, but neither was he willing to hire one. Consequently the nursing home seemed the best option.
The new residence has a distinctly homely ambience. The rooms are hung with pictures of the couple's wedding day and of their family. Wu tells the story behind each one: "That one is a group photo with my son in the U.S. after he was awarded his master's degree, and the other is of my daughter's graduation from university. This one is of my granddaughter, and that one of the whole family at the Temple of Heaven."
The Wu couple is representative of a large number of Chinese seniors. According to the Ministry of Civil Affairs "Statistical Bulletin on the Development of Social Services in 2015," by the end of that year China's elderly population – people aged over 60 – had reached 220 million, 16.1 percent of the total population. Among them 143 million were over 65, or 10.5 percent of the total. At the same time, the steady decline in the birth rate and increased life expectancy has underlined the aging process, leading to growing demand in this sector.
At the same time, the Chinese concept of senior care has begun to change. Many parents no longer expect their children to look after them in their old age, but are instead looking to senior care institutions. A China Youth Daily survey in 2016 showed that out of 2002 respondents 64.4 percent regarded the old notion of seeking senior care from children as obsolete, while 44 percent were willing to enter retirement homes.
Data from the China National Working Commission on Aging show that the consumer demand for the senior care services market amounts to around RMB 3 trillion, and that it will reach 5 trillion by 2050. There are predictions that in 15 years this sector will replace the real estate as the country's largest industry.
At the end of 2015, there were only 6.72 million beds available in nursing homes, or 30.3 beds per thousand senior citizens. Although this is an improvement on the 2014 figure, it still falls far short of demand. In expectations of revitalizing its historical role as an industrial base, Heilongjiang Province in Northeast China aims to develop the senior care sector. The province has plans to establish 100 "migratory bird" senior care projects in ecological and tourism resource-intensive areas, and the capture of social investments has begun.
Joint-venture Senior Apartments
Sun Chunfang, 85, is founder client of Senior Living L'amore – Beijing's first joint-venture senior apartment complex. Established in 2013, China's Sino-Ocean Group Holding Limited and U.S. Columbia Pacific Management each hold a 50 percent share in this venture. It is China's first successful case of foreign investment in this sector.
After her husband died, Ms. Sun was desperately lonely. She called the Senior Living L'amore Complex for a consultation and decided to give it a try. She has since found the high quality personalized services there highly satisfactory. In addition to normal activities like reading newspapers, watching television and having afternoon tea, the L'amore creates opportunities to pursue other pastimes, such as handicrafts, calligraphy, dancing, and watching movies.
Sun has lived at the L'amore for three years, and is very happy there. As to the steep RMB 11,000 per month charge, she said: "It makes sense that a retirement home should earn profits. Most important is that the price corresponds to the services." Her pension falls far short of this cost, but she has let out her house. The rent she receives from it covers her expenses at the complex.
Along with many other seniors, in 2009 Sun added her name to a waiting list for a room in a public retirement home. She is still waiting. According to overseas retirement home standards, there must be a minimum one senior care worker for every three residents. In most of these private institutions in China, however, one senior care worker is responsible for five residents. The ratio of workers to residents is even lower in public retirement homes. At the Senior Living L'amore complex, the ratio of carers to seniors is 1:4, and it has an overall worker-to-resident ratio of 1:1.2.
There are currently 100 seniors resident at the L'amore complex, which leaves no empty beds, according to Wen Bo, manager of the retirement home. "It has taken us just three years to achieve 100 percent occupancy, which compares favorably to the at least four years it takes most such homes," Wen Bo said. He acknowledges that the success of Senior Living L'amore is attributable to the cooperation mode. "Throughout the home's operations the U.S. investor has allocated all administrative power to its Chinese partner. This was integral to the success of this Sino-U.S. retirement home joint venture," Wen said.
Other high profile overseas counterparts have also set up such projects in China in recent years. Among them are Orpea, number one in the French sector; the DomusVi Group, the third in that country, and the Colisee Group, the fourth in France's senior care services sector. The DomusVi Group has cooperated with Hanfor Holdings in establishing a joint venture in China.
As to "local conditions," Ren Yuan, a professor at the School of Social Development and Public Policy at Fudan University, advises foreign companies to thoroughly acquaint themselves with China's laws and regulations in this sector before entering the Chinese market. Only then can they gain a clear idea of their investment options.
He warns of "acclimatization" difficulties as regards the system, and conflicts they may encounter due to traditional Chinese concepts about old age. "That's why market research is essential to avoid losing good opportunities," Professor Ren said.
Good Prospects for Foreign Investment
Wu Yushao, director of the Science and Technology Center of the National Working Commission on Aging, believes that, in view of the inadequate facilities and shortage of personnel in the sector, tackling the issue of the graying population must be a national strategy. Wu explained that the government would encourage development of six aspects: senior health management services, geriatric health care and rehabilitation services, domestic senior care services, senior culture education, nursing homes, and financial management.
At the end of 2016, the General Office of the State Council published its "opinions on how to expand tourism, cultural, sports, health, senior care, and educational consumption." The text explicitly proposes to increase spending on elderly care-related services.
The Chinese government previously limited the inflow of foreign investment into the sector, but has now assumed a more open attitude whereby it encourages and guides it. Hao Fuqing, deputy director of the Department of Social Care of the National Development and Reform Commission, emphasizes that China will further eliminate market obstacles to allow both individual for-profit and non-profit companies and domestic and foreign capital to enter and develop the market. Local non-profit senior care institutions may benefit from the Chinese government's land and tax policies, and foreign institutions in this sector will receive equal treatment in this regard.
Given that many Chinese companies are far from a bellwether in the senior care industry, "Now seems to me to be the best time for foreign investment," Professor Ren Yuan said. He predicts that competition for the entry of industrial capital into the sector will in future become more intense.
He also believes that it's better for large foreign groups to enter as soon as possible, because now is the time to seize the market while it is still in its infancy. Although considerable investment will be needed in the initial period, it will yield abundant benefits in the long term. Ren believes that smaller foreign companies would do better to wait a while.
The senior care services sector encompasses clothing, food, housing, transportation, day-care, medical services, rehabilitation, culture, fitness, and entertainment. "The market space for foreign investment is immense, most notably that for professional training," Ren Yuan concluded.
Services