Mexico and China: 45 Years of Diplomatic Relations
THE first Mexican Ambassador to the People's Republic of China, Eugenio Anguiano, was officially received by Chinese Vice President Dong Biwu in October 1972. Since then, both countries have experienced profound transformations in their domestic situations and have assumed greater international roles. They have also established a closer bilateral dialogue and deepened their cooperation. 
In 2007, I had the privilege of heading the 35th anniversary celebrations of diplomatic relations along with Yang Jiechi, at that time Deputy Minister of Foreign Affairs, and Li Xiaolin, Chairperson of the Chinese People's Association for Friendship with Foreign Countries. In the decade that followed I have witnessed very significant joint achievements: the institutionalization of the bilateral agenda with a strategic and long-term vision, increased trade and investment, and stronger cultural, educational and cooperation exchanges.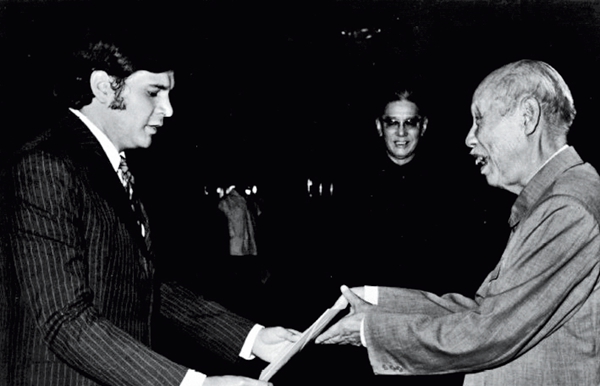 The first Mexican Ambassador to the People's Republic of China, Eugenio Anguiano, presents his credentials to Chinese Vice President Dong Biwu in 1972.
This recent progress responds to the decision made by President Enrique Peña Nieto and President Xi Jinping to enhance bilateral ties through a pragmatic and results-oriented approach. They have met six times in the last four years, and this has ensured that both governments maintain a clear focus on the established priorities.
Our economic agenda has experienced an unprecedented level of growth. Total trade now amounts to approximately US $75 billion per year. China has become Mexico's second largest trading partner and the third largest destination for its exports, as more Mexican goods have made inroads into the local market, from food to manufactured goods such as vehicles and auto parts. Mexico is now China's top trading partner in Latin America. We have also seen our economies become more complementary, and thus our links contribute to our international competitiveness. These thus have laid a solid basis for the continued development of mutually-beneficial bilateral exchanges.
A growing number of Mexican and Chinese companies are also seizing the investment opportunities that the bilateral cooperation has brought. A High Level Group was established to enhance this positive trend and help bilateral investment flows reach their full potential. A Binational Investment Fund worth US $1.2 billion, with capital from Mexico and China, announced in 2016 its first investments in Mexico's energy and telecommunications sectors, where structural reforms were recently adopted. It is managed by the World Bank's International Finance Corporation and has high standards of transparency. Better financial platforms and strategic alliances between Mexican and Chinese companies will further deepen our investment agenda in the coming years.
Mexican Ambassador to China Julián Ventura (third right) visits the exhibition "Diego Rivera: Pride of Mexico" which opened in Beijing in October 2014.
The tourism sector has likewise delivered positive results. China is the second tourist destination for Mexico in the Asia-Pacific region, while Mexico is the first Latin American destination for Chinese visitors. New air routes have been established but it is necessary to further develop connectivity and to continue promoting the many attractions that both countries have to offer.
Mexico and China are both cultural powerhouses with millenary traditions. Cultural activities are an important bridge to bring our people closer together. In 2013 and 2014 the most prominent museums in Beijing, Guangzhou and Shanghai hosted high-profile Mexican exhibitions such as "Diego Rivera: Mexico's Pride," "Mayas: The Language of Beauty," and "Mexico in Silver: History and Future." The Mayas' exhibition, inaugurated on November 2014 by Presidents Xi Jinping and Enrique Peña Nieto, received over 150,000 visitors in three months. In 2016, Mexico participated in the "Meet in Beijing" Arts Festival, "Art Beijing" Fair and the Visual Arts Festival. Exchanges will continue this year in the context of the 45th anniversary of the establishment of diplomatic relations.
Sustaining high quality educational systems is a priority for both nations. Language teaching has long been a valuable component of the relationship, and its importance will only grow in an interconnected world. In 1974 the first Chinese language students went to Mexico – the country with the largest Spanish speaking population – to learn at El Colegio de Mexico. Mexico has today more Confucius Institutes than any other country in Latin America. Every year 80 students from both countries receive scholarships to pursue undergraduate and postgraduate programs, as well as specialized courses. Two top Mexican universities, the National Autonomous University of Mexico (UNAM) and the Technological Institute of Superior Studies of Monterrey (ITESM) have a well-established presence in China. In March, the second Forum of Chinese-Mexican Heads of Universities was held in Beijing, allowing the intensification of contacts between institutions of higher learning.
In the field of science and technology the countries have sought to update their cooperation in line with their respective economic and social changes. In 2015, for the first time, China and Mexico issued a call for joint research projects in areas such as clean energy, biotechnology, agriculture, aerospace engineering, water resources, environment, and health. This is an unprecedented step that illustrates the depth of the relationship.
Mexico and China also work together within international fora, such as the United Nations, G20, and the Asia-Pacific Economic Cooperation (APEC). Our strong political dialogue allows us to actively participate in the construction of solutions to address global challenges, such as climate change, and to promote common objectives, such as international cooperation for development.
To consolidate achievements and constantly deepen cooperation requires hard work and a clear vision. Mexico and China have laid out a common road map, which will continue to yield fruits for the benefit of our peoples.
JULIÁN VENTURA is Ambassador of Mexico to the People's Republic of China.
Services