First Women's Economy Summit Held in Beijing
By staff reporter ZHOU LIN
THE "Women's Economy Summit", the first initiative of its kind, took place on April 12 in Beijing. The summit showcased expert perspectives on women's economic empowerment and the positive impact of women's leadership on the global economy. Co-hosted by AmCham China and SCHSAsia, sponsored by WEConnect International in China, and with the collaboration of leading women's organizations, the "Women's Economy Summit" discussed the best frameworks for developing gender-responsive policies and corporate practices that may effectively support women's leadership and entrepreneurship in the future.
Participants included officials from top global companies, governments, non-profit organizations, research institutions, and over 240 guests whom AmCham China and SCHSAsia hoped to inspire with new knowledge and innovation. Topics included unconscious gender biases in the workplace, supplier diversity, male advocacy, best practices for women's economic empowerment, women's leadership, and effective mentorship.
 "We hope that participants thoroughly enjoy today and find the event insightful and invaluable. Your participation in today's discussions is greatly appreciated and will help us take one step closer to a new economy that is inclusive and hopeful for women," said Alan Beebe, President of AmCham China.
The concept of the event is the brainchild of the co-Chairs of AmCham China's Women's Professional Committee: Su Cheng Harris-Simpson, Gao Lin, Louise Liu, and Frances Yu, latest co-Chair of the committee and CMO of Amway Greater China Region and Director-General of Amway Charity Foundation. It also stems from the idea that the future of a strong economy lies in the hands of women. Advancing women's equality could add up to US$ 12 trillion to global growth by 2025. Despite this, women's talents are still substantially underutilized in the corporate world. Although there are many barriers hindering women from breaking through the glass ceiling, more and more women are becoming billionaires, entrepreneurs, and leaders.
However, more work needs to be done to ensure the full economic empowerment of the world's women. The "Women's Economy" is representative of a new economic era characterized by the full participation of women, whereby women's entrepreneurial potential, leadership skills, and business acumen could be recognized, deployed, and celebrated to the benefit of all.
"When talking about the Women's Economy, it's no longer about charity, work-life balance, or other soft issues – it's about hard dollar values. If we act on that, the economy is going to grow and everyone will benefit," said Su Cheng Harris-Simpson, Founder & CEO of SCHSAsia, Executive Director of WEConnect International, Greater China, and co-Chair of AmCham China's Women's Professional Committee.
The discussions will build a series of best practices that will be included in AmCham China's American Business in China White Paper, one of the chamber's most studied reports among governments, members, and media as a part of AmCham China's business advocacy efforts.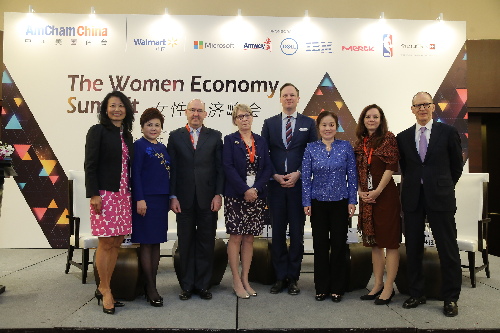 Services