Lu Hongxiang: Jumore Brings New Vitality to China's Manufacturing Industry
By DONG YANGMING & ZHOU ZHOU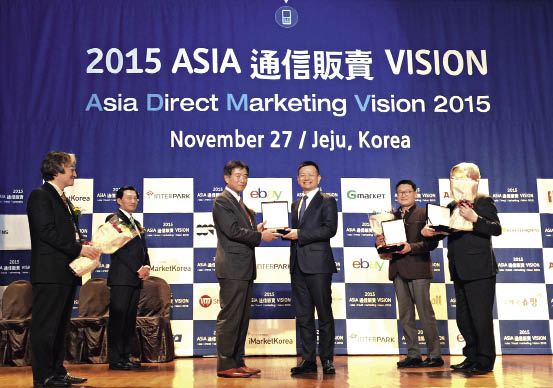 Lu Hongxiang (third from right) receives the Asian Social Responsibility Contribution Award in South Korea.
HANGZHOU, an e-commerce hub in China, boasts a good number of world famous online retailers. The State Council approved on March 12, 2015 the setting up of the nation's first corss-border e-commerce zone in Hangzhou. A month later, the e-commerce platform Jumore started operating. Within just seven months, transactions via the platform had surpassed RMB 70 billion. Meanwhile, Lu Hongxiang, president of Jumore E-commerce Co., Ltd, has made a name for himself in this field.  
Today's Cross-border E-commerce Platform
The trading of bulk commodities worldwide has always involved huge financing volume, complex handling, long supply chains and numerous facets. Lu Hongxiang is one of the few businessmen from China involved in this field. Before Jumore was established, he already had 20 years' experience in bulk commodities trading. 
For China's manufacturing sector, the "Made in China 2025" strategy that the government launched in 2015 boosted demand for foreign raw materials, such as non-ferrous metals and energy resources, and upgraded standards for key technologies despite requiring more capital. The manufacturing sector has faced some problems during this process of restructuring and upgrading. For instance, Chinese manufacturers, who often made overseas purchases separately in limited modes and product types, have not used their collective advantage, and so cannot bargain hard enough, even though they are big customers in international procurement. In addition, price fluctuations in the global raw materials market sometimes cause uncertainty and even financial losses to Chinese enterprises. Their lack of key technologies also leads to a price freeze in the Chinese manufacturing industry.
Lu believes the business-to-business (B2B) segment in today's e-commerce era, known as e-commerce 3.0, can contribute to solving these problems. Chinese online retailers, he said, acted as a medium in the 1.0 and 2.0 eras, and provided limited assistance to the real economy. But having ushered in the 3.0 era, they are expected to bring new vitality to the country's manufacturing sector through the formula "e-commerce + finance + supply chain + industry 4.0." This covers several key facets, including locking in prices for raw materials bought by Chinese manufacturers internationally, providing financial support to domestic manufacturing companies, introducing advanced technologies to China, analyzing big data concerning the world manufacturing industry, and selling China-made products in the global market.
Jumore takes the lead in presenting the global strategy of China's cross-border e-commerce sector by taking advantage of the opportunities generated by "Made in China 2025," while using its platform to integrate world resources. With its eyes on massive growth for the country's manufacturing industry, Jumore strives to explore new models to facilitate transformation and upgrades in this sector.   
"Jumore Ecosphere" Based on "Internet Plus" Strategy  
"The problems of the market represent an opportunity for Jumore," Lu said, with regard to the predicaments of Chinese manufacturers, such as the high cost of raw materials, thin profit margins and limited investments in research and development. He thus clearly defines Jumore's role and business model. By enabling large-scale purchases on the international market, the company hopes to empower Chinese manufacturers to have their say in determining the prices of bulk commodities and minimizing their costs. At the same time, Jumore wants to prevent unhealthy competition among manufacturing companies, as well as help Chinese enterprises' transition from the vicious cycle of low prices and low profits to one of high quality, big profits and more investments in research and development.
Through his company, Lu is creating a "Jumore ecosphere" where the world's high-level raw materials, technologies and talents dock with Chinese companies, so giving the domestic manufacturing industry continuous momentum. China's considerable manufacturing system and market, on the other hand, provide a wider platform for its international partners to further develop and enter into mutually beneficial deals. The cross-border e-commerce service is expected to fuel China's manufacturing sector.     
The successful model Jumore has developed showcases Lu's insight into the country's "Internet Plus" strategy. He perceives the strategy, which encourages the integration of Internet into traditional manufacturing rather than simply "traditional manufacturing plus Internet," as highlighting the creative forces generated by the Internet. On this platform, e-commerce is no longer in a subordinate role. Instead, the creative thinking and economic strength of e-commerce in the 3.0 era will promote the progress of the domestic manufacturing industry. To this end, Jumore is selecting a group of notable Chinese manufacturers that the company will support in their different development stages, both financially and technologically.   
Services