Robots Upgrade "Made in China"
By YANG SHU & ZHAN YUAN
ROBOTS that do housework and mow the lawn, as well as educational robots, are becoming ever more popular among Chinese consumers. Rapid development of industrial robots has now made possible zero manual hand-ling and welding in many workshops in China.
China is now the world's largest consumer of robots. China-made robots have also won international recognition. So are robot industries, known as "jewel in the crown of manufacturing," capable of bringing about the transformation and upgrading of manufacturing in China, and hoisting "Made in China" to a new level?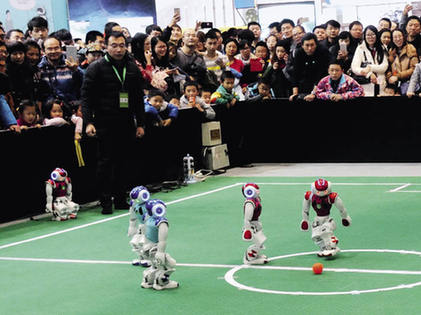 Spectators gather to watch a robot football game at the
2015 World Robot Conference held in Beijing last November.
Assume the Manufacturing Mantle
Robots were first mentioned in the Chinese government's work report of 2014, in the context of China's aim to achieve "major breakthroughs in super computing, intelligent robots, super hybrid rice, and other key technologies." The central government has since allocated about RMB 150 million to robot research, development, application, and popularization. It is also promoting robot standardization.
Why are robots so popular? The answer lies, first of all, in the reality of China's situation. The rapid development of industrialization means that the world's largest manufacturer now faces the obstacles of a declining demographic dividend and increasing labor costs. Development of intelligent manufacturing, with industrial robot technologies at the core, however, will resolve the problem, releasing Chinese workers from low-end industries, and improving the capacity and quality of Chinese manufacturing.
The number of robots that overseas-funded enterprises in China sold in 2013 exceeded 27,000 – 20 percent higher than in 2012, according to the International Federation of Robotics. In 2013, about 37,000 robots were sold on the Chinese market, accounting for one fifth of the world total – higher even than the number sold in Japan. China is thus the world's largest robot market. The International Federation of Robots estimates that robot stock in China will surpass 130,000 by 2016. Also that China will become the top world robot market with the biggest demand, and that a "robot revolution" will create a several-trillion dollar market.
As a major component and growth engine of the "third industrial revolution," robots will likely influence the world's future manufacturing map. Since China has the potential to become the largest market, there is no reason why the country should not aspire to the jewel in the crown of manufacturing.
Perfect Meeting Point of Software and Hardware in the Maker Era
Thanks to policy incentives introduced over the past two years, the Chinese robot industry now displays great vitality. Data show that several thousand robot companies registered in the first half of 2015 alone, and that the total number of registered robot companies surpasses 4,000.
According to the China Robot Industry Alliance, more than 70 percent of robots sold on the Chinese market in 2014 came from overseas-funded enterprises that possess technological and quality advantages. What's more, the majority of their products are high-end. Only 30 percent are low-end products from domestic companies.
"There are about a dozen powerful robot companies in the world with whom we small companies with limited capital resources are unable to compete. China really needs large-scale robot companies not just in capacity, but which also have powerful comprehensive strength," President of Shenyang SIASUN Robot and Automation Co., Ltd. Qu Daokui said. "The Guideline for Promoting Robot Industry Development issued by the Ministry of Industry and Information Technology proposes that China cultivates three to five internationally competitive leading enterprises by 2020."
Based on this judgment, the establishment in late December 2014 of the HIT Robot Group was considered a major step in integrating resources and expanding the scale of domestic robot industry. Qu Daokui explained that his company SIASUN is now implementing the strategy of a comprehensive platform that connects innovation, industry, and funds to introduce more capital, especially venture capital. "Currently, China's makers are mainly in the software industry. However, as technology continues to develop, a new hardware era will come. Robots will be the perfect meeting point for hardware and software in this new era."
"Going Global" and "Inviting in" Jointly Promote Robot Development
Compared with other countries, China's robot ownership is not immense. The number of robots per 10,000 workers in China is 30, in South Korea 437, and in the U.S. 152. The world average is 62. China hopes to increase its number to 100 by 2020.
Aware of the huge potential of the Chinese market, many well-known foreign robot companies are searching for ways to enter and be more engaged in it. They are not satisfied with just making China a sales and technology service market, but also seek to make it a production base for robot assembly and manufacturing parts.
The German company Kuka established in October 2012 a new plant in Shanghai. The Japanese Yaskawa Electronic Co., Ltd. set up its first overseas robot manufacturing base in Changzhou City, Jiangsu Province in July 2012. The Adept Robot Trading Company (Shanghai) also opened for business in 2012. The German Reis Robotics built a new plant in Suzhou in 2013. And Hyundai Heavy Industries Co., Ltd. has been seeking to establish a manufacturing base in China since 2013.
Wei Dong, secretary general of the Chongqing Robot and Intelligent Equipment Industry Association, believes that as Chinese and U.S. companies have reached an agreement to jointly build a high-speed railway connecting Las Vegas and Los Angeles, further international cooperation of this kind is likely. The robot and intelligent equipment industry will thus become more focused.
As the industry grows, China has become proactive in international exchanges in this area. The first International Robotics and Intelligent Equipment Industry Conference, held in Chengdu on December 19, 2014, saw establishment of the International Robotics and Intelligent Equipment Industry Alliance. Luo Jun, CEO of Asia Manufacturing Association, was elected executive chairman and secretary general.
According to Luo Jun, the Alliance will build robots and intelligent equipment innovation demonstration centers, industrial 4.0 innovation demonstration centers, intelligent manufacturing research institutes, and online robots projects in 10 major Chinese industrial cities over the next three years.
Intel, Microsoft, Google and other IT enterprises from the U.S. are now entering the robotics field, and leading a new round of change and revolution in this industry. They are also proactively working with China in this respect.
Intel Capital, Intel's global investment organization, said that it will support China's mass entrepreneurship and innovation strategy through projects that include the China Smart Device Innovation Fund.
American science and technology expert Trevor Nagel recently commented that the era in which China's robot industry was regarded as blind copying is over. However, he added that the U.S. still takes the lead in invention and creation, while China excels at innovating details. The country's robot manufacturing achievement is just one important example.
--------------------------------
YANG SHU & ZHAN YUAN are reporters at Guangming Daily.
Services