Shanghai: An Amazing Tourist Destination
By staff reporter SUN LI
SHANGHAI is one of the largest and most developed cities in China. Skillfully combining the past and the present, and the East and the West in a unique and charming style, the city's art and architecture features both traditional charm and modern innovation.
As a developed tourism city, Shanghai provides travellers with extensive tourist facilities and diversified tourism products.
Since the 2010 Shanghai Expo, the city's tourism industry has seen rapid development. A large number of flights operated by 94 airlines connect the city with 256 cities across the globe. In 2014, 608 cruises docked at Shanghai Harbor, ranking it the busiest in Asia. The same year the city received eight million overseas tourists and 268 million domestic tourists.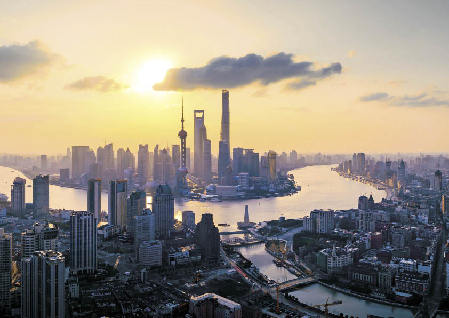 A panoramic view of the Bund. 
New Highlights
In recent years, the city has invested greatly in new highlights. This year will see the opening of Shanghai Disney Resort, composed of six theme parks.
As a popular destination for conferences and exhibitions, Shanghai boasts world-leading venues and facilities. Opened in October 2014, Shanghai's National Exhibition and Convention Center (NECC) is the most impressive of these arenas.
The NECC is pitched as the world's largest convention center complex in terms of size, and a global-leading exhibition complex in terms of service. Covering an overall floorage of 1.47 million square meters, the NECC consists of 13 exhibition halls. One of them is a 28,000-square-meter pillar-free hall, the largest of such kind in China.
The Shanghai Tower, the city's vertex, is a new landmark. The 632-meter-tall tower is located at the core of Pudong's Lujiazui Finance and Trade Area. It spirals gradually upwards at a 120-degree inclination, its curved façade and spiraling form symbolizing the dynamic emergence of modern China. Together with its neighbors, the 420-meter-tall Jinmao Tower and the 492-meter-tall Shanghai World Financial Center, the Shanghai Tower and its graceful design completes the urban trinity. The Shanghai Tower will stand as the city's new beacon, its silhouette defining the skyline together with surrounding landmarks such as the Oriental Pearl TV Tower.
The Tower's sky lobby on the 118th floor, with transparent visions and panoramic city views, is its most attractive feature. Visitors can directly access it via a designated sightseeing elevator with a maximum upward speed of 18 meters per second.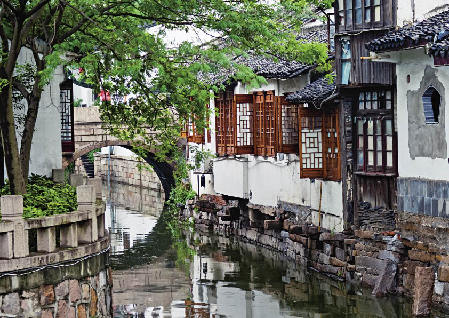 Shanghai is an elegant setting in which to enjoy leisure amid a historical ethos.
Past and Present
Shanghai is an elegant place to relax with breathtaking natural landscapes and well-preserved cultural relics. Among them, most famous are Zhujiajiao Town, Fangta Park, and Zuibaichi Garden.
Covering an area of 47 square kilometers, the little fan-shaped town glimmers like a luminescent pearl in a landscape of lakes and mountains. The water town is connected by 36 finely wrought old bridges in different shapes and styles in wood, stone, and marble. Nine ancient streets are filled with representative ancient buildings from the Ming (1368-1644) and Qing (1644-1911) dynasties.
Covering an area of 12 hectares, Fangta Park bears witness to almost 900 years of history. During the Tang (618-907) and Song (960-1279) dynasties, the area was a busy commercial hub of what was then Shanghai. The screen wall in the park is regarded as the oldest and most intact large brick relief sculpture in Shanghai.
As a tourist attraction in Shanghai, Zuibaichi is a Chinese garden in the city's suburban Songjiang District. The garden was first set up as the private villa of a scholar named Zhu Zhichun in the Song Dynasty. In late 17th century, painter Gu Dashen rebuilt it on the original site. The garden inherits elements of South China's delicate architectures: elegant pavilions, winding and zigzagging walkways, carved beams, and painted rafters. Famous men of letters would gather here to compose poems on the fantastic landscape. It has scenery of exceptional charm that attracts an endless stream of tourists.
Audio-visual Feast
For a world-famous tourist city, dining, accommodation, transportation, travel, shopping, and entertainment are six indispensable elements. Along with local tourism upgrading, a number of time-honored performance venues have also regained their old charm. Shanghai-style culture has become an indispensable feature of local tourism. 
Adapted from Hong Kong TVB's namesake TV drama, the musical The Bund is a must-see cultural feast. Taking 1930s Shanghai as the background, it describes the love-hate relationships among members of a local chamber of commerce. For this performance, the century-old Yunfeng Theater was renovated into a theme theater of old Shanghai, kitted out in the style of its earlier days. 
Produced by a top-level production team, the musical integrates European theatricality, U.S. entertainment, and the traditional values and artistic elements of China. Many memorable songs like Rose, Rose, I Love You and Night Shanghai have been artfully integrated into the drama's storyline.
The dancing style retains Shanghai elements while combining popular European and American dance styles. By means of advanced motion picture techniques, the scene changes are smoothly executed. 
Both locals and tourists can appreciate the rich Shanghai style of this show. Since its premiere in 2014, the well-received musical has been performed more than 100 times at Yunfeng Theater.
Services