Buddha Jumps over the Wall
 "Buddha Jumps over the Wall," also known as "Fu Shou Quan," a wish for good fortune and long life, is a well-known Fujian dish that originated during the reign of Qing Emperor Daoguang (1821—1850). It was created by Zheng Chunfa, celebrated chef and proprietor of the Ju Chun Yuan Restaurant in Fuzhou, Fujian Province.
Zheng was private chef of a senior local official in the early years of his career. On one occasion the official, Zhou Lian, was invited to a banquet held by the financial authority of Fuzhou, and was particularly impressed with one tasty dish. When he got home, Zhou immediately asked his chef Zheng Chunfa to make it. After several failed attempts, Zheng went to the financial bureau to observe exactly what ingredients it contained and how it was prepared. Eventually he successfully created his own version of this culinary delight by adding more seafood and other delicacies that enhanced its alluring aroma and toothsome flavor.
After leaving his job at Zhou Lian's household and opening his own restaurant, Zheng Chunfa's dish, with its 18 main ingredients, along with a variety of supplements and seasonings, all stewed in a pottery jar, became the house specialty. People came in hordes to sample it. One day, the appetizing aroma lured in a group of passing scholars. After tasting the dish, they waxed lyrical on its excellence and began lauding it in verse. The poem that became most famous vividly described a monk that jumped over the temple wall to the local neighborhood and gorged on this lay cuisine, so disregarding his vegetarian vows. The name of the dish hence changed from "Fu Shou Quan" to "Buddha Jumps over the Wall."
The dish has been a delicacy at state banquets for decades, including those for Cambodian King Norodom Sihanouk, U.S. President Ronald Reagan, and Queen Elizabeth II of the U.K. It is now celebrated throughout the world.
Ingredients:
1,000g abalone, 250g soaked sea cucumber, one chicken and one duck, 1,000g pig feet, 500g sheep's elbow, 500g pork tripe, 500g duck's gizzard, 150g tendon meat, 12 boiled pigeon eggs, 500g winter bamboo shoots, 2,500g Shaoxing yellow wine, 1000g bone broth, 500g lard, 75g soy sauce, 75g crystal sugar, 10g shredded scallion, 5g ginger, and 10g cassia bark.
To cook:
1. Steam the abalone until soft and tender on a high heat. Add 250g bone broth and 15g Shaoxing yellow wine. Steam for another 30 minutes.
2. Remove the bones of the chicken, duck, pig feet, and sheep's elbow. Cut the meats and pork tripe into bite-sized pieces and add, along with the duck gizzard, to the pot. Skim. Remove and flash boil in 250g broth, adding 85g Shaoxing yellow wine.
3. Put the soaked sea cucumber and tendon meat into 150g water and steam on a high heat for 30 minutes.
4. Shell the boiled pigeon eggs. Flash boil the winter bamboo shoots.
5. Place the lard in a pan and when melted add the shelled pigeon eggs and winter bamboo shoots. Deep fry for about two minutes.
6. Leave 50g lard in the pan. Add the shredded scallion and ginger, then the chicken, duck, sheep's elbow, pig feet, duck gizzard and pork tripe, and stir-fry with 75g soy sauce, 75g crystal sugar, 2,150g Shaoxing yellow wine, 500g broth, and cassia bark. Cover the pan and stew for 20 minutes. When ready, scoop out all the ingredients, leaving the broth.
7. Put 500g of fresh water into a Shaoxing yellow wine jar and heat. Drain off the boiling water. Place a bamboo grate at the bottom of the jar, add the cooked chicken, duck, sheep elbow, pig feet, duck gizzard, pork tripe and winter bamboo shoots. Add sliced tendon meat and flaked abalone wrapped in gauze on top, and pour in the broth.
8. Cover the wine jar with a lotus leaf and invert a small bowl on top. Simmer the jar on the charcoal fire for two hours. Add the sea cucumber and simmer for one more hour. Serve.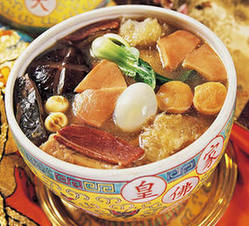 Services