Coping with the Water Crisis
By staff reporter LI YUAN
CHINA is among the countries that suffer the world's most severe water scarcity. Although home to 20 percent of the world's population, China maintains only 7 percent of freshwater resources, and the limited reserves are threatened by pollution.
On February 12, 2013, a journalist named Tao Haijun used Weibo (Chinese Twitter) to ask the people to take pictures of water pollution they see during their daily lives. He also launched "Save the Mother River," a public welfare movement. He posted submitted images on Weibo. One month after the movement kicked off, he had received over 500 photos from more than 100 participants, documenting water pollution in two-thirds of provinces in China. The widespread pollution across much of the country's waterways shocked him. "We may not see with our own eyes just how bad the pollution is in some places," he said.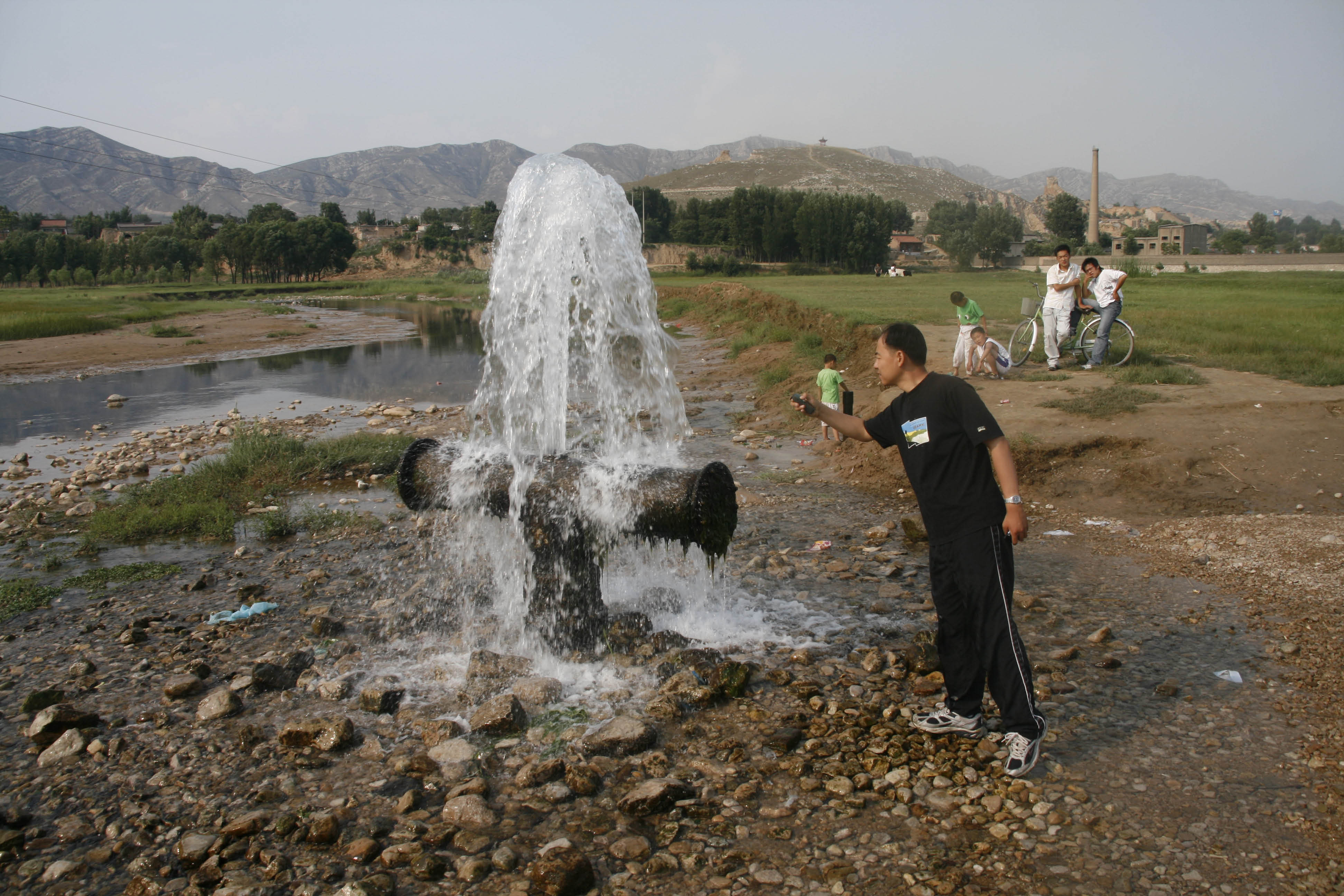 CCTV journalist Tao Haijun launched a campaign calling for average citizens to report on water pollution cases by sharing their photos online. 
An Unavoidable Issue
Over the past three decades of China's rapid economic growth, its ecological environment endured unprecedented pressure. Especially alongside the industrialization and urbanization of recent years, industrial waste and municipal sewage which aren't properly treated before discharge due to the excessive population, and litter tossed about by less environmentally conscious residents, all end up in rivers, exacerbating the water pollution problem.
During the "Save the Mother River" campaign, a netizen from Shandong Province recalled that during his childhood, the river in his village was clear and that he could spot fish from time to time. But now the same river is unrecognizable after contamination by wastewater from pig farms. Another netizen from Guangdong Province photographed pollution flowing through a river in Huaxi Village of Puning City. A third netizen from Fujian Province exposed water pollution in Liming Village of Zhangzhou City which affects the water supply of 12 villages.
"In the photos we see that the rivers in various municipalities, provinces and autonomous regions including Guangdong, Guangxi, Yunnan, Henan, Hubei, Hunan, Chongqing, Fujian, Shandong, Tianjin, Shanxi and Inner Mongolia, are 'crying.' Much of the drinking water supply in seven major river systems has been exposed to pollution to different degrees. That in stretches of rivers running through urban areas is even worse," Tao said.
According to statistics, two million new cases of cancer are diagnosed annually in China and 1.4 million people die from the disease. That means one in five deaths in the country is caused by cancer. In many big cities, cancer has overtaken cardiovascular disease to become the leading cause of death.
In order to study the relationship between water pollution and cancer, Professor Yang Gonghuan from Peking Union Medical College launched a research project on the correlation between water pollution and tumors in the Huaihe River Basin in July of 2005. This location was chosen because the so-called "cancer villages" of the Huaihe River Basin have frequently appeared in Chinese and foreign media reports. Over seven years, Professor Yang collected data about water pollution in the basin, as well as local cancer cases since 1973. His results showed that places with highest morbidity of cancer are all located very close to the most polluted water sources, which essentially proved the link between water pollution and cancer.
"The pollution we are talking about includes industrial, agricultural and daily life waste," explained Yang. "The occurrence of cancer is not the result of any single factor. There could be others besides chemicals, and the combined effects of various factors sometimes follow the formula 1+1> 2."
The situation for surface water is already alarming, and that of groundwater is also deteriorating. According to the Communiqué on Land and Resources of China for 2012 published on April 20 by the Chinese Ministry of Land and Resources, after monitoring 4,929 sites located within administrative regions of China's 198 prefecture-level cities, researchers found the quality of nearly 60 percent of groundwater to be "bad," while 16.8 percent of monitored sites were considered "extremely bad."
"To cope with increasingly stringent environmental protection standards, some enterprises dump wastewater in pits or infiltration wells," revealed Ma Jun, director of the Institute of Public and Environmental Affairs (IPE). "Some rural residents in North China dump their daily life wastewater into pits and let polluted water penetrate the soil. In some parts of southwestern China, some companies utilize local karst caves to cover their illegal sewage disposal."
However, some see such behavior as innovative wastewater discharge. Ma Jun explained that some Western countries have indeed attempted the technique of stuffing pollutants into deep cavities. But the success of this method requires strictly controlled conditions. Ma noted that the technology is still highly controversial even in developed countries.
Groundwater flowing through porous rock strata and soil provides China with 20 percent of its consumed water. In Beijing and Hebei in northern China, groundwater represents more than 50 percent of all the water used for industrial and agricultural production and people's daily lives.
"Groundwater pollution is hard to detect and has been ignored since people can't actually see it," said Ma Jun. "However, the renewal of polluted groundwater is actually much more difficult than that of surface water. Pollution of groundwater, especially deep groundwater, is virtually irreversible."
In the past, people believed that the environment was an unavoidable sacrifice when developing the economy. Today, the relationship between economic growth and water has already entered a vicious circle – water shortages hamper economic growth, and the exacerbation of healthcare costs caused by water pollution also slows economic development. In fact, the water crisis has become a problem which China must face squarely.
All Aspects in Action
"What can we do?" queried Tao on his microblog. "Other than lament, complain and get furious, we can unite and play a role in urging the government to tackle pollution problems and pushing companies to change their development models." And with that, Tao launched the movement he named "Save the Mother River."
The Chinese government understands the severity of the water pollution issue. In July 2007, in order to promote "green credit," the Ministry of Environmental Protection, the People's Bank of China and China Banking Regulatory Commission jointly issued a proposal to strengthen policies and regulations related to environmental protection and ensure the safety of credit. Influenced by the proposal, financial institutions have greatly boosted their support for green and environmentally-friendly projects, such as those related to wastewater treatment and comprehensive utilization of resources. The volume of loans granted to energy conservation and emission reduction technology as well as tech upgrading projects has increased significantly, while loans to industries responsible for high pollution and energy consumption have continued to decline.
In January 2012, the State Council released the Opinions on Implementing the Strictest Water Resources Management System. On January 2 of this year, the General Office of the State Council issued the Methods of Evaluating the Application of the Strictest Water Resources Management System. They outlined three standards to determine whether governments at every level have fully implemented the strictest water resources management system: control of total water consumption, control of water use efficiency, and the qualification rate of water quality in major functional areas.
One month later, the Ministry of Environmental Protection published the 12th Five-year Plan for Prevention and Control of Environmental Risks from Chemicals. It calls for major action in prevention and control of pollution caused by chemicals. During the 12th five-year plan from 2011 to 2015, the Chinese government will optimize the distribution of check points, improve management, curb emissions and raise overall capabilities to promote the construction of a system for the prevention and control of environmental risks caused by chemicals and reduce the frequency of environmental catastrophes.
Also worth mentioning is that non-government environmental protection organizations are playing roles as inspectors and have gradually gained enough power to pressure companies to stop illegal waste discharge.
Ma Jun, formerly an investigative reporter and author of the book The Water Crisis in China, believes that the key to solving the water pollution problem lies in neither technology nor money, but in motivation. Loose regulations cause companies to prefer paying a nominal fine rather than performing overhauls which would curtail their excessive waste discharge. Therefore, Ma Jun decided to publicize the situation surrounding water pollution and urge all people to pressure companies to make adjustments and become socially responsible.
In 2006 Ma Jun founded the Institute of Public and Environmental Affairs. The organization's primary function is to collect environmental data released by the government at various levels and place it on an electronic map. Today, Chinese netizens can view a "Map of China's Water Pollution" online. Through the map, residents can stay informed on the state of water pollution in their own area and pinpoint sources of water pollution.
The Map of China's Water Pollution exposing some enterprises' callous behavior has aroused a tremendous social response. The general public proactively participates by reporting cases of illegal wastewater discharge. Government departments of environmental protection have also joined the endeavor and begun investigating companies on the map. Ma Jun will inevitably meet representatives of these businesses in his office. Under pressure from the public, managers of such enterprises all pay Ma a visit. Some have no idea why they were blacklisted. Some declare that Ma's institute has no right to disclose their information. Some ask for "preferential treatment" due to status as "large taxpayers." Others vigorously attempt to prove their innocence, insisting that environmental protection policy has become overly strict. However, most enterprises eventually express willingness to cooperate – they admit their mistakes and promise to improve.
Ma explains that the Map of China's Water Pollution functions as a platform for public participation. He believes in the power of nonviolent negotiation and consultation and hopes to enable open dialogue between governments, enterprises and citizens.
So far, more than 870 companies, including Chinese and multinational ones, have responded to complaints and made adjustments to resolve the problems. A notable victory came when U.S.-based Apple Computers broke its silence and urged players along its supply chain to deal with pollution problems. That particular case brought major exposure to Ma Jun and his map.
"By making improvements, companies could not only reduce waste and increase production efficiency, but also revamp their public image and enhance the value of their brands," Ma said. "According to my observations, it's easier for environmentally-conscious companies to recruit and keep elite personnel. These are win-win results."
Ma established the "Green Alliance" in cooperation with 47 other Chinese and foreign environmental protection organizations. These organizations share the same goal with varying focuses – investigating the severity of pollution, providing environmental protection training for businesses, building relations with the media, and researching methods to increase protection efficiency. Their goal is to build a neutral platform to link enterprises to the general population. With the electronic map monitoring corporate waste discharge, participating organizations can guide companies towards green industries and green credits and help them make environmentally-friendly choices when choosing suppliers, investors and partners.
In April 2012, Ma Jun became one of six winners of the Goldman Prize, an honor considered the Nobel Prize of environmental protection by some. Six years earlier Yu Xiaogang, head of Green Watershed, another Chinese environmental organization, also accepted this honor. Organizers of the Goldman Prize dubbed both men brave leaders and praised them for overcoming so many obstacles in order to protect the environment and defend the interests of communities.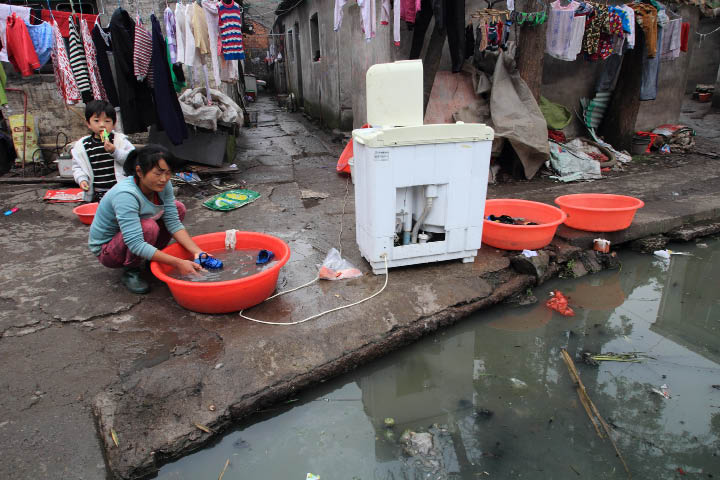 In many Chinese communities daily sewage goes directly into waterways without treatment.
A Long Way to Go
Still, 120,000 instances of pollution on the Map of China's Water Pollution haven't been addressed by the offenders. According to Ma Jun, although many cases remain, they have made significant progress in improving the overall quality of the environment. Efforts should be made to further increase environmental awareness and transparency with information related to the environment.
Three environmental protection organizations, IPE, Friends of Nature and Tianjin Living, have recently applied to government environmental departments in Beijing, Tianjin and Hebei in hopes of establishing an online platform to release data they have acquired from monitoring major polluters. The Beijing Municipal Environmental Protection Bureau responded first, promising that most state-owned enterprises would release environmental data to the public by the end of the year.
Since the launch of the "Save the Mother River" campaign, Tao Haijun has never stopped encouraging more people to join. In many countries, lawyers play a crucial role in such endeavors. However, Zhu Wei, member of the Environmental Protection Committee of the Beijing Lawyers' Association, verified that in China, neither NGOs nor individuals have the right to take legal action against polluters. Also, environmental cases are difficult to file, and evidence is particularly difficult to obtain.
Environmental protection in China got off to a late start, but the resulting serious environmental deterioration has aroused attention from the government at all levels. The Xiangjiang River in Hunan Province is one of the most polluted by heavy metals. The local government has earmarked RMB 59 billion (US $9.6 billion) to clean up the river. However, progress has been slow, and Hunan environmental experts predict that completing the project will cost RMB 400 billion.
Zhang Xiaojian, a professor with the Department of Environmental Science and Engineering at Tsinghua University, commented: "Closing down the heavy metal polluters wouldn't solve everything, it would only be the start. Professional environmental companies are needed to examine water and soil in polluted areas to determine the next steps. The problem is that doing all this is going to cost a fortune without making any short-term profits."
In addition, more obstacles remain such as identifying responsible parties in cross-border pollution cases, blind pursuit of GDP at all costs and loopholes in existing environmental regulations. China still has a long way to go to restore blue skies and clear water.
Services