Travelogue by Young Marco Polos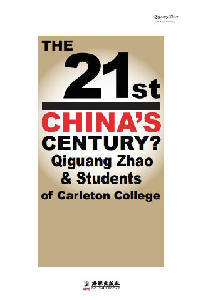 The 21st China's Century?
Qiguang Zhao, et al.
124 pages, paperback
RMB 48
Published by Dolphin Books Co. Ltd. in December 2012
THE 21st China's Century? is a collection of travelogues by 24 American students from Carleton College and their teacher Qiguang Zhao. Each records what they saw, heard and thought during a 10-week tour of China. The shortest entry is just one sentence, the longest no more than 1,000 words. Their fresh perspective and bold thoughts nonetheless invigorate the time-honored topic of cultural communication.
The tour started with disillusionment. The students had done research on China, through books and movies, back in the U.S. Some expected a landscape filled with teahouses, pagodas, temples and lotus blossoms. Others envisioned China as a communist country with capitalist overtones. What they found – a country with a 5,000-year civilization developing at full speed where modernity and tradition continually clash – matched neither image.
These young Marco Polos saw in the metropolises of Beijing and Shanghai tower blocks that eclipsed old buildings, and Western commercial icons like McDonald's golden arches everywhere. Neon lights illuminating the evening in smaller cities like Qingdao and Wuxi also evoked in them the same feeling as standing on a New York street.
One student, James Beck, cited the life-size BMW made entirely out of hutong bricks on display in Beijing's 798 Art District as best symbolizing China's dichotomy of tradition and modernity. To him, it seemed to say that in its eagerness to embrace Western civilization, China has sacrificed some traditional life modes such as hutong culture.
But it was not long before these students found that, despite a preponderance of Western-style constructions, people still live as they have for thousands of years; also that they are intensely proud of their country's long history and rich heritages. The young Americans were astounded that tens of thousands from around the country come each day to the Forbidden City and the Great Wall. They found it difficult to imagine Americans being similarly motivated by zeal and pride to visit the Washington Monument or Lincoln Memorial.
Although the intertwining of new and old that these young travelers witnessed was not what they had expected, it gave them a new perspective on China that made them think seriously about what they saw. As her grandmother has an old Mahjong set that the whole family plays and enjoys, Clare Harris decided to buy another one to take home. She was disappointed to discover that sets made from bamboo are no longer produced, and that all in the market are plastic.
One autumn afternoon, however, Clare decided that there was no point in fretting over historical changes. What changed her mind was the sight of people in the Temple of Heaven Park that gathered to sing, play cards and chess, and generally enjoy a day of leisure. It made her realize that it makes no difference whether Mahjong tiles are made from bamboo or plastic, or if the rules have changed. Its core purpose is to draw people together to share life and its joys. This is a tradition that Chinese people will never abandon.
These American students acted as a sounding board, catching the echoes of Chinese civilization. The scope and depth of their observations when expressing their thoughts on Chinese tradition and culture impressed even their teacher.
Qiguang Zhao is a tenure professor at Carleton College who initiated the college's Chinese language and literature program. He has spent the past 30 years in the peaceful Minnesota countryside doing research on Taoism. During this time, China has undergone great changes, transforming from an agricultural country into the world's main manufacturing engine.
Zhao was anxious to take his American students to China before it became something he could "no longer recognize and explain." Finally in 1992 he took a group on their first trip. He has since frequently accompanied his students to China, encouraging them to think about what they see and to keep a journal.
The 24 students featured in this book were participants in the 2004, 2008 and 2010 China tour projects. They started in Beijing, stayed a few days in Tianjin, and headed south to Shanghai where they studied at Tongji University. They also traveled neighboring provinces Shandong, Jiangsu, Anhui and Jiangxi. Besides improving their language level, they also explored traditional culture, witnessed the fast development of the Chinese economy, and experienced the hospitality of the Chinese people.
For Zhao, each tour was like "the torrent of two converging rivers" that brought home to him the importance of cultural exchange. When the students traveled to Inner Mongolia in 2004, the local school held a wrestling match to entertain them. The U.S. group happened to include two accomplished wrestlers who took up the challenge. But the match turned out to be an anticlimax owing to different rules. The Mongolian wrestler thought he had won, but his American opponent kept up the attack until the Mongolian shouted out in his native tongue, "You idiot! If you don't know the rules of wrestling, get out of here!"
There are many other misunderstandings in human society resulting from different cultures and social practices. Better communication is the only way to clarify and eliminate them. It is a pity that, despite its trade surplus with the U.S., China has maintained a huge deficit in cultural exports. The Chinese know much more about the West than vice versa; Americans are familiar with China's products, but have low understanding of its culture.
Zhao believes that people-to-people contact, especially that between youth, rather than the exchange of data, capital, products or movies, is the key to eliminating this cultural deficit. In 2011, the number of Chinese students in the U.S. reached 157,558, compared with just 23,292 American students in China, according to official statistics. The deficit hence remains large.
The 21st China's Century? is an endeavor to promote cultural exchange and to show how mutual understanding is possible. Student Kathryn Schmidt's comment best sums up the value of cultural communication: "Despite all the turmoil in the relationship between the U.S. and Chinese governments, the relationship we could forge with the Chinese people we met largely proved that those politics were irrelevant to human understanding. Their [Chinese] views of America were overwhelmingly positive. That was something powerful I did not expect. Exchanges of cultural norms are vital to helping this world operate not out of blind fear but out of love and mutual respect."
Services