Encounters with Chinese Language and Culture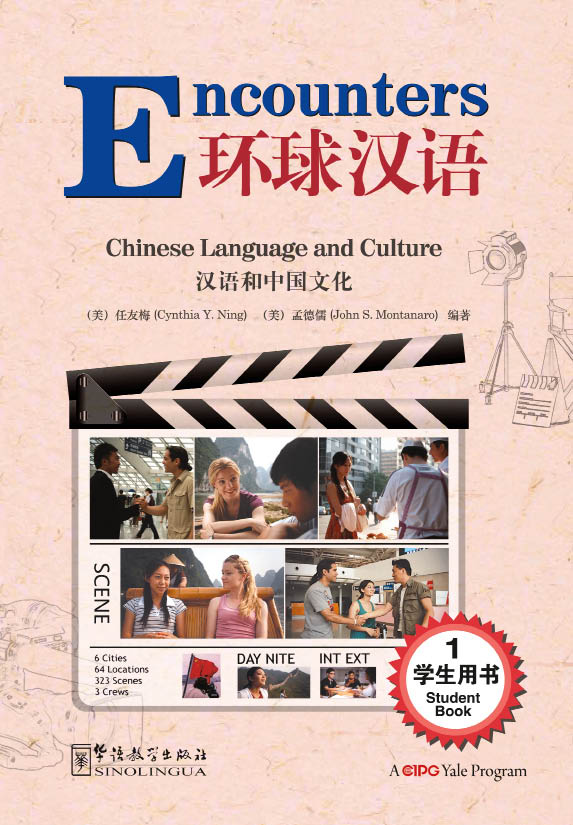 Title: Encounters
Edited by Cynthia Y. Ning & John S. Montanaro Paperback, 308 pages
RMB 139
Published by Sinolingua in Beijing in October 2012
Encounters is a fully integrated suite of Chinese language learning material. It weaves beautiful stories into the learning process and makes for an engaging educational experience. The Encounters series also includes an annotated instructor's book, a students' textbook, a character writing workbook, a screenplay, a DVD lab pack, and access to an interactive website, www.EncountersChinese.com.
The series is themed on the experiences of a group of young adults who set out to explore China. The group includes a handsome folk artist, a passionate photographer, an outgoing English teacher and an ambitious architect. They come from different cultural backgrounds and different countries, but join together to find out about life in both modern Chinese metropolises and quiet, small towns. Along the way, they learn a little more about themselves as well.
Through the group's stories, we are afforded deep insight into both contemporary and ancient Chinese culture. We feel the impact of China's joining the global village and learn of the charm of Mandarin, the world's most spoken language.
Jointly published by China International Publishing Group and Yale University Press, Encounters aims to spread understanding of Chinese language and society and afford greater numbers of people access to the country's cultural wealth.
Work on Encounters started in the autumn of 2006. The final product is a work of creative collaboration between authors and editors in China and the U.S.
The principal authors of the textbook, Professor Cynthia Y. Ning from the University of Hawaii and Professor John S. Montanaro from Yale University, both have rich experience in teaching Chinese as a foreign language.
In the textbook, they reveal a keen awareness of the difficulties native English-speakers face learning Chinese. The textbook presents its material, which is suitable for beginners and intermediate learners, in context and with elaborate explanations that make self-learning possible. Also included is over 200 minutes of audio material and a 20-episode educational series, shot in HD.
The textbook is comprised of 11 units. Each features colorful classroom activities based on the corresponding video series. Participating in group activities allows learners to improve their oral Chinese gradually with minimal rote learning.
The process of recognizing and writing Chinese characters proves problematic for many Western students. Especially when starting out, learning thousands of characters, most of which look very similar to the untrained eye, can prove a headache.
The Encounters exercise workbook for Chinese characters explains in plain English the techniques needed to master character recognition. On completion of the workbook, students will have mastered hundreds of characters.
The video series is educational and entertaining. Shot on location in Beijing, Shanghai, Xi'an and Suzhou, it presents realistic scenarios depicting contemporary life in China; the thoughts of Chinese youth on life, love and society; the collision and exchanges of minds; and ideas on the meaning of "home" and "abroad." The series presents its audience with the freshest and most authentic language used in real-life situations. It is an entertaining series in its own right, and marks a shift away from dry, traditional methods of classroom teaching.
The Internet has been a boon for language learning. No longer do we have to travel to far away countries to hear a foreign language; we simply open our browser and type in an address. Modern language courses are incomplete without a web presence. Encounters is represented in the digital medium at www.EncountersChinese.com. The site features rich audio and video content that matches and supplements the written materials in the package.
Language learning is a bridge of communication between peoples and nations. Encounters provides strong support for the construction of that bridge. Thus far, Encounters has had official launches in Asia, Africa and Latin America. Learning institutions and publishers in Thailand, the Republic of Korea and the United Arab Emirates have displayed interest in publishing the material locally.
Services