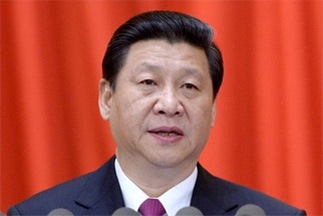 Changing Dreams
——TANG SHUBIAO
The Chinese Dream, pursued by 1.3 billion Chinese people, is the object of much study today. If you're talking about China and you don't mention the Chinese Dream, it even seems a little strange. Mentioning the Chinese Dream to people in their fifties or older, many will naturally think back to dreams of their childhood. These dreams may have been realized, or shattered, or enriched by the passing of time.... [More]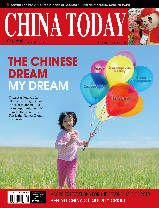 Feature Story of the NO.9 Issue
The Chinese Dream, My Dream
China is a domicile for all dreams. Among those that can testify to this are Jie Hongyun, whose status as farmer changed to that of permanent resident of Zhongshan City through urbanization reform; Yin He, who voluntarily embarked on a career in Tibet; Wu Xiaolin, two-time earthquake survivor; and Li Shouwei who, with help from the government, rebuilt a local mosque. China also affords space for expatriates to achieve their dreams. Anton Lustig, a Dutch artist and linguist, has been teaching children of the Jingpo ethnic minority in the frontier province of Yunnan for the past 20 years. He introduces them to artistic concepts and nurtures self-confidence and creativity in these young hearts. Lustig refers to his dream simply as "doing my bit for my second hometown." Intent on building a platform for exchanges among artists around the world, Stefanie Thiedig from Germany founded Kulturgut, a multi-language website, in Beijing five years ago. She says of her home away from home, "I have a freer work environment here than back in Germany." This issue's Special Report gives accounts of dreams that have become reality for 17 individuals of different nationalities, ethnicities, religious beliefs and life experience. The diverse aspirations in life that they cherish are building blocks that constitute the bigger picture of the Chinese Dream. Everyone has the right to dreams and, more important, the right to make them come true. This is the Chinese Dream in a nutshell.
NOT long ago I visited several Arab countries and talked about the Chinese Dream with national leaders and locals alike. The Chinese Dream concerns national rejuvenation and prosperity, and people's happiness. China has been striving to realize these ideals for generations....[More]
THE Chinese Dream is closely linked to the dreams of other nations. Realizing the Chinese Dream will therefore benefit other countries, including France, and so contribute to world peace and prosperity....[More]
DURING his talks with U.S. President Barack Obama at Rancho Mirage, California last June, Chinese President Xi Jinping told his American counterpart that the main purpose of his state visit was to establish a blueprint for future development of Sino-U.S. relations and for cooperation across the Pacific Ocean. The meeting is hence widely viewed as a strategic diplomatic event between the two countries' leaderships – one equal to their "handshake across the Pacific Ocean" in 1972....[More]
THERE is the Chinese Dream in China, the American Dream in the United States, the European Dream in Europe, and the African Dream in Africa. Dreams of different nations and peoples may have things in common, but there are also differences, which naturally reflect the diversity of human society....[More]
WHEN Chinese President Xi Jinping visited Latin American countries between May and June this year, the phrase "Chinese Dream" was mentioned frequently by local leaders as well as the media. They believed that their countries can share the Chinese Dream and make joint efforts with China to achieve common development....[More]
Footprints of the Chinese Dream
China Dreams: 20 Visions of the Future is the first book published overseas to expound on the "China Dream" concept. Brought out by the U.S. branch of Oxford University Press in April 2013, its author, William A. Callahan, is a professor of international politics at the U.K. University of Manchester. His book raises some interesting viewpoints.
The book argues that both China and the U.S. consider themselves uniquely superior; consequently that they have much of value to export to other countries....[More]
The author maintains that the China Dream encompasses different visions, possibilities and futures. Such variances exist between government and civil society, between plans and dreams, and between domestic and international society....[More]
Callahan holds that the country has entered an era wherein any person born in China should exult in their good fortune....[More]
The book points out that China's development model has proven successful since the financial crisis broke out in 2008....[More]