Guardianship of Historical Sites Grows
By staff reporter MA HUIYUAN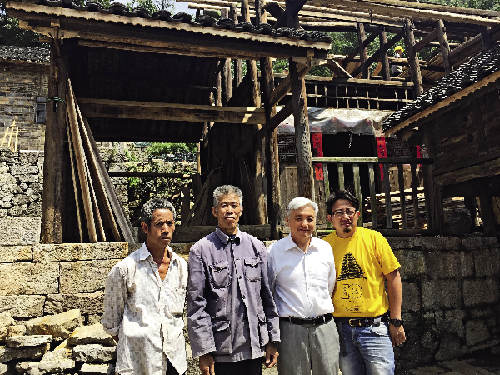 Yue Jian (first from right) and Professor Ruan Yisan (second from right) are devoted to protecting heritage sites. Wang Shilun
LAST summer, a specialist restorative work camp descended on Guizhou Province's Malang Village, where residents are mostly of the Bouyei ethnic group. Led by a French expert on architectural heritage protection and a Chinese architect, the group comprised six artisans and 10 French and 12 Chinese volunteers. Their mission in this venerable village was to restore the Wei clan ancestral hall, built more than 200 years ago from stone and timber. An embodiment of Chinese architectural excellence, the building constitutes a world architectural treasure.
Dedication
The work in Malang Village is part of an international collaboration project to protect heritage sites, co-organized by the Ruan Yisan Heritage Foundation, the French Union Rempart, and the Administrative Committee of Gui'an New District in Guizhou. Volunteers working on the project restore historical buildings using techniques and materials with which they were originally constructed.
Director of this work group Yue Jian represents the Ruan Yisan Heritage Foundation in Guizhou. He is also a council member of the World Association of Chinese Architects. Situated in Gui'an New District, Malang Village is home to 313 villagers in 86 households, 90 percent of whom are surnamed Wei. "The Wei clan ancestral hall, the first folk building in the village, was our main restoration task," Yue said. The work of the French and Chinese volunteers was mainly cleaning up garbage, sorting materials, removing old tiles, trimming roof frames, laying new tiles, making wooden panes, carving stone foundations, and also studying embroidery skills. The restored house is to be transformed into a museum of historical everyday objects in the lives of local Bouyei people. It will be a cultural center in Malang Village, and photos of the restoration group at work will be among its exhibits.
French volunteer Emile Moriniere, a professional architect, has been taking part in such voluntary projects for 21 consecutive years, since he was 16 years old. "I appreciate the atmosphere in voluntary groups where participants are more concerned about contributing than expecting anything in return," Emile said.
He first heard about the Malang restoration program in France, and joined the team there driven by his passion for heritage site protection and curiosity about China. He did mainly manual work in Malang, like carrying wood and removing garbage, and also learned fundamental carpentry skills. This was his first time in the Chinese countryside, and he admitted that he "had never realized there was such an immense gap between urban and rural areas in this country."
In Emile's opinion, big city residents tend to over-emphasize personal success, progress and wealth. And, according to his observations, when they visit the countryside, "urban people seem more shocked and incredulous even than a foreigner like me." He added, "On the other hand, it is surprising to see the amount of large-scale land development going on in rural areas. There are broad highways illuminated by innumerable street lamps...this is far from my understanding of Eastern culture, and its emphasis on the harmonious coexistence of humans and nature." But Emile found that this world view is still commonly held in Malang Village, although seldom encountered in France, even though hundreds of teams are working to preserve ancient buildings in his home country. "Chinese ancient constructions are elegant and rich in traditional cultural connotations. The edges and corners of these buildings are reminiscent of Chinese characters. But it's a shame that some have not been regularly maintained, so giving an impression of desolation," Emile said.
Chinese volunteer Su Chengfei is a student majoring in sociology at Nanjing University. She has always been interested in ancient wooden buildings, and the Malang project was her first practical experience in this field. Along with her French counterparts, Su carried bricks, sawed planks, and made mortises and tenons. "I hope that through our efforts villagers here might rediscover the value and beauty of their home," Su said. "It is also a way of reviving China's declining countryside." Volunteer Chen Hongmei is a student at the School of History and Culture at Shandong University. "Having learned the theory from books, I joined the team to get practical experience of heritage protection," Chen said, adding that she had learnt the most from bodily taking part in restoration works. "I believe our contributions have, to some extent, aroused locals' awareness of the importance of preserving this site, and drawn attention to historical buildings."
Wang Huiwen, a junior student majoring in architecture, took part in the Malang project out of interest in and concern about preserving historical constructions. "This kind of work is of huge educational significance to volunteers. Media coverage of it may also have positive impact on villagers, residents in neighboring areas, and the general public," she said. Wang is thrilled to be learning how to make mortises and tenons. "I thought at first that it would be simple work. But I soon found that using a chisel requires concerted directional control and strength, and that the chisel must move according to the contours of the objects being carved, so it is not at all easy," Wang said. "The depth and width of mortises determine the assembling of the panes. A window pane might appear simple in form, but each step of the work, from sawing the planks to assembling the frames, requires extreme care and patience."
Volunteers in this group, whether French students or Chinese scholars and freelancers, are all under the spell of ancient Chinese architecture and at the same time dedicated to its preservation. Chinese volunteers said how deeply impressed they were with the vigor and proactiveness of their French fellow volunteers. Poor sanitary conditions and limited clean water in no way dampened their passion for restoration work.
Services