Urbanize and Prosper
The transformation of Hubian is now complete. Each villager has a capital stock certificate, although the first year's dividends have not yet been produced. Wu Jianqing estimates that total collective assets could bring in an income of about RMB 4.7 million. Dividing up three million would bring to a villager holding six shares a dividend of RMB 1,500, so guaranteeing their basic livelihood.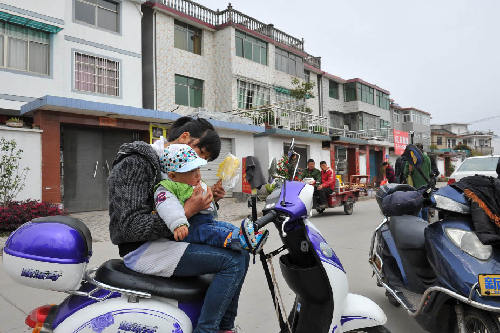 Electric and motor mobiles are popular transport modes among villagers. Photos by Yu Xiangjun 
Long-term Benefits
Hubian Village was renamed Hubian Community in 2004, so declaring its new identity as a part of an urban area. However, operation of the village still followed its original rural mode. Many of these new urbanites developed a sense of insecurity at losing land inherited over generations from their ancestors. This became manifest in their wish to divide all collective assets, on the assumption that "only money in the pocket is safe."
Since the shareholder transformation was completed in 2012, the original village assets have come under the management of a new company, while the Hubian Community Committee has handled local social affairs. The village, as a collective concept, has since disappeared, as has the social relationship between it and villagers. The latter are entitled to the economic benefits generated by the original village assets in their capacity as shareholders.
Cheng Jianjia, a Hubian villager, had often considered moving to the downtown area because he no longer owned farmland and worked in the city. But he was inhibited by fear of losing the right to benefit from the collective assets. Since the shareholder transformation, he is free to move to any place he likes while continuing to receive yearly dividends. He also has access to the urban social security system by virtue of his new domicile.
The shareholder transformation has boosted villagers' vitality. Residents of neighboring Shewuqian Village have made a detailed plan on managing and increasing their assets. It entails constructing a commercial building to improve facilities in the area and building standardized workshops for non-pollutant high-tech companies.
Safeguarding the interests of the people is key to the transformation, according to Li Gaofeng, secretary of the Tunxi District CPC Committee. Since becoming shareholders, the original villagers can look forward to a long-term income as well as standard social insurance and welfare.
Focus on Folk
Excessively rapid urbanization made Hubian a city-besieged village, so generating social problems such as out-of-date infrastructure, evident in drainage and electricity systems that failed to meet the demands of a growing population. "It was not uncommon for people to fall, after nightfall, into the open-air pits that served as toilets in the sole roofless latrine built in the center of the village," Wu Jianqing recalled. As Hubian is on the banks of the Xin'an River, during the rainy season villagers had to pack up and be ready to move at a moment's notice.
As more and more villagers took up work in manufacturing or in the city service and tourism industries, their income increased. They were keen to integrate into city life and enjoy the convenience of a modern lifestyle and the benefits of the urban pubic service system. In 2012, new houses for Hubian villagers were completed, each covering around 200 square meters amid complete infrastructure. "Some people didn't want to move at first, but when the new community was finished everyone wanted to be part of it," Wu said.
Now these new urbanites also enjoy special welfare from the joint-stock company. For example, seniors over 60 receive an extra allowance of RMB 120 every month. It is also possible to receive 70 to 80 percent reimbursement of medical expenses on paying just RMB 200 RMB a year. Young adults at college also stand to obtain scholarships from the community.
Hubian has still more ambitious plans for its future. Villagers retained some of the old houses during their relocation and moved them to the banks of the Xin'an River, the village's original location. After careful planning and renovation these houses are now a local pleasure, entertainment and dining destination. A troupe of village elders perform traditional folk activities such as dragon and lion dances there.
"We want to keep these old houses in commemoration of our village and respect for history," Wu Jianqing said. Urbanization is an inevitable trend in modern society, but also an opportunity to review and pass on village values and traditions.
Services