Traditional Chinese Medicine amid Troubled Development
By staff reporter ZHANG XUEYING
BOZHOU City in northern Anhui Province wakes up every early morning to the heady fragrance of medicinal herbs. This aroma comes from the bustling Kangmei Traditional Chinese Medicine (TCM) Market adjacent to the city's railway station.
The huge market, which is yet to be expanded to meet its planned size of 1.22 million square meters, starts its day at 3 a.m. with futures transactions of Chinese herbal medicine before the spot market opens at about seven to eight o'clock.
The market trades in 2,600 different kinds of traditional Chinese medicine and attracts 20,000 to 30,000 customers per day. Its 4,300 stands conclude daily transactions of up to 6,000 tons, with the annual turnover exceeding RMB 20 billion. The market is more than a place for buying and selling; it also handles quality control and storage. Its scale and scope of operation make it the biggest TCM market in the country.
The flourishing Chinese herbal medicine business in Bozhou gives hope to the prospects of a rapidly growing TCM industry. But problems such as counterfeit medicine and an absence of industry standards constitute serious obstacles to its development. Reform is needed.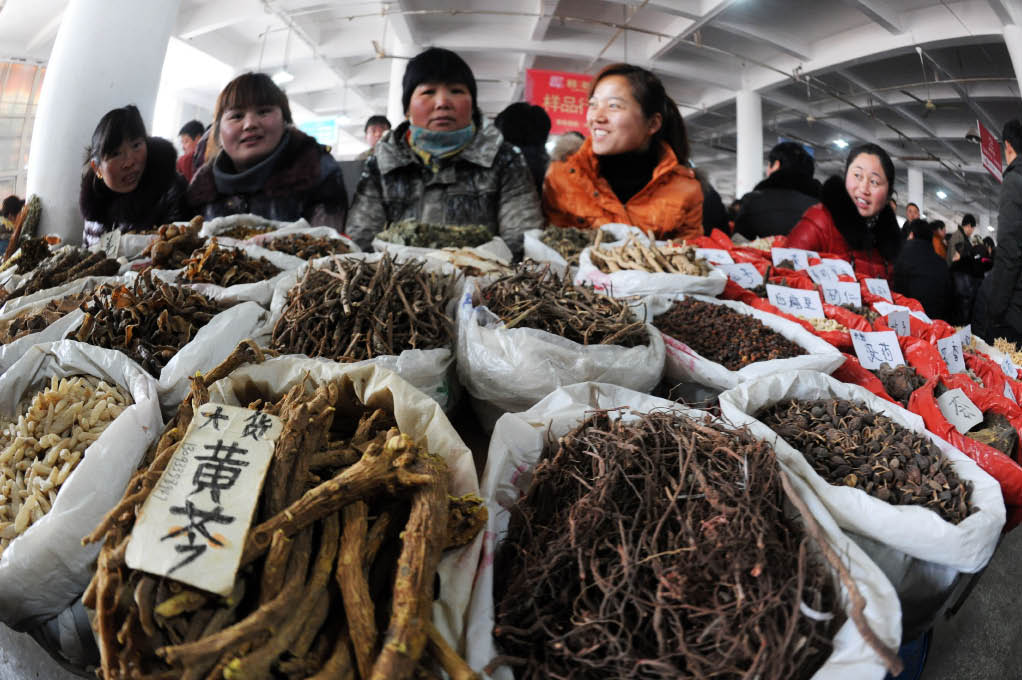 A marketplace for Chinese herbal medicine. 
Source of Wealth
At the 200-square-meter store owned by Fang Min, merchants continuously bustle in and out, inspecting medicines and asking prices as they make their purchasing decisions.
Now a successful purveyor of TCM, Fang Min previously made her living selling fruits, vegetables and clothes. It was not until the early 1980s that Fang launched her retail and wholesale business of Chinese herbal medicine. In the very beginning, she made less than a single jiao (1 jiao equals 1/10 yuan) on each kilogram of medicinal herbs that she grew on the two mu (1 mu equals 1/15 hectare) of land she contracted. The profit, though miniscule, satisfied her.
Bozhou has been the capital of Chinese medicinal herbs since ancient times, thanks to its convenient transport links and abundant production. Today, the city produces 410 kinds of TCM herbs, such as peony root, mulberry root bark and Angelica dahurica. It has become known as one of the four largest Chinese herbal medicine centers, the others being Anguo in Hebei Province, Yuzhou in Henan Province and Chengdu in Sichuan Province.
When she first started dabbling in the TCM trade, Fang Min only sold the medicinal herbs she grew herself. Then she started to help her neighbors and people from her village to sell their harvests. Eventually she began buying herbal plants from nearby dealers at low prices and reselling them at a profit. Since then her business has gradually expanded and flourished.
After reform and opening-up came into effect, the TCM industry became more dynamic. The output value of Chinese patent medicine industry rose from RMB 700 million in 1978 to RMB 2.36 billion in 1985. The State Administration of Traditional Chinese Medicine (SATCM) was established in 1988 to further promote the development in this sector.
To meet TCM's increasing market demand in the late 1980s, more and more people in Bozhou started to grow Chinese medicinal herbs. Spotting a lucrative opportunity, Fang Min gave up growing herbs and dedicated herself to the retail and wholesale business.
By the end of the 1980s, the wholesale business of Chinese herbal medicine in Bozhou had reached a significant scale. Fang Min set up her own trading center that covered everything in the industrial chain from purchasing raw materials to processing to selling herbal medicines. The upgrade brought profits roughly 10 times what she had earned when she first entered the industry.
Services