Seaside Qingdao to Become an Ocean of Flowers
By staff reporter HOU RUILI
PLANT growing isn't represented at the Olympics. Perhaps the two-week time span of the modern games is too short to grow a gold medal specimen.
But the International Horticultural Expo, often regarded as the Olympics of horticultural science, seems to whip up the kind of excitement among green-thumbed enthusiasts usually reserved for the quadrennial sporting fixture.
During the 61st congress of the International Association of Hortical Producers in Zaragoza, Spain, the Chinese port city of Qingdao won the bidding to host the 2014 installment of the Expo.
Qingdao is now busy preparing for the event. To date, 80 percent of Expo infrastructure has been completed, and construction of the Theme Pavilion and Flora Pavilion is now underway.
In September 2012 the organizing committee unveiled the Expo's emblem and mascot. The emblem resembles the Chinese character "Yi" (art) in the oracle bone script, the earliest known example of the Chinese writing system. Art as a link between humans and nature embodies the theme of the Expo and also highlights one essence of Chinese culture. The center of the character is colored green, representing the idea of environmental protection.
The Expo mascot is Qingqing, an ocean fairy. The name comes from repetition of the first character in Qingdao. Repetition in Mandarin serves a diminutive grammatical function, and sounds "cute" to the Chinese ear. Another meaning of Qing is blue, though to the Western eye this blue seems tinged with green. This ties into the green theme and underlines the city's seaside location.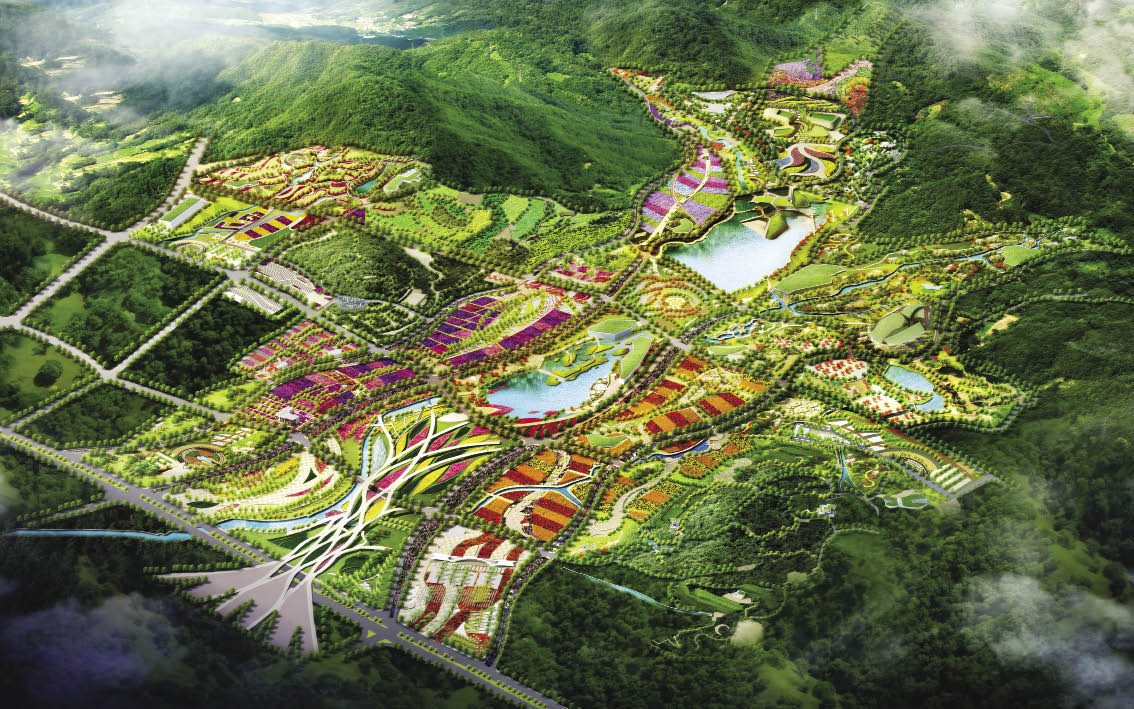 An architectural rendering gives a bird's-eye view of the Expo venue. 
World-Class Standards and Local Characteristics
The Expo will be held in Qingdao's Baiguo (Hundred Fruits) Mountain Forest Park from April to October 2014. Under the theme "from the earth, for the earth," the expo promotes the concept of harmony between humans and nature, as well as green, low-carbon development.
The Expo Park covers an area of 241 hectares and its design is inspired by the ancient Chinese folk tale of a heavenly maiden scattering flowers onto the earth. Organizers are planning a flower-lined main road that runs on a north-south axis through the park, while a tree-lined boulevard extends east-west.
Those two major roads connect 12 gardens, each of which boasts unique exhibits. Gardens are to be divided into themed zones and interactive sections. Themed gardens include a China Garden, a Floriculture Garden, a Herb Garden, a Childhood Dreams Garden, a Science Garden, a Green Industry Garden and an International Garden. Interactive zones include a Tea Garden, an Agronomy Garden, a Flower Garden and an Alpine Garden.
Services