China and Myanmar: Friends and Neighbors
In April 2013, Myanmese President U Thein Sein attended the Boao Forum for Asia and conducted a state visit to China. Compared with four years ago when U Thein Sein visited China as prime minister, his visit this time as president was more significant. At that time Myanmar was still under Western sanctions, but now reforms have been carried out in various areas.
During the Boao Forum for Asia, the two countries published a joint communiqué, publicizing their long-standing friendship. Since diplomatic relations were established, China and Myanmar have promoted the development of bilateral relations on the basis of mutual respect and equality, bringing pragmatic benefits to the people of both countries.
According to Dr. Phone Win of Mingalar Myanmar, a Myanmar-based NGO, the frequency with which President U Thein Sein has visited China demonstrates the great importance of the Sino-Myanmese relationship. Currently, Myanmar is implementing an independent and balanced foreign policy to develop relations with big and neighboring countries. China is both a big and a neighboring country; therefore, the need for Myanmar to develop Sino-Myanmese relations is obvious. China is reaping the rewards of three decades of reform and opening-up, which shows that it has chosen the right path. President U Thein Sein frequently visits China because he wants to learn from the country. Myanmar is working on improving the situation of its remote areas and China has much experience to offer in this regard.
Mutual Benefits from Trade
and Economic Cooperation
Today, China is Myanmar's largest trading partner. According to statistics from the Ministry of Commerce of China, in the first half of 2013, the trading volume between China and Myanmar reached US $4.38 billion, a year-on-year increase of 25.9 percent.
Dr. Win holds that in terms of economics, China is an indispensable market for Myanmar. Its exports to China are mainly agricultural products and timber. He hopes Myanmar can enhance production capacity and increase exports of products with high added value in the future. In terms of investment, China has become Myanmar's biggest investment partner. In recent years China has accumulated a large amount of foreign exchange reserve, while Myanmar is short of money in infrastructure construction. Therefore, if economically powerful Chinese enterprises can invest in Myanmar in such areas as transport, energy and electric power development, a win-win result can be realized.
There has been a steady increase in the number of economic agreements signed between China and Myanmar. In 1971, the two countries signed a trade agreement, giving each other "most-favored nation" status; in 1994, they signed a memorandum of understanding on border trade; in 1997, an agreement on establishing a joint working committee on economic, trade and technological cooperation was concluded; and in 2001, the two governments signed an agreement on encouraging, promoting and protecting investment.
In 2011, with the establishment of a comprehensive strategic partnership, the two sides signed a number of agreements in areas of economic and technological cooperation, preferential loans and infrastructure construction.
In recent years, Chinese companies have actively participated in economic construction in Myanmar by providing advanced technology and equipment. Many projects such as diesel engine plants, tire factories and textile mills have started to yield results. Hydroelectric projects in Myanmar involving Chinese enterprises have contributed to the grid, easing the power shortage there. The construction of bridges over the Irrawaddy River has further enhanced local transportation and boosted local economic development.
In the process of investing in Myanmar, the Chinese side has paid special attention to corporate social responsibility and environmental protection.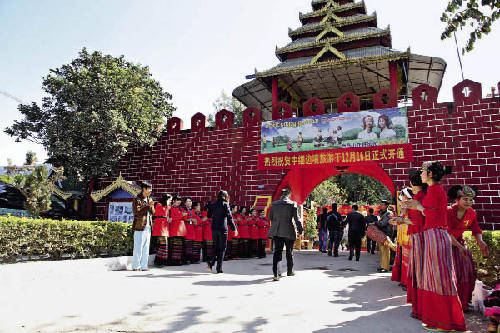 The China-Myanmar border in Dehong Dai and Jingpo Autonomous Prefecture in Yunnan Province.
Services