China's CSR on the Global Market Fast Track – An Interview with Xu Zongxiang, vice president of China South Locomotive & Rolling Stock Corporation Limited (CSR)
By staff reporters JIANG WANDI & LIU JIA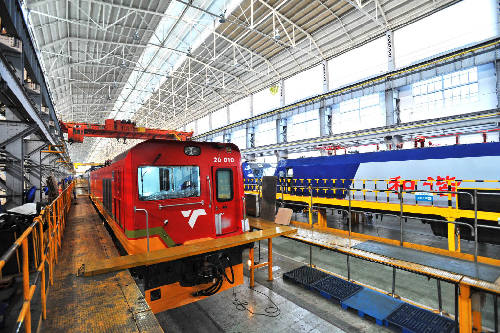 Electric locomotives exported to South Africa by the CSR. Yu Xiangjun
IN mid-December, the last round of procurements of tramcars and subway trains in China's mainland for 2013 was completed alongside the release of the bid result for trains for the northern extension of Shanghai Metro's Line 11. China South Locomotive & Rolling Stock Corporation Limited (CSR), the largest rail transit equipment manufacturer in China, obtained an order of 2,160 trains in the total 20 procurement projects, accounting for a market share of 54.2 percent. Meanwhile in 2013, CSR hastened its pace of exports to foreign countries and international cooperation, making made-in-China rolling stock available in Asia, the Middle East, Africa and Latin America on a large scale.
In August 2012, CSR won the bid to provide advanced subway trains for the Ankara subway project. Four lines have been planned for Turkey's capital city, M1, M2, M3 and M4. The M1 line has been in operation since 1997, while construction of the other three lines is planned to be completed this year. On completion the subway mileage in Ankara will reach 60 kilometers. In order to meet the needs of the high-speed development of Ankara's subway, and according to the contract, Zhuzhou Electric Locomotive Co., Ltd., which is affiliated with CSR, will manufacture and provide 324 train carriages for Ankara's subway. By the end of 2013, 42 train carriages had already been delivered, well ahead of the deadline stipulated in the contract. The Ankara subway project is not only the biggest order that a Chinese rail transit equipment manufacturer has won in Europe, but also a precedent for future Chinese exports of subway train manufacturing technology to Europe.
Zhuzhou Electric Locomotive excels in drawing up development plans for modern urban rail transit systems and producing high-standard rail transit products. In the past decade, Zhuzhou Electric Locomotive has successfully concluded 28 large orders, manufacturing around 4,000 rail transit vehicles of different types for big cities at home and abroad.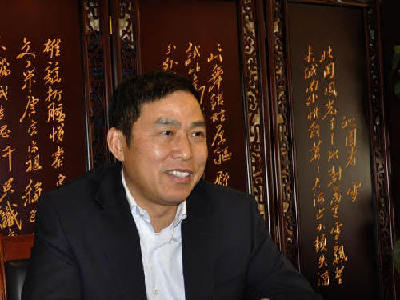 Xu Zongxiang, vice president of China South Locomotive & Rolling Stock Corporation Limited (CSR). Liu Jia
Services