China and Myanmar: Friends and Neighbors
Solid Foundation for Sino-Myanmese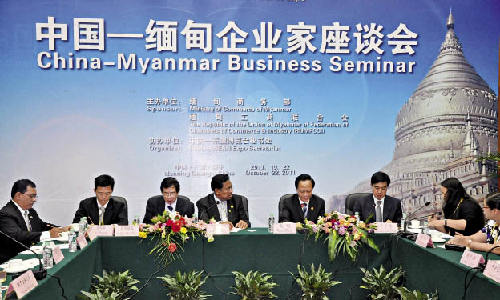 The China-Myanmar Business Seminar convenes on October 22, 2011, in Nanning City, Guangxi Zhuang Autonomous Region.
Relations
China and Myanmar formally established diplomatic relations on June 8, 1950. In the 1950s, the two countries co-advocated the Five Principles of Peaceful Co-existence. In the 1960s, the two sides successfully settled historical boundary issues, based on the principle of friendly negotiation and mutual understanding, setting an example for the solution of border issues for other countries. For a long time, China and Myanmar have maintained good neighborly and friendly relations and smooth cooperation in international and regional affairs, with bilateral ties seeing stable development.
Leaders of China and Myanmar have maintained the tradition of visiting each other. Premier Zhou Enlai went to Myanmar nine times and U Ne Win took 12 trips to China, so personifying Sino-Myanmese friendship.
Since reform and opening-up, China and Myanmar have conducted a wide range of high-level, all-round exchanges and cooperation in the fields of politics, economy, culture, religion and anti-narcotics operations.
In April 1980, the Chinese government agreed to help construct the Thanlyin Bridge, the largest bridge with both rail- and roadways in Southeast Asia. After seven years of construction, the bridge was opened to traffic in 1993. The project was hailed as a new milestone in the history of Sino-Myanmese relations.
In December 2001, Jiang Zemin, then president of China, paid a state visit to Myanmar. The event marked the first visit to Myanmar by a top Chinese leader. The two sides set agriculture, human resources and resource development as important fields for cooperation and signed relevant cooperation agreements. The visit consolidated and pushed forward the traditional good relations and friendship between China and Myanmar in the new century.
In 2011, China and Myanmar established a comprehensive strategic cooperative partnership. The two sides reached a series of agreements in a joint statement: The two sides will maintain close high-level contacts, promote strategic mutual trust, exchange views on international and regional hotspot issues, enhance the degree and level of economic cooperation, and conduct friendly cooperation in various fields.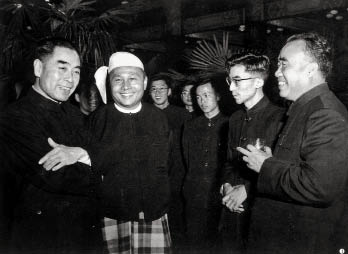 Premier Zhou Enlai held amicable talks in December 1954 with visiting Myanmese Prime Minister U Nu (second left).  
Services