Realities and Opportunities – Chinese Private Enterprises in Africa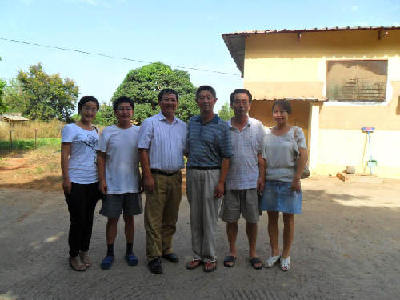 Liu and her team in Africa.
Shared Features and Existing Problems
Although Chinese private enterprises differ from one another in many aspects, they have a lot in common overall. They are mostly small and medium-sized companies. Profitability has been good but is decreasing rapidly. The majority of their funds derive from self-finance, largely relying on family networks. Only a few larger companies obtain a certain amount of funds from provincial governments.
Chinese private enterprises are generally adventurous and innovative, some ready to take risks shunned by Western rivals. As one Chinese investor once said, "Don't be afraid of strong winds and huge waves. Big fish can be caught nowhere but in the deep sea." According to the three surveys, Chinese private enterprises investing in Africa still face many problems. These include shortages of capital, information (including knowledge of local languages, cultures and markets) and market research channels. Rising customs-clearance fees, difficulties applying for visas, and public insecurity are also major concerns.
There is fierce competition among Chinese businesses. Take, for example, the woolen blanket business in South Africa: its wholesale profits reached 200 percent in the early years, but later shrunk to RMB 3-4 per blanket due to price wars, destroying the profitability of the entire market.
Policy Implications
Africa has seen accelerated growth in direct investment from China, despite the general decrease in foreign direct investment (FDI) since 2009. The rapid growth of Chinese capital in Africa is indicative of the continent's development potential and investment appeal, and also points to the mutually beneficial nature of China-Africa cooperation. This trend is likely to continue to grow in the near future, and its role surely deserves more focused attention.
In analyzing the impact of this trend, one must be mindful that China is still a developing country, and its private sector is a relatively new player in the overseas FDI field. Nevertheless, the survey findings provide strong evidence that Chinese private enterprises in Africa have made a positive impact in many aspects in Africa, especially in creating local jobs, training local workers, diversifying local industries and developing entrepreneurial spirit. There is no evidence of excessive importation of Chinese workers to African countries.
Like any FDI ventures, Chinese private enterprises in Africa have encountered not only new opportunities but also special challenges. How host governments meet such challenges will certainly determine the net impact of foreign investment in their economies. There are important policy implications for African governments and the Chinese government, as well as for the Chinese firms concerned.
Most Chinese private enterprises in Africa are labor-intensive, working with relatively low technology. Labor-intensive industries can provide more employment and have a "learn by doing" effect. Low technology is easier for less-developed host countries to absorb and adopt. The positive impact of such investment can be traced to the so-called "flying geese" model. China's mainland in the 1980s-90s benefited tremendously during its economic takeoff by attracting many assertive, risk-taking small and medium-sized investors from Hong Kong, Taiwan and other "Asian Tigers."
This scenario is now being repeated in Africa. African governments should make particular efforts to reform their domestic economic systems, gradually improving investment policies, legal frameworks, infrastructures, social stability and security, and create special economic zones or industrial parks as China did in the 1980s-90s, paving the way for foreign investors' proper integration into the domestic industrialization process.
Services