China's CSR on the Global Market Fast Track – An Interview with Xu Zongxiang, vice president of China South Locomotive & Rolling Stock Corporation Limited (CSR)
China Today was granted an exclusive interview with Xu Zongxiang, vice president of CSR, who expounded on the corporation's way into the overseas market.
China Today: We know that 2013 produced a bumper harvest for CSR in terms of overseas business. Your corporation achieved dazzling export orders worth US $2.2 billion. What are CSR's advantages in international competition?
Xu Zongxiang: We have three main advantages: First, we have the world's strongest production capability in the industry. Second, we enjoy a cost advantage. Third, we have rich experience in product operation.
China Today: Can you elaborate on "the world's strongest production capability" that you mentioned?
Xu Zongxiang: To be specific, our strong production capability is embodied in our guarantee of timely delivery of goods, our high research and development (R&D) ability and our effective organization. In production, R&D is usually the longest process. Owing to our mature and high-caliber R&D team, we're endowed with powerful manufacturing capacity and are able to deliver goods on time, even ahead of deadline. Take the Zhuzhou Electric Locomotive Co., Ltd. affiliated with CSR as an example. Its yearly production capacity hits 1,200 electric locomotives. Moreover, CSR's production capacity also benefits from China's maturing economy and its rapid development. For example, many of our parts and accessories are purchased from other manufacturers in China, who have to be qualified to provide the parts on time and with guaranteed quality. Thanks to China's comprehensive network of suppliers, we enjoy a complete industrial chain.
China Today: Does the "advantage in costs" you mentioned refer to the low labor costs in China?
Xu Zongxiang: Not exactly. We enjoy an advantage in costs mainly because of the low costs throughout the whole industrial chain. By using domestic suppliers, we spend less on parts and accessories; therefore, we enjoy overall low costs and have a competitive edge. Given the current development of China's economy and society, it is impossible for labor costs to remain cheap. As you have witnessed at Zhuzhou Electric Locomotive, the modernized production facilities and various employee benefits are proof that labor costs are no longer low.
In addition, we have an advantage in terms of product operation. Take high-speed rail as an example. China has the largest high-speed rail network in the world with the total mileage exceeding 10,000 kilometers, accounting for about 50 percent of the world total. China is vast; the railway spans from frigid to tropical areas and from the humid coastal area to the dry Gobi desert. Our products have stood the test of complex environments, accumulating much experience for our R&D teams.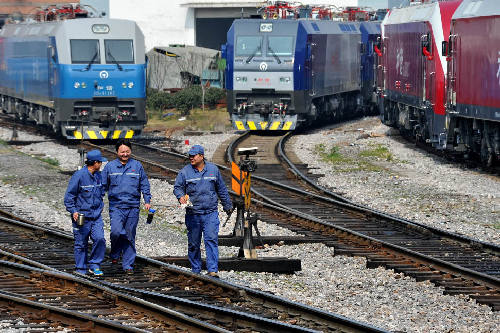 The CSR Zhuzhou Electric Locomotive Co., Ltd. is a major manufacturer of electric traction components and trains for urban rail transit in China. Yu Xiangjun
China Today: High-speed rail "fever" has hit both China and other countries. How will CSR ride the trend?
Xu Zongxiang: Indeed, high-speed rail has become a hot topic. It covers a wide range of technologies, related to the lines, roadbeds and tracks, trains, signals and power supply. For the past three years, over 200 trains produced annually by CSR have been put into operation in China. Because of the different rail conditions and requirements on speed and other aspects, the trains need to be custom-designed. It is well known that China's first high-speed train, which could reach 200 kilometers per hour, was produced by CSR. As mentioned, we enjoy first-rate capability in R&D and manufacturing. The fast development of high-speed rail in China benefits us. The wide use of our products has prompted us to constantly improve our technology.
Services