Boost for Sino-Finnish Economic Cooperation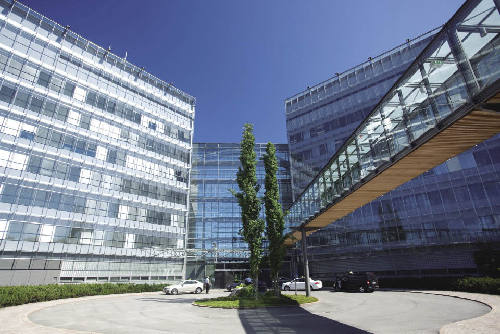 Nokia Headquarters in Espoo, Finland. 
The Shanghai center has helped more than 30 Finnish businesses in innovative industries to gain a foothold in the Chinese market. Its Beijing sibling plans to provide assistance to 10-20 Finnish companies every year. The target doesn't seem to be a tall order – Finland is already ratcheting up trade and economic cooperation with China in a bid to tap into the Asian power's growing "reform dividend." "Sweden and Germany are traditionally the two leading trade partners of Finland. But now trade with China and Russia is of increasing importance," said Penna Urrila, chief adviser with the Confederation of Finnish Industries EK.
Last year Finnish exports to China and Russia accounted for 15 percent of the country's total exports, closing in on the 20 percent for Sweden and Germany. "If Finland were to miss the Chinese market, it would lose half its current business deals. China has both the buying power and the demand. Now the old trope "made in China" has been replaced by a new line: 'made for China,'" said Robin Zhang, Business Development Director & Chief Management Officer at BYD Finland OY.
"Last year the Finnish government unveiled its national investment strategies. They focus on three sectors – environmental sciences and technologies, life sciences and mining – and tailored to three regions – China, the U.S. and Russia," said Minister for Employment and the Economy Jan Vapaavuori.
Gold Rush
Finnish investment in and exports to China are dynamic, especially in the clean technologies, telecommunications and life sciences sectors. But Chinese investment in the Nordic country is less impressive.
Though the Finnish government has listed China among its top three source countries of foreign investment, Chinese investment in the country is well below the level of that flowing the other way. Last year the figure was a mere €100 million, one tenth of the amount invested in China by Finns. So far only a dozen Chinese companies have pursued operations in the northern European country, among them ZPark, a Zhongguancun-based software developer, the Bank of China, and Huawei.
Last December Huawei, the world's third largest smartphone maker, detailed plans to build an R&D center in Helsinki, which also hosts the headquarters of Nokia Corp. The facility will focus on software development for smartphones, tablets and other devices. Two organizations, namely Invest in Finland and the China-Finland Golden Bridge Innovation Center, are to play a critical role in the whole process of planning for and implementing the project. Golden Bridge introduced Huawei to 50 Finnish telecom companies for acquisition discussions, and later helped with local hiring, meeting with government requirements and locating accommodation for Chinese employees.
"We recommend that a Chinese enterprise entering Finland follow three criteria – that it will hire locally, that its investment will be substantial, and that it works in one of the 18 sub-sectors of Finland's three strategic industries – life sciences, environmental sci & tech and telecommunications," said Marko Vanska, CEO of Golden Bridge.
Finland has a large pool of engineers and other competent professionals. They are a big draw for transnational companies, including global giants such as Google, which, like Huawei, has an R&D center there. The Finnish government offers "express channels" for review and approval of big foreign investment projects that can create job opportunities in large numbers and bolster technological development in the country. The government has also convened a foreign investors' committee to solicit opinions from the business community, and Huawei is on its board.
International investors should find Finland an attractive destination for funds, said Minister Stubb. For one, it is currently the only Eurozone country with a triple-A credit rating. Finland's economy is stable and growing, he said, and the country sits at the crossroads between northern and eastern European countries, and Russia. The combined population of this macro-region is 800 million, the minister pointed out. These advantages have been exploited by some Chinese businesses. Chinese automaker BYD, for instance, cracked the northern European automobile market by passing winter roadworthiness tests in Finland.
So far about 50 Chinese companies have approached Golden Bridge to express interest in innovative Finnish technologies. Ten of them considered investment in Finland, six of which subsequently committed funds. China's venture capital and private equity investors are also turning their eyes to Finland. In response to this trend Golden Bridge now organizes three conferences every year at which it presents 10 Finnish companies to Chinese venture capital and private equity investors. As a direct result of the 2011 conference three Chinese funds jointly invested in one Finnish hi-tech company.
To encourage Chinese investment in the country, the Finnish government offers financial aid to Chinese companies coming its way. According to Diao Jiehui, marketing manager for Invest in Finland's China office, new and high-tech multinationals are eligible to apply for government funding from Finnish agencies like Tekes and Finnvera. In addition, Tekes has earmarked €50 million for TIVIT, Finland's non-profit strategic center for science, technology and innovation, for joint research and development in six telecom subsectors including cloud computing between local universities and businesses and top Chinese and European best-practice players.
"Our only requirement of funding recipients is to locate their R&D center in Finland and honor the business promises they make in their application papers," said Jani Kaarlejarvi, TIVIT's international coordination director. "And we welcome applications from Chinese universities and enterprises."
As a government agency promoting foreign investments in Finland, Invest in Finland is fully funded by the Ministry of Employment and the Economy, and runs an office at the consulate general of Finland in Shanghai, which offers free consultation to Chinese companies.
Obstacles to Overcome
There remain several issues to be tackled before economic and trade exchanges between China and Finland can hit full stride. One of them, said Kelly Luostarinen, head of China Practice at KPMG Finland, is that many Finnish companies seeking their fortune in China are small to medium-sized outfits with limited production capacity. They find it difficult to meet demand in the enormous Chinese market, which may cripple their credibility among Chinese customers and impair their growth prospects.
Petteri Suomalainen, CEO of Goodmill Systems, a provider of mobile broadband data connectivity solutions, said that skepticism about his company's ability to meet large orders cost him one big order from Germany. He is afraid that such mistrust would be amplified in China's huge market.
On the other side, Robin Zhang, director of the Business Development Department of BYD's Finland operations, says Chinese companies balk at forking out investment in Finland for two main reasons: the high cost of labor – a Finnish engineer's salary is two to three times his Chinese counterpart's, for instance – and the ambivalence some Finns feel towards globalization. Protectionism is the response to globalization in some quarters – companies seek bigger markets, but can shy away from sharing their technologies with foreign enterprises, which dampens enthusiasm for joint ventures.
MA LING is a journalist with 21st Century Business Herald.
Services