Boost for Sino-Finnish Economic Cooperation
By MA LING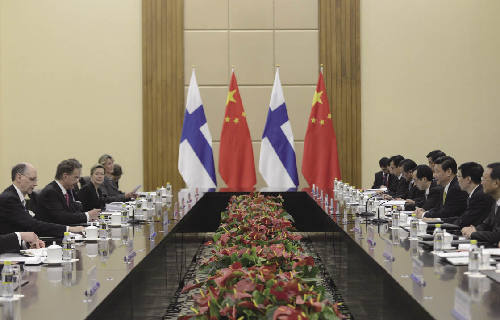 Chinese President Xi Jinping meets with visiting Finnish President Sauli Niinisto at the Boao Forum for Asia in April. 
SIXTY-THREE years after establishing diplomatic relations, China and Finland have decided to significantly deepen bilateral ties. At the Boao Forum for Asia in April, Chinese President Xi Jinping and his Finnish counterpart Sauli Niinisto reached a consensus to upgrade the two countries' relations to a future-oriented new-type cooperative partnership.
President Niinisto is the first European head of state to visit China since the country's new leadership took office. Finland was also among the first Western countries to recognize the PRC 63 years ago.
The consensus has set the direction for the future development of bilateral ties. The realization of this development will nonetheless demand detailed planning and substantive actions. Two fields in which the two countries can work together are green technology and telecommunications, said Alexander Stubb, Finnish Minister for European Affairs and Foreign Trade, during his April visit to China.
Business Opportunities in Green Development
Green development was top of the agenda during President Niinisto's state visit to China, which came after months of heavy smog in the Chinese capital. Tekes, the Finnish funding agency for technology and innovation, signed a memorandum with the Chinese Ministry of Environmental Protection on the "Beautiful Beijing" initiative, which aims to improve air quality in the city. Under the proposed program, cross-disciplinary expert panels of scientists from both countries will be established to carry out research on technologies and policies that help ameliorate urban pollution.
"Clean technology is one of Finland's most competitive industries, contributing €20 billion to our GDP, which stands at €189 billion," said Minister Stubb. "China's emission reduction goals set in the 12th Five-year Plan create a huge market for clean technologies; it's a 'gold rush' opportunity for us, and a win-win situation for both countries."
On April 10 the Finland-based GreenStream, a provider of energy management services and a developer of emission reduction projects, struck an Energy Management Contract (EMC) with Henglian Shandong Guanghua Paper Group Co., Ltd, a paper manufacturer in Shandong Province. The cooperation will be the first of its kind to utilize state-of-the-art Finnish technology in China. Minister Stubb attended the signing ceremony in Shanghai.
Medium-sized and small enterprises from Finland involved in clean technology have been faring well in the Chinese market. Switch, for example, a manufacturer of permanent magnetic generators and full-power converter packages that employs fewer than 200 people in Finland, supplies fully half of China's wind-power equipment manufacturers, according to its president Jukka-Pekka Makinen.
Grooming Newcomers
Another cooperative project resulting from President Niinisto's visit was the FinChi Innovation Center in Beijing's Zhongguancun area, China's Silicon Valley. The facility is to assist Finnish businesses from highly innovative industries that come to China in ironing out kinks in local business registration and building up marketing networks.
"With the help of the Innovation Center, recently arrived Finnish companies can dispatch native employees to their Chinese operations, find local workers and get the required licenses all in a short period of time. Normally such tasks are very time-consuming," said Jari Hietala, vice president of Finpro Asia.
The center offers two years' worth of supportive services to innovative businesses fresh in China. After the two years are up, businesses are free to carry on in China with the operational models they established with the help of the center.
The Beijing facility is the second FinChi 'innovation incubator' after Shanghai, which opened in 2005. "The Shanghai center is well received by local Finnish businesses, so we decided to copy the format in Zhongguancun. The neighborhood is a hub for telecommunications talent. Our plan got a warm response from the municipal government of Beijing, which promised us preferential land use policies. So here we are," said Jari Hietala.
Services