"Our Xinjiang, a Beautiful Place"
By WU WEI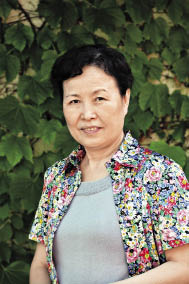 WHEN we were little there was a very popular folk song, which went:
"Our Xinjiang, a beautiful place;
Pastures as far as the eye can see.
Plow the Gobi, Open the Land;
And nourishing are the snow rivers."
As I sang this song, I would often imagine one day seeing Xinjiang with my own eyes.
I got my chance in the summer vacation at the end of my second year of graduate studies. It was 1987 and I visited Xinjiang on a field trip for my graduate dissertation, along with a group of like-minded individuals from the China Writers Association.
I had published some of my work at that time, but I was very much privileged to be making the trip with many already-established or would-be-famous writers. We spent the days chatting and singing. Our train journey took us through Hami and Turpan, among other places. The fresh beer, sumptuous Hami melon, sweet grapes at Flaming Mountain and the rugged beauty of Turpan are all still fresh in my mind.
The local people from Uygur and other ethnic groups we met were all incredibly hospitable. They made us feel at home with their delicacies, which included hot milk tea, thick yogurt and tasty Nang bread. Many weren't fluent in Mandarin, but language proved a trivial barrier in communication as their warmth shone through. The trip provided inspirational material for many of our writers' subsequent creative work. I was just happy to live out my childhood dream.
I've been reminded of my time in Xinjiang every day since. On leaving the other writers in Urumqi, I attended a seminar at Xinjiang University and was reunited with my boyfriend, who was in town. We went on to visit Jiuquan and Dunhuang, two cities in Gansu Province. They say traveling is the ultimate test of a relationship. Ours, it would seem, passed the test – we got married at the end of that year. Xinjiang has held a special place in my heart since then.
I've subsequently been to Xinjiang on many more occasions. Each time is like the first, full of expectation and excitement. And the breathtaking scenery, haunting Gobi desert and majestic poplar trees make it very hard for me to leave once I'm there.
This year, I visited Xinjiang for the umpteenth time. My love and appreciation for the region called me back, and I couldn't say no.
Xinjiang takes up one sixth of China's territory. It is an autonomous region with residents from many different ethnic groups. Among the 20-million-odd population, 12 million are of non-Han ethnicity. Uygur, Kazak, Hui, Kirgiz, Mongolian, Han and seven other ethnicities are recognized as indigenous to the area.
The second highest mountain in the world, one of the world's deepest depressions and the second largest desert are all located in Xinjiang. Fifty-six of the current 68 categories of tourism in China are represented there.
Xinjiang's border, which extends for thousands of kilometers, has always been an important front on which battles to protect Chinese territory were waged.
Historical records indicate that most of Xinjiang has been under Chinese jurisdiction since the Western Han Dynasty (206 B.C- A.D. 24). Over the next two millennia, invasions were frequent and Xinjiang was carved up many times, but finally it was reunified. Today, Xinjiang is an integral part of the People's Republic of China and has been recognized as an autonomous region since 1955.
The "Xinjiang issue," like that of Tibet, easily stokes feelings of national unity among Chinese. Understandably, talk from overseas agitators about tearing these regions away from China ignites the passions of the populace. That these meddlers continue to attempt to undermine Chinese authority in Xin-jiang and Tibet no doubt contributed to the riots in Tibet in March 2008 and in Xinjiang in July 2009.
Both Tibet and Xinjiang are part of China's large, multiethnic family, and the government sees it as its duty to improve standards of living in these regions and integrate ethnic groups while respecting their indigenous cultures. Such issues are not exclusive to China, but faced by all countries with heterogeneous populations.
China is doing its best to ensure that its ethnic minorities prosper, as the country would otherwise be weak and unstable. Developing the economy of Xinjiang is the first step toward ensuring the prosperity of the ethnic groups that call the region home. Development also contributes to Xinjiang's stability.
The government needs to continue to improve the local economy, ensure balanced development, improve local human resources through greater access to education, and protect the local environment. Fast, sustainable progress in which all ethnic groups benefit is key to the Chinese government's stated goal of harmonious inter-ethnic relations. Xinjiang is a "beautiful place" in every sense of the word, and hopefully it will be even better in the future.
Services