"Learning Mandarin Can Be Humbling"
However, it's not just tones that foreigners struggle with. Anyone trying to master Mandarin has to fully immerse themselves in the language and culture. The idea is to acquire the language in an environment as natural as possible. Of course, the best way to do this is to live in a foreign country for a long time. At home, immersion can be achieved through bilingual classes.
"If you want to be fully immersed in the Chinese language, you have to be in contact with locals, make Chinese friends and speak Chinese outside the classroom," Laimboeck said. "That is what separates the wheat from the chaff."
But many foreigners in China have difficulty integrating into Chinese society and everyday life. "Here in China new acquaintances are made differently than we are used to," Laimboeck explained. "In Europe it is sometimes easier to meet new people. You can just go to a bar and talk to strangers. In China it's rather unusual to make friends this way. If you don't work or study together, you normally have to be introduced by someone at some point. The contact has to be organized by someone. So an important aim of our school is to bring people in touch."
Laimboeck's school not only introduces one language partner to every student, but also provides a so-called "Beijing ambassador." "Our ambassadors are Chinese students here in Beijing who want to get in touch with foreigners to learn more about foreign culture and different ways of living," Laimboeck said.
"Our aim is to bring young foreigners in contact with young Chinese. Many young Chinese are also very interested in foreign culture, but they don't really know how to get in touch with people from other countries." LTL introduces students to young Chinese people with similar interests and hobbies and organizes occasions for them to meet.
"If someone likes to play football, for example, we will find a Chinese football team for him," Laimboeck said. "Ideally the student and his Chinese counterpart become friends and keep on meeting each other."
From his own experiences Laimboeck knows: Only those willing to jump in at the deep end can make progress. "Therefore, we want to confront our students with situations in which they can't switch to English, and have no choice but to keep on trying to communicate in Chinese."
One of these deep plunges is LTL's home stay program. The school cooperates with about 100 families in Beijing.
One young Chinese learner, who decided to stay with a local family instead of renting a room in a student dormitory or in an apartment shared with other foreigners, is Yannick Aregger from Luzern, Switzerland. For eight weeks the 19-year-old high school graduate lived with his host mother Zhang Jingrong, 52, and her husband in their flat in Beijing's Chaoyang District.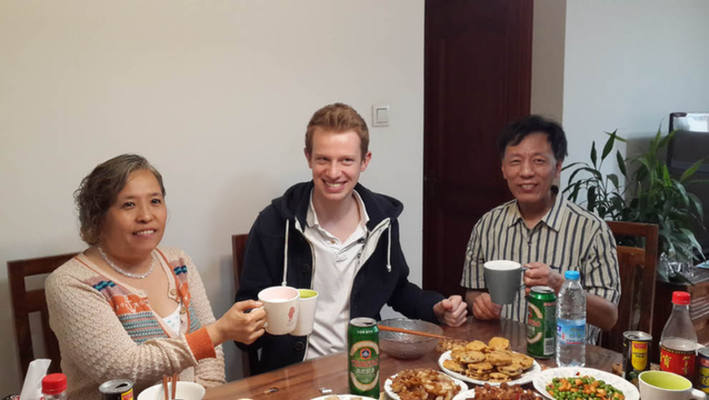 Yannick Aregger from Switzerland with his Chinese host parents in Beijing.
Services