Shanghai – Asia's City of Style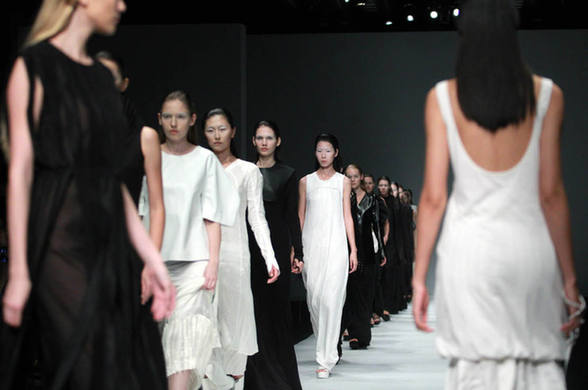 The 2014 Shanghai Fashion Week, held in October 2013.
Business Ecosystem for the Fashion Industry
At a press conference during London Fashion Week Autumn/Winter 2014, the British Fashion Council claimed that the fashion industry's contribution in the UK stood at ₤26 billion, up from ₤21 billion in 2009. This indicates the U.K. fashion industry's substantial 22 percent growth over the past five years.
This rapid growth may be attributed to local leading brands. For instance, with Burberry repositioning itself as a luxury brand focusing more on young adults, its market value has surged from ₤2.1 billion to ₤7.03 billion. In the last six years alone, shares in Burberry have risen 461 percent.
In France, fashion is a major strategic industry which generates an annual production value of €35 billion and 150,000 job opportunities. Markets for perfume and cosmetics, haute couture and high-end jewelry remain firm even during an economic downturn. The business ecosystem of French fashion circles deserves much of the credit for facilitating the fashion industry. Ge Wenyao points out that China's fashion industry is in need of more leading local brands and a compact cluster in this field.
As chairman of the Shanghai International Fashion Federation Ge Wenyao is leading it to become more inclusive. Previous members of SHIFF were mainly involved in the clothing industry. But in the future, it plans to attract enterprises from three sectors: fashion manufacturers such as Shanghai Jahwa, Shangtex, and Erdos Group; fashion services including high-end restaurants, hotels and clubs; and companies providing services to members from the first two sectors, such as head-hunting companies, modeling agencies, private equity companies, and consulting firms.
In Ge's opinion, local fashion enterprises must have a global perspective on their future development. One possibility is to set up funds via private equity companies, and then purchase domestic and overseas brands of fashion consumer goods. "Local fashion companies could also acquire international fashion brands to gain experience in business operations under global conditions," Ge said.
Ge Wenyao is also considering setting up a committee of experts to provide SHIFF members with various services, from consultation to intermediaries. Meanwhile, SHIFF will build a number of platforms for commercial channels, PR, exhibitions and fashion shows, and financing. In addition, it will launch events and publish reports and indexes on the fashion industry to improve general conditions for the industry's development.
Services