Shanghai – Asia's City of Style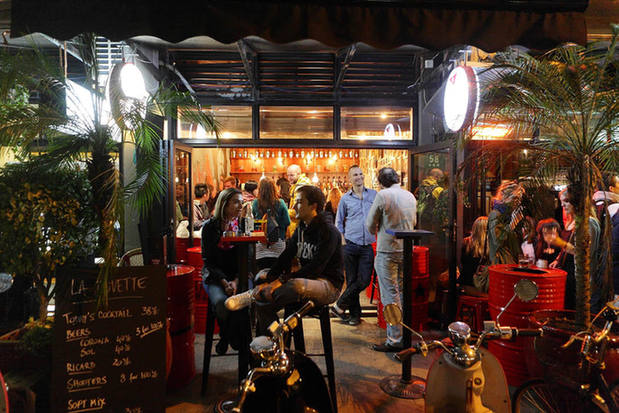 One of the many bars along Yongkang Street in Shanghai.
Revitalize Productivity
"Shanghai needs to focus on intermediate and high-end brands to expand its fashion industry and resume its position as the style center of China," Ge said. He also noticed that, in either Paris or Milan, the stylish city has a solid base in a chain of prominent enterprises and fashion brands. Starting in the new millennium, various facilities involved in the fashion industry have been built in Shanghai, covering a wide range of fields – from leisure, sports, culture and entertainment, to media and communications, conventions and exhibitions, etc. This has given Shanghai the edge to expand its fashion industry, despite being a latecomer.
Former president of China's domestic cosmetics manufacturer Shanghai Jahwa Ge Wenyao is an influential figure in Shanghai is fashion circle. He not only founded Chinese herbal skincare brand Herborist, but has also left his mark on the Avenue des Champs-Elysées through Sephora, a retail chain owned by cosmetic conglomerate LVMH (Louis Vuitton Moet Hennessy).
Through years of experience in operating a cosmetic enterprise, Ge espouses these six features for the fashion industry: R&D, design, precision manufacturing, brand operation, promotion, as well as commodity logistics and terminal sales. In Ge's eyes, China's fashion enterprises still lag far behind when it comes to these features.
Ge submitted to the Shanghai municipal government in 2007 a report on stimulating the fashion industry. He suggested that Shanghai has several advantages in fostering a fashion industry. On the one hand, the city has an excellent foundation of professionals, international communications and fashion sense. On the other hand, Shanghai possesses time-honored brands established in the 1920s and 1930s.
Though retired, Ge is still building up China's local fashion brands. "The government should, first of all, encourage old and new brands to develop together. Old brands need to be revitalized, while new ones require a favorable environment for development. Meanwhile, the government could attract fashion companies from other parts of the country to open branches and even set up their headquarters in Shanghai. In this way, domestic enterprises can access the global stage from Shanghai, while local businesses become more diversified," Ge said.
According to Gui Chenggang, president of Shanghai Warrior Shoes Co., Ltd., brands with a long history must do a rethink to catch up with this new era. One example is Warrior Shoes (known in Chinese as Huili), established in 1927, which, unable to compete in flush markets, filed for bankruptcy in the 1990s. But today's youth now view these shoes as an embodiment of retro fashion and vintage chic. This trend was triggered in 2008 when a Hollywood star on a movie set wore a pair of sneakers that looked exactly like the classic Warrior style. The company seized this chance to make a return to the market. Since Warrior was among the top time-honored brands during the 2008 Beijing Olympic Games and 2010 Shanghai Expo, many tourists snapped them up as souvenirs. Moreover, Warrior has invited university students to create designs for their shoes, sparking youth interest in being sporty in a trendy way. On top of that, the company makes distinctions between its production and sales. It has OEM (original equipment manufacturer) factories in Fujian and Guangdong provinces, meaning that core techniques, branding and marketing all remain in company hands. Warrior currently has nearly 1,000 franchised stores in China. The figure is expected to surpass 2,000 in three to five years.
Services