Chinese Carmakers Race for Latin American Market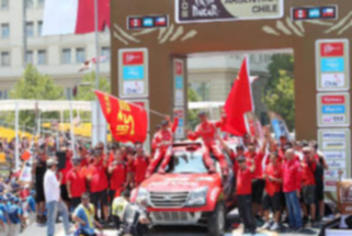 China's Haval team competed in the 35th Dakar Rally, which concluded in Santiago, capital of Chile, on January 20, 2013.
Opportunity and Challenge Coexist
It cannot be overlooked, however, that the Latin American market is complicated and poses both opportunities and challenges.
"People often talk about the openness of the Brazilian market; but they ignore the fact it is "easy to enter but hard to stay" – Brazil imposes relatively high standards on the automobile industry, as regards gasoline and engines," said a GONOW source.
Trade barriers in Latin America have also had a huge impact on Chinese automobile companies. In 2012, Brazil announced a 30 percent tax hike on carmakers that do not source at least 65 percent of their parts from Brazil and MERCOSUR (the Common Market of the South) countries. Most Chinese auto manufacturers that export to Brazil were affected by the new policy. In the first year after the tax, Chery's sales to Brazil sank from 12,378 vehicles to 4,747, and its market share in the country shrank from 0.46 percent to 0.18 percent.
The fluctuating exchange rates, high cost of sea transportation and the increasingly complicated international trade environment all affect the competitiveness of Chinese automobile enterprises in the overseas market.
Wang Shunsheng, assistant to general manager of GAC Group and chief of GAC's International Business Department, said that his company is about to explore the Chilean market; however, the 10 percent decline of the Chilean peso, coupled with the appreciation of the RMB, makes it more difficult for China to export to Chile. GAC now considers forward settlement and sale of foreign exchange among other measures to reduce risks brought about by exchange rate changes.
From the viewpoint of Zhang Zhiyong, an analyst in the automobile industry, one of the many reasons for the decline of Chinese automobile exports is that many Chinese automakers try to replicate their domestic operation model in new markets. Cui Dongshu, secretary general of China Passenger Car Association, also holds that the fact that even big Chinese automobile brands, such as Chery and Great Wall, are vulnerable to negative factors in the export market, shows that China's automobile industry is still weak in dealing with overseas crises.
Moreover, the fevered race for the international market has resulted in disordered and homogeneous competition among peers. As Shi Jianhua, deputy secretary general of China Association of Automobile Manufactures, sees it: "China's finished motor vehicles are mainly exported to Asia, Africa, Latin America and the emerging markets like Brazil and Russia. Overlapped target markets and clients inevitably result in homogeneous competition."
Chinese carmakers such as Chery and Great Wall are actively seeking to reverse the decline in market shares. As the first Chinese automobile enterprise to establish a factory in Latin America, after setting up its Uruguayan plant Chery invested another US $400 million in 2010 in a factory in Sao Paulo, Brazil, aiming to increase the proportion of locally-produced parts for its cars. Chery also plans to introduce more new models to the Brazilian market, including Tiggo and Arrizo 7.
Some Chinese automobile enterprises, while expanding exports of finished vehicles, are also investing in new factories in Latin America. They include Foton and JAC Motors. Shaanxi Automobile Group Co., Ltd. also announced in June of 2013 its intention to invest US $200 million to set up a factory in Brazil, with an annual capacity of 10,000 heavy-duty trucks. Expected to start operation in mid–2014, this factory will purchase engines, transmission systems and other accessories locally to ensure at least 65 percent of the parts are sourced in Brazil.
Chery has also gradually shifted its focus from export to local production, having invested in new factories in Uruguay and Egypt.
Though newcomers to the international market, China's automakers are quickly adapting to new conditions. The future of the Chinese car industry will depend on its ability to survive the pressures of the world economy.
Services