Chinese Carmakers Race for Latin American Market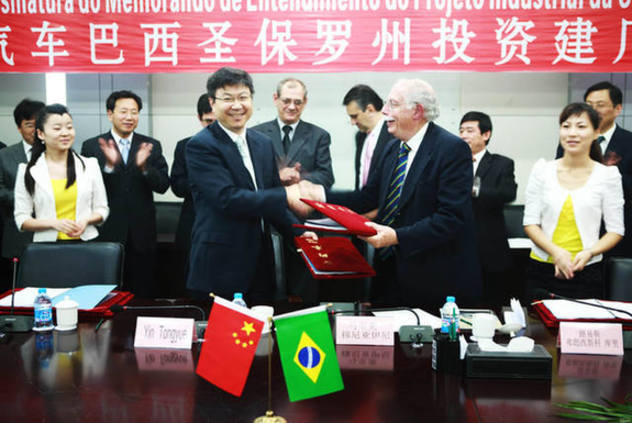 On September 17, 2010, Yin Tongyue, chairman of Chery, signed a framework agreement with Mario Mugnaini, chief of the investment authority of São Paulo, to set up a factory in Brazil.  
Growing Sales of Commercial Vehicles
Chinese commercial vehicles have remarkably advanced in technology, added value and brand recognition. These improvements have given them a growing niche in the Latin American market. Statistics show that in the first quarter of 2013 Latin America accounted for 20.62 percent of China's automobile exports, up from 14.71 percent in 2008. Chile, Peru and Venezuela are the largest buyers of Chinese commercial vehicles.
Many leading Chinese brands, such as China National Heavy Duty Truck Group Co., Ltd., Beiben Trucks Group Co., Ltd., Zhengzhou Yutong Group Co., Ltd., King Long Motor Group, Higer Bus Company Limited and Zonda Group, have entered the Latin American market.
Actually Latin America is among the first foreign markets for Chinese commercial vehicles. Although geographically removed from China, many countries in the region are at a parellel level of social and economic development, and therefore have similar demands for automobiles.
In the 1980s China began to export commercial vehicles to Latin America, which was then dominated by Japanese brands. Chinese manufacturers earned their places based on reasonable prices and high quality.
China-made passenger cars and commercial vehicles entered the Chile market at an early time and in large quantities. Trucks are a "latecomer," but have also achieved praiseworthy performance. According to statistics from the Automobile Industry Committee of China Council for the Promotion of International Trade (CCPIT), in 2007 only two percent of the total imported commercial vehicles in Chile came from China. The share grew to 19 percent in 2011. China then became the No.2 truck exporter to Chile, second only to Brazil.
According to Yang Aiguo, deputy secretary general of the Automobile Branch of the China Chamber of Commerce for Import & Export of Machinery & Electronic Products (CCCME), the Chinese government has signed free trade agreements with Chile, Peru and Costa Rica which give Chinese products better access to Latin American market. Furthermore, Latin American countries enjoy zero or low tariffs when doing business with each other, and most have close trade ties with developed European countries and the U.S. Chile, Peru and Costa Rica could serve as a springboard for Chinese manufacturers to resell their products to other countries.
Services