Shanghai Retrospective
( 2011-01-10 )
Shanghai Retrospective
THE last day of October was also the last day of the Shanghai Expo. During the course of the 184-day event China Today printed some 100 reports by its reporters and photographers who were dispatched to the host city itself, to neighbor cities, and to the Expo pavilions. Here, some of them look back on their experience and share what struck them most about the exhibition.
Photographer Yu Xiangjun:
Low-carbon Living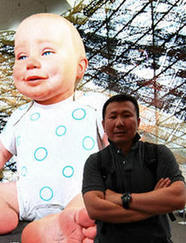 The thing that stays with me from the dozen or so days I spent on the site is the low-carbon concept reflected in so many details on the site. There were eco-constructions, restroom walls made from recycled timber, a former steel factory reincarnated as an art center, benches made of milk cartons… The Shanghai Expo was a big stage for the low- or zero-carbon concept, one that was instrumental in the astonishingly low energy consumption and carbon dioxide emission in the Expo Park.
The world's first zero-carbon community was pioneered at Beddington, London, and it was showcased in the Urban Best Practices Area (UBPA). The solar photovoltaic and heating panels installed on the roof provided power to the pavilion. Its external walls were made of a new thermal insulation material that keeps rooms warm in winter and cool in summer by reducing loss of hot or cool air, and absorbing excessive indoor heat.
I'm particularly encouraged by the news that the construction materials of the London case were all made in China. What does this mean? First, that low-carbon construction is not unaffordable; second, that domestic materials make it possible to spread this form of construction right across our own land.
UBPA also featured Chinese case histories. The Eco-house in Shanghai was based on the prototype of China's first eco-building – an office complex in Shanghai's Minhang District. It reduced energy demand by means of a huge solar photovoltaic installation on the roof. The Wetland Park in Chengdu purified polluted water by filtering it through different kinds of natural aquatic plants.
Photographer Dong Ning:
Innovation Our Future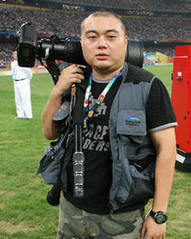 Planes, telephones, popcorn… each of these new concepts were introduced at a past world expo and lodged in the memories of visitors. In Shanghai innovation was ubiquitous: over 200 pavilions adopted creative approaches to show how people, cities and the earth can evolve in an organic process. The Expo Park put the city of the future on view. It was a green dialogue between city and people, a dialogue conducted on the basis of equality and harmony.
Each national pavilion had a unique character. The cladding of the Spanish Pavilion was of rattan wickerwork elements in different shapes. The UK Pavilion took the form of a sphere made up of countless glass rods, the tip of each one enclosing a seed of a plant on the verge of extinction. The China Pavilion is particularly imposing, by virtue of its unique architecture and bold use of traditional Chinese red.
The metal sphere of the German Pavilion was an embodiment of technological innovation. The revolving metal sphere, three meters in diameter and covered with LEDs, was activated by the noise and movement of spectators, the colors changing in response to the decibel level.
Reporter Li Wuzhou:
China a "Ready Learner"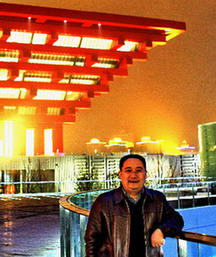 Long lines of patient would-be visitors were a frequent sight outside popular pavilions. Many media asked why millions of Chinese were willing to go to such lengths. People wanted to be part of a world event hosted in their own country, and also, I think, because they saw it as an opportunity to learn from the world.
Now China is seen as the world's second largest economy, but in many respects it is still in "elementary school." In fact China has been learning from foreign cultures since the cultural diversification period of the 19th century when many Chinese were sent overseas to study. The Shanghai Expo was a chance to see in person many international cultural gems – works by Jean Millet, Michelangelo, Frida Kahlo and Rodin, and also Denmark's "Little Mermaid" statue. It was a carnival of diversity.
During my interviews, I met many visitors engaged in urban planning and building design. Many countries showcased their urbanization experience, germane to China's modernization process. For example, UBPA showcased many mixed-use constructions combining office, residential and leisure functions, thereby saving commuting time and reducing energy demand. This must be an inspiration for traffic-choked cities such as Beijing and Shanghai.
Here was a dialogue involving 70 million people, a dialogue that will surely enrich Chinese civilization, make the country more open to the world, and promote exchange, understanding and cooperation between nations.
Reporter Yan Weijuan:
A Source of Pride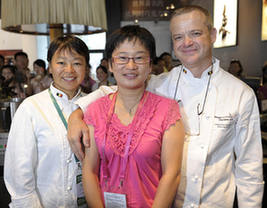 I was always asking my interviewees what was their deepest impression. But what if I asked myself the same question?
My answer would be "pride" – the pride that Chinese took in the event. Three people in particular stood out. Migrant worker Huang Qiaoyun resigned her job in a garment factory in favor of working at the Expo as a cleaner, since she wanted to witness the event but save the entrance fees. Li Xiaoping gave up time with her parents in Beijing, staying in Shanghai to work as a volunteer. Wu Junfeng, section head in a garment company, quit his job in order to grind coffee in the Jamaican Pavilion. "Like the Olympic Games, we've been looking forward to the World Expo for so many years," he said. "When I'm old, I'll tell my grandchildren that I served at the Shanghai Expo. It makes me so proud!"
The scale and organization of the site impressed all my foreign interviewees; this expo was definitely the largest ever. Walking around the site was a real challenge for anyone. But many foreign exhibitors had high praise for the organization. A free subway connected the site with the downtown, free shuttle buses crisscrossed the site, maps and drinking water were supplied free of charge …General Commissioner of the Italian Pavilion Ernesto Miraglia thought the Shanghai Expo provided good experience for Milan, slated to host the 2015 Expo. "After witnessing 70 million visitors here, handling the 20 million visitors we anticipate in Milan will be that much easier."
Reporter Zhang Hong:
My Most Treasured Pavilions
U.S.A. Pavilion. On a screen passers-by on an American street greeted pavilion visitors with their "Ni Hao" hellos. Their pronunciation was less than spot-on, but the smiles were sincere and warm.
Italian Pavilion. Sensitive City was an interesting installation portraying memories of an ancient city. Visitors were able to touch and interact with passers-by on these screens, stopping them and being guided to the location where their stories took place – someone would ask you to listen to the ringing of bells from hundreds of churches. Every visitor would stop and listen attentively to those voices from the other side of the world.
Venice Case Pavilion. I came across an Italian guy who told me with a sigh that Venice "can't pull down buildings any more, and nor can it build anything new." He didn't hide his disappointment that the city of water, where building began 1,500 years ago, has been gradually losing its urban functions and becoming a mega-museum, with visitors coming and going, staying only for one or two days. I suppose the beauty of a city relies on the vitality of its people and the lifestyle inherited from ancestors.
China Pavilion. The animated picture Qingming Festival at the Riverside seemed to draw visitors right into a prosperous city of about 1,000 years ago. Watching it for half an hour, I felt I had entered into the picture itself and become part of that scene.
Reporter Wang Song:
A Bold Venture into the Future
The Shanghai Expo was far more than a feast for the senses: it was a bold venture into the life of the future. I believe when we look back from the not too distant future, we'll discover that many of the new things exhibited here have become a part of normal life.
I conducted interviews at the Wuxi and Hangzhou thematic forums, two of the six organized during the Expo. In Wuxi, people discussed mutual promotion between city and technology, looking for technological answers to the question of sustainable development in future cities. People could experience state-of-the-art technologies, such as power generated from solar and wind sources and by thermal differences.
The Hangzhou forum focused on the relationship between the harmonious society and the livable city. Ma Yun, CEO of Alibaba, China's leading online company, said that in future the competitiveness of companies and cities would rely on human resource talent rather than skyscrapers or GDP; that preferential policies or status would not attract people of caliber but quality air, quality water and food safety would.