Chinese ambassador accuses US of double standards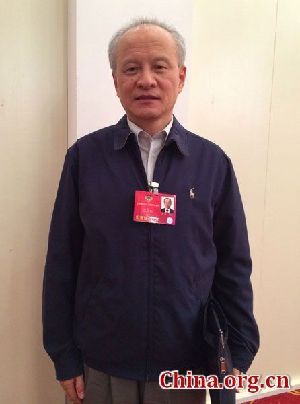 Chinese Ambassador to the United States Cui Tiankai [Photo by He Shan/China.org.cn]
Chinese Ambassador to the United States Cui Tiankai accused the U.S. of having double standards towards the South China Sea issue when he spoke to China.org.cn on the sidelines of the ongoing session of the 12th National Committee of the Chinese People's Political Consultative Conference (CPPCC) on Friday.
Mr. Cui, also a CPPCC member, advised the U.S. to take a position of non-interference regarding the issue that should be addressed by parties directly concerned through dual-track negotiations.
The dual-track approach is stipulated in Article 4 of the Declaration on the Conduct of Parties in the South China Sea (DOC), a joint commitment made by China and 10 ASEAN countries.
Not all the ASEAN members have disputes with China over the South China Sea. Those countries that have no disputes with China on the South China Sea have no interest in interfering with the issue and hope the parties concerned can get down to negotiations.
The DOC was signed by all the ASEAN member countries and China on November 4, 2002, becoming the first significant initiative to solve the disputes. The Code of Conduct (COC) in the talks will act as a binding force meant to prevent conflicts in the region. However, negotiations over the COC have so far proven difficult.
The ambassador said that China's position on the South China Sea has been clear and consistent over many decades, "Our position has not changed and will not change," he asserted.
The South China Sea is one of the world's most strategically important waterways and is rich in minerals.
He said, "Since the U.S. is not a claimant state in the South China Sea, the South China Sea issue should not be made an issue between China and the United States."
"The two countries haven't run into confrontation so far on the issue, but what the U.S. is doing has clearly demonstrated that it is taking sides in the territorial disputes," he said, adding, "That is not conductive to solving the issue."
Cui said there is a misunderstanding from the U.S. of the issue, as that the U.S. has overreacted to China's actions in purely defending its sovereignty in the region.
Speaking of the alleged "militarization in the South China Sea," he said that China's facilities are for civilian purposes such as navigation, meteorological observation, environmental protection as well as scientific research and rescue measures.
Yet, on the 42 islands and reefs occupied by others, they have built airports and runways, deployed armies and artillery, he explained.
"China does have facilities for defense purposes, but they are limited in number and have nothing to do with militarization," he argued.
Some Americans, especially U.S. military officials, are trying to hype a so-called militarization of the South China Sea while sending military vessels and planes to the region to escalate the situation.
"That is the real militarization," the official said.
(Source: China.org.cn)
Services