Gutian: Red History,Green Future
By staff reporter ZHU HONG
    GUTIAN Town in western Fujian Province is known as the site of the Gutian Conference of 1929, a landmark event in China's revolutionary history. After the defeated Kuomintang fled to and occupied Taiwan, compatriots on both sides of the Taiwan Straits were isolated for a long period of time. However, in recent years, cross-Straits economic exchanges have been boosted, and the mainland established the Economic Zone on the Western Coast of the Taiwan Straits to promote high-end industries. A beneficiary of this flourishing development, Gutian is attracting investment from Taiwan into its eco-agriculture.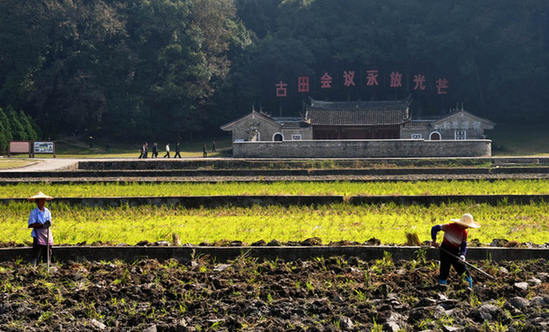 The Gutian Conference site provides a historic backdrop to today's eco-agriculture.
Gutian's Status in Red History
    In December 1929 over 120 delegates attended the Gutian Conference (the 9th Party Congress of the 4th Army of the Chinese Workers' and Peasants' Red Army), and it was here that the Party decided on the strategy of "encircling the cities from the countryside and finally seizing national political power." Another significant decision was the adoption of the Gutian Conference Resolution (On Correcting Mistaken Ideas in the Party) drawn up by Comrade Mao Zedong. This historic conference had a far-reaching influence on the construction of the Chinese Communist Party and the Red Army.
    At that time, the Chinese revolution was at a low ebb and the very survival of the Red Army was in question. The Gutian Conference Resolution summarized experience and lessons since the Nanchang Uprising of 1927 and corrected mistaken ideas in the Party and the Red Army. As a guiding document in the foundation of the Party and army, the Gutian Conference Resolution had a transformational effect on the enlargement and strengthening of the Red Army.
    A week after the conference, Mao Zedong wrote an article entitled "A Single Spark Can Start a Prairie Fire," which was the basis of the practical revolutionary theory of "encircling the cities from the countryside and finally seizing national political power." "The Gutian Conference paved the way for establishing the Jiangxi Soviet base," Mao told American journalist Edgar Snow.
A Boost for Eco-Agriculture
    Gutian Town, located to the east of Jiangxi Province and to the north of Guangdong Province, is traversed by the old route of National Highway 319. It is also blessed with a business-minded and innovative population, plus abundant resources of water, minerals, bamboo and timber. With the launch of the reform and opening-up policy in 1978, new businesses sprang up in Gutian, the most prominent of which were cement enterprises. In 1991 Gutian became the first town of the old revolutionary bases to surpass RMB 100 million GDP. But then came a slump: the route of National Highway 319 was changed in 1998, cement transportation costs rose sharply, and the local economy faltered. After years of deliberation, Gutian opted for developing eco-agriculture.