Ambassadors on BRICS Plus
本刊记者张辉
By staff reporter ZHANG HUI
"金砖+"是中国总结以往金砖峰会的成功做法,于今年提出来的一种合作拓展模式。通过金砖国家同其他发展中国家和新兴经济体的对话和合作,建立更广泛的伙伴关系,扩大金砖的"朋友圈",把金砖合作打造成有影响力的南南合作平台,更好地体现发展中国家的共同立场和集体意愿。
BRICS Plus, as a model of expansion, was proposed by China on the basis of successful practices in former BRICS Summits. It is sought to establish widespread partnerships between BRICS member countries and other developing countries through dialogues and cooperation, expand our circle of friends, and shape the BRICS mechanism into an influential cooperation platform for South-South cooperation, so as to better reflect the common ground and collective will of the developing countries.
那其它发展中国家又如何看待这一倡议?"金砖+"可能会给它们带来哪些机会?就此,《今日中国》特别采访了伊朗、格鲁吉亚、尼泊尔、南苏丹等驻华大使,以及阿根廷和约旦哈西姆王国的驻华公使。
Then how do other developing countries make of the proposal? What opportunities does the BRICS Plus promise to them? To get some insight about these, China Today interviewed ambassadors of Iran, Georgia, Nepal, and South Sudan to China as well as two diplomats from Argentina and the Hashemite Kingdom of Jordan.
Iranian Ambassador to China Ali Asghar Khaji
伊朗驻华大使Ali Asghar Khaji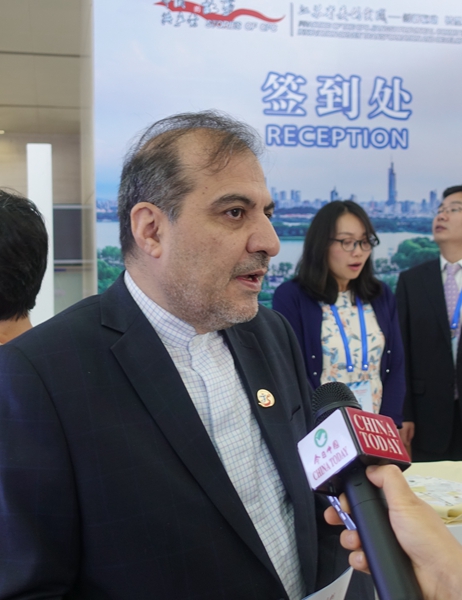 伊朗驻华大使Ali Asghar Khaji-王凯摄
"金砖合作机制从其最初成立开始就代表了发展中国家一种新的合作理念,在国际舞台上在代表发展中国家发声等方面发挥了重要的作用。伊朗政府在中国提出"金砖+"的第一时刻就表示了欢迎和支持。伊朗作为北非和西亚地区重要的发展中国家,也愿意在"一带一路"和"金砖+"的框架下加大与中国的合作。另外我们还希望中国作为发展中国家的龙头,在带动各发展中国家进行经济、安全等方面合作以及社会发展方面发挥更大的作用。"
"Since its founding, the BRICS cooperation mechanism has been representing a new cooperation concept, and played an important role in giving a voice in the international community on behalf of the developing world. The Iranian government showed its support to the BRICS Plus proposal when it was first put forward. As an important developing country in the region of North Africa and West Asia, Iran is poised to strengthen its cooperation with China under the framework of the Belt and Road and the BRICS Plus. In addition, we also hope China as a leading developing country, can play a bigger role in advancing cooperation among developing countries on such aspects as economy, security and social development."
Georgian Ambassador to China David Aptsiauri
格鲁吉亚驻华大使大卫·阿博特斯奥瑞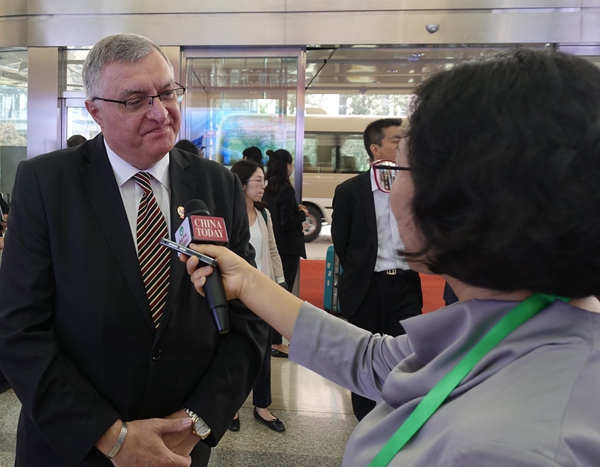 格鲁吉亚驻华大使David Aptsiauri-王凯摄
"我觉得这是工业国之间合作的好模式。他们大都有巨大的资源优势以及巨大的经济发展潜力和好的发展前景。最重要的是金砖国家找到了这样一个可以促进发展并使风险最小化的合作模式。"
"I think it's a quite new model for cooperation of industrial countries and most of them have enormous resources, enormous economic potential and good prospects. Mostly importantly, they find out such a model of cooperation that can make progress and minimize risks. "
Nepal's mbassador to China, Leela Mani Paudyal
尼泊尔驻华大使 Leela Mani Paudyal
"越来越多的发展中国家开始加入金砖这一经济合作平台,以有机会从金砖国家的经济发展中收益。我们可以走着看,我对"金砖+"这个倡议非常乐观。这对尼泊尔这样的国家来说会是一个很好的机会,所以说我们非常乐观。通过这个机制,我们将会给我们的产品找到更多的市场,我们也将受益于金砖国家的发展能力。我们也会有机会来分享他们在技术方面取得的进步。我们的经济也将受益于金砖国家开发的新技术。这对发展中国家来说将会是一个新机会。"
"BRICS, as an economic platform, participating by more and more developing countries to have opportunities to benefit from the economic development of the BRICS countries. Let's see, we're quite optimistic about that. That would be a good opportunity and prospect for countries like Nepal. I said we were quite optimistic. We'll find more market for our products to sell and we'll benefit from the capability that BRICS countries have. We'll see the opportunities to share the technological advancement they've made. So we'll also be able to give our economy the new technology they developed. It would be a new opportunity for countries in the region, particularly developing countries."
South Sudan's Ambassador to China Raphael Nhial Kulang
南苏丹驻华大使 拉弗·库朗
"这个提议非常棒。这可以让很多国家都可以从中学习受益,特别是非洲国家。"
"It's wonderful. It's a very good program. It will make most of countries to learn, particularly African countries."
Vice Ambassador of Argentina to China Gonzalo Sabate
阿根廷驻华公使Gonzalo Sabate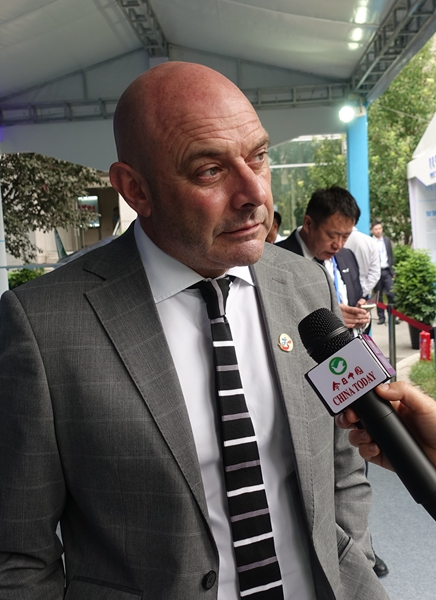 阿根廷驻华公使 Gonzalo Sabate-王凯摄
"对于阿根廷来说,如果可能加入金砖机制,将会是一件非常好的事情。我们是G20成员,明年将主办G20峰会,我们都知道中国举办了去年G20峰会。我们现在的发展阶段,非常适合加入金砖框架下的合作。因为我们不是它的创始成员,所以一直都没有加入到这个机制。"
"For Argentina, it would be a good thing to be in BRICS. We're in the G20. We'll organize (the G20 Summit) next year; China did last year the G20. We're in the level of development to be in the BRICS group. We're not part of it, because we're not the founder of the BRICS."
Minister Counsellor, Embassy of the Hashemite Kingdom of Jordan Hamzeh Al-Omari
约旦哈西姆王国驻华大使馆公使衔参赞 哈姆扎·欧麦利
"我们很高兴听到这样一个提议。你知道,之前我们非常高兴成为"一带一路"倡议的一部分。当然,如果有可能,我们也很高兴被邀请加入"金砖+"。这将会给我们提供很多机会以及可以利用的项目。并且可以在发展等方面,比如人自身的发展、工业发展和环境等,开展合作。"
"Of course, we're happy to hear that. You know, before that, we're happy to be part of the Belt and Road Initiative. Yes, of course, we'll be more than happy to be invited as possible to the BRICS Plus, to see the opportunities, adventures, joint ventures that we can make use of, and the all time cooperation with regard to development, about human development, industrial development and environment, so on and so forth."