By staff reporter JIAO FENG
DESPITE sluggish global economic development, Pakistan achieved outstanding growth in 2016. During its fiscal year July 2015 to June 2016, the country's GDP increased by 4.7 percent over the previous year, the largest increase in the last eight years. Its industrial growth reached 6.8 percent, also the highest in eight years, exceeding its target growth of 6.4 percent. This fiscal year (July 2016 to June 2017), Pakistan's economic growth is expected to top 5 percent, and hit 5.4 percent in 2018.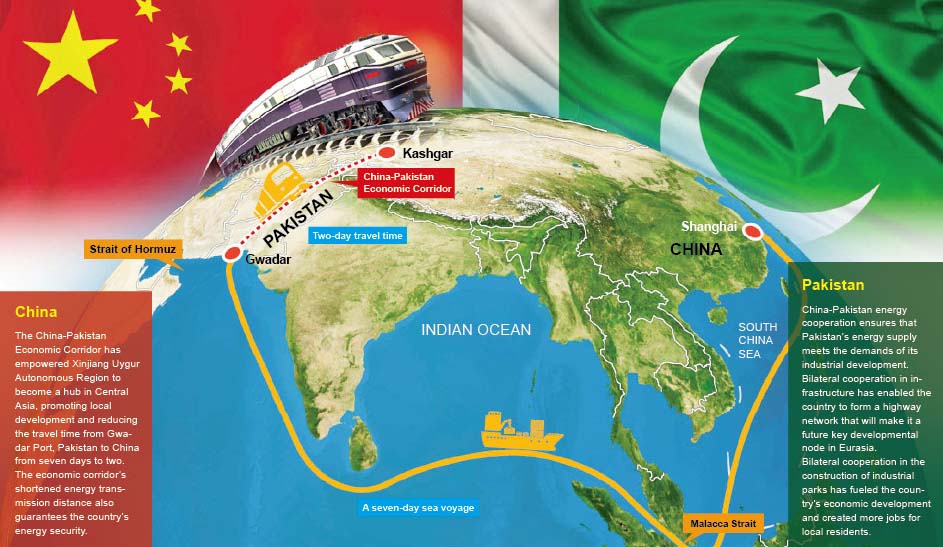 China and Pakistan stand to benefit considerable from the economic corridor that now links them.  
In addition, Pakistan's KSE100 Index increased by more than 45 percent in 2016, rebalancing the historical record and representing the best performance in the Asian market. Morgan Stanley Capital International (MSCI) re-listed the Pakistani stock market as MSCI's emerging market benchmark stock index.
It is clear that the rise of Pakistan's stock market is related to its steady economic growth, which, to a large degree, can be ascribed to the implementation of the Belt and Road Initiative. Former Pakistani Prime Minister Shaukat Aziz repeatedly indicated that the Belt and Road Initiative has brought huge development opportunities to Pakistan, and has become a driving force behind regional development. The IMF also named the investment projects along the China-Pakistan Economic Corridor as one of the three major catalysts for Pakistan's economic development.
Poor Infrastructure Constrains Economic Development
Agriculture constitutes Pakistan's economic foundation; rural residents account for 48 percent of the country's total population. Due to the limited scale of industry and insufficient industrial structure, the country's industrial output is only 24 percent of its total economic output.
Over the past 20 years, Pakistan's economy has maintained overall momentum for growth, but has been constrained by inadequate energy supply and backward infrastructure. The country has been eager to improve the situation.
Take the power system, for example: during the summer, the peak season for electricity consumption, Pakistan used to have a deficit of over 6,000 megawatts. Low electricity capacity meant that nationwide blackouts were frequent. On July 10, 2012, Islamabad suffered an 8-hour power cut. On June 25, 2013, the electricity supply was down for 12-15 hours in major cities, and for 16-18 hours in rural areas. On April 29, 2014, major cities suffered power outages for 10-12 hours, while rural areas were cut off for more than 12 hours.
Poor transportation infrastructure is another bottleneck in Pakistan's economic development. Its railway system has not seen any improvements for a long time. Its highway system is also underdeveloped with poor road conditions and a low road density. Many remote areas remain unconnected to the outside world.
China-Pakistan Economic Corridor
The construction of the China-Pakistan Economic Corridor started in 2013. An important part of the Belt and Road Initiative, it strengthened exchanges and cooperation between China and Pakistan in areas like transportation, energy, and maritime activities, and improved connectivity between the two countries.
The corridor is actually a passageway for trade, involving roads, railways, oil and gas pipelines. There is also an optical cable route, from Kashgar in Xinjiang, China, to Gwadar Port in south Pakistan, which runs to more than 3,000 km and is expected to connect hundreds of millions of people. China and Pakistan have agreed that the construction of Gwadar Port, energy, transportation infrastructure, and industry are key areas to be developed in the economic corridor, promoting connectivity and economic development in Pakistan.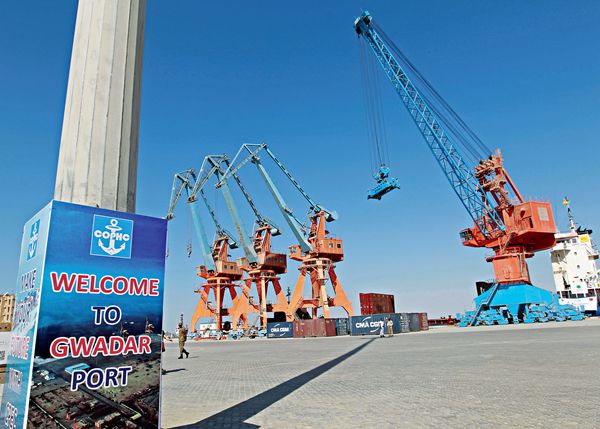 The formal start of operations at Gwadar Port signaled its first large scale loading of export containers.
After the principle behind the economic corridor's construction was agreed on, a range of major projects, including industrial parks and free trade zones, were started in succession, and cooperation was established in multiple areas including infrastructure, energy resources, water conservation in agriculture, and information technology. In 2015, the two countries made over 50 cooperation agreements with a total value of US $46 billion. Problems with transportation, energy, and infrastructure, which have been impeding Pakistan's economic development, have become a particular focus of the Belt and Road Initiative. China is lending its vast experience in these areas to help pave the way forward.
A number of Chinese electric power projects using thermal, hydraulic, wind, solar and nuclear power to generate electricity are either underway or have already been put into operation across Pakistan.
In the area of transportation, the upgraded and extended International Karakoram Highway project has seen the completion of its first phase of construction. An expressway from Karachi to Lahore, an economic artery connecting Pakistan's southern and northern reaches, started construction in May 2016. There are also plans to build Pakistan's first urban railway in Lahore. All these projects will not only improve Pakistan's infrastructure, but will also bring about huge development opportunities for regions along these transport routes.
Gwadar Port: the Future "Shenzhen" of Pakistan
Located in Balochistan, southwestern Pakistan, Gwadar Port is an excellent deepwater port. However, inadequate infrastructure crippled the port's potential. In 2013, a Chinese company acquired the right to operate the port and the port became the southernmost end of the China-Pakistan Economic Corridor.
To improve Gwadar Port's transportation infrastructure, multiple highways to the port and a new international airport have been constructed. Headway has also been made in the creation of a free trade zone in the port. All these projects are creating jobs for local people. Many international companies have established business centers and intend to make Gwadar Port their major trading port. When all these infrastructure projects have been completed, it will be possible to transport cargo from Gwadar to the northern regions of Pakistan on a route 400 km shorter than the existing route.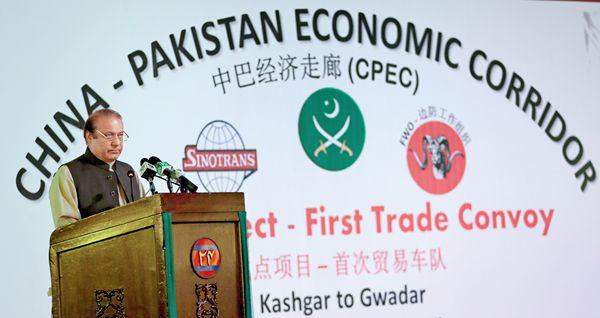 The Prime Minister of Pakistan, Nawaz Sharif, and various high-ranking Pakistani officials gathered at the launch ceremony at Gwadar Port of the first fleet of merchant ships bound for the Middle East and Africa.
In November 2016, Gwadar Port was formally put into operation, and for the first time, the port could export containers on a large scale. Pakistan's Prime Minister Nawaz Sharif presided over the launch ceremony for the maiden voyage. He stressed in his address that because of the China-Pakistan Economic Corridor, Pakistan will become a transport hub in Asia, sharing development and prosperity with people across the world. As a demonstration model for inclusive development, the China-Pakistan Economic Corridor promises to bring more development opportunities to Pakistan's less developed regions and benefit all Pakistani people.
Sajjad H. Baloch, chief-executive of Gwadar regional development bureau, said that by 2050 Gwadar Port will have 80 berths, becoming the largest port in the country. The development bureau has also reserved land for attracting industrial investment. "We hope Gwadar Port will boost the whole country's economic development," he enthused. "We aim to transform Gwadar into China's Shenzhen."