By Ma Mengli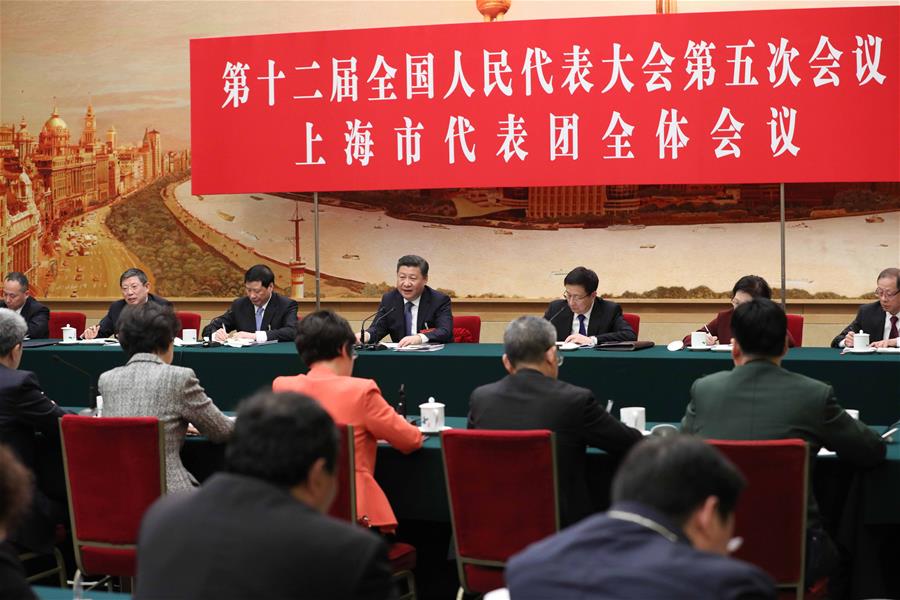 Chinese President Xi Jinping joins a panel discussion with deputies to the 12th National People's Congress (NPC) from Shanghai Municipality at the annual session of the NPC in Beijing, capital of China, March 5, 2017. (Xinhua/Wang Ye) 
Unveiling unprecedented opening-up measures, China is poised to open its door wider to the world amid a growing tide of protectionism and anti-globalization sentiments.
Chinese leaders have told national lawmakers during the major annual political sessions that the country will open up like never before.
This once again manifests China's steadfast determination to stick to its reform and opening-up policy as well as China's confidence and strong sense of responsibility in face of rising global uncertainties.
To Open Door Even Wider
"Opening-up" is one of the most used catch phrases during China's ongoing "two sessions" -- the annual gatherings of the country's top legislature and the political advisory body.
"China's open door will not close," said President Xi Jinping during the annual two sessions, vowing the country will keep on opening up on all fronts, and continue to liberalize and facilitate trade and investment.
Xi's remarks echoed his January speech at the World Economic Forum in Davos, Switzerland, in which the Chinese president said pursuing protectionism is like "locking oneself in a dark room."
Meanwhile, Xi's pledges sent once again clear messages that China has always been ready to carry out win-win cooperation with other countries.
"At a time when isolationism and protectionism are on the rise in the West, China's openness will be the benchmark for continued globalization," said lawmaker Ou Chengzhong.
China's government work report delivered by Premier Li Keqiang during the two sessions pointed the way to improving the strategic blueprint of China's opening up, and set the course toward a deeper and higher level of opening up.
China will push ahead with the Belt and Road Initiative, for example, by accelerating the building of overland economic corridors and maritime cooperation hubs, and deepening international industrial capacity cooperation, according to the report.
China will also make big moves to improve the environment for foreign investors, including making service industries, manufacturing, and mining more open to foreign investment, encouraging foreign-invested firms to be listed and issue bonds in China, and allowing them to take part in national science and technology projects, the report said.
The latest opening-up initiatives demonstrate China's confidence and focus, said Zhang Zhao'an, deputy head of the Shanghai Academy of Social Sciences and a National People's Congress (NPC) deputy.
Marcelo Fernandez, an international relations analyst, said that given its global geopolitical importance, China's increasing openness is positive.
"It is highly positive that China will open itself further to the world. It is something Ecuadorians must learn to promote our development," said Fernandez, who is also a former diplomat.