I paid great attention to the Alibaba program that nurtures entrepreneurs. We must conduct dialogue with African governments, so that they support young entrepreneurs and cultivate e-commerce systems." These are the words of Dr. Mukhissa Kituyi, secretary general of the United Nations Conference on Trade and Development (UNCTAD), who paid a visit to the headquarters of the Alibaba Group on June 28, 2018 to speak with 29 African entrepreneurs, who were receiving training under the "African Entrepreneur Training Program."
The "African Entrepreneur Training Program" is a sub-program started by Alibaba, under the umbrella of the "e-founders" program. Such training has been held twice in November 2017 and March 2018, and nearly 100 overseas entrepreneur trainees have participated in the program to learn from the "Chinese experience" on the digital economy. This time, 29 trainees from 11 African countries received the training. Among them, Taoufik Mousselmal from Algeria and Bright Chiyundu from Zambia stood out as stars of the future.
Alibaba Dream
"I don't want to talk about my past and present, but if you interview me 10 years later, I will be a success just like Jack Ma. Give me 10 years, and I will build my own Alibaba Group," Taoufik Mousselmal, the 30-year-old Algerian entrepreneur said confidently. Mousselmal has already tasted some business success. "I am building e-commerce teams in France and Algeria, and we focus our expertise on home decor, lifestyle, and luxury products. In the past three and a half years, our revenues reached US $3 million annually."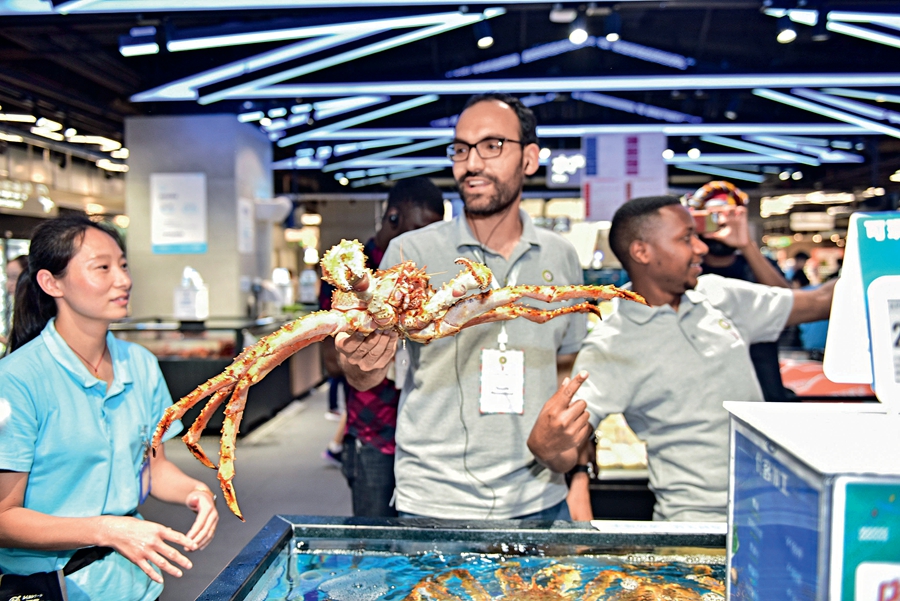 Taoufik Mousselmal interning at Hema Fresh.
In 1988, Mousselmal was born to a French immigrant family, descendants of the Algerian Berbers. In the 1980s, Algeria suffered from political instability and Mousselmal's grandfather led the whole family to immigrate to Paris. There, his grandfather started his own home business. At the best of times, this family business occupied a whole floor in a Paris shopping mall. "I've been helping my family with our business since I was a teen. At 17, I sealed a €5000 order for the business," he said. Maybe it is in the family DNA, but Mousselmal did show great business talent as well as courage at a rather young age.
He gained his bachelor's degree in economics, and also studied subjects on computer sciences. However he later realized that the Internet economy would impact heavily on the global economy, so he decided to pursue a master's degree at the University of Warwick in the UK majoring in innovation and entrepreneurship.
In 2013, Mousselmal successfully finished his postgraduate program only to be met with bad news: his family businesses teetered on the edge of bankruptcy, with over half of their stores forced to close. Mousselma headed back to Paris to help revive the business in 2014.
With his innovation and courage, Mousselmal suggested the family sell their housing products online. "My father is a very traditional businessman; he almost evicted me when he knew about my online selling ideas." Soon enough, the sales on Amazon as well as his own online store saw growth, eventually outselling his father's brick and mortar store. After witnessing this success, Mousselmal's father handed over the reins to the family business to his son.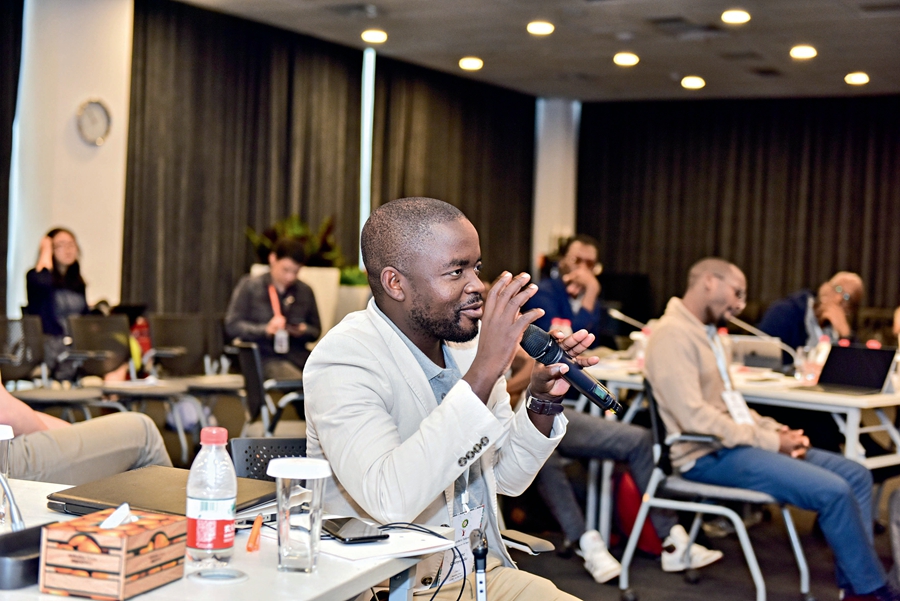 Bright Chiyundu attends the African Entrepreneur Training Program started by Alibaba.
Shortly thereafter, Mousselmal returned to Algiers, the capital of Algeria, and there he built his own team, covering consumer services, e-commerce operations, and e-commerce services. "Algeria has a lower human capital cost than Europe," he explained.
Within three and a half years, his maisonmaligne.com, an e-commerce platform targeting the European market, reached a turnover of US $3 million annually, which is among the top three earners of the 29 visiting African entrepreneurs.
During his two-week training in China, Mousselmal visited Ant Financial, Hema Fresh, Yiwu Industrial and Commercial College, Alibaba Business School and Cainiao intelligent warehouse, picking up valuable experience along the way.
"For every new branch, Hema Fresh will study the consumer's profiles within a 3km radius. If we had used big data for help in the past, my family's stores would not have closed," said Mousselmal. The location of a store is vital and while businesspeople in the past relied on instinct rather than factual data, it is clear to Mousselmal how important understanding and being among the buying power of your customer base is. Mousselmal said, since he returned to Paris, he has witnessed the process of the Chinese goods' entering into the European market. "With so many Chinese manufacturers eager to access European markets, why can't we cooperate with them and help them sell more goods?" This is Mousselmal's new idea inspired by the training session in China.
"If possible, Chinese manufacturers can build factories in Algeria; the geographical advantages and low cost for e-commerce services will become their competitive edge in European markets." In this way Algeria can act as the launch pad of Africa to build its own B2C market force, while assisting Chinese goods' entering into Europe.
Mousselmal's 10-year plan to build a company just like Alibaba in Africa doesn't seem so far-fetched after talking to this determined young entrepreneur.
Alipay Ambitions
In contrast to Mousselmal, Bright Chiyundu had a much more challenging early-life experience. His family was poverty-stricken; he lost his parents when still young, and he was brought up by his classmate's parents. The tough upbringing has made Chiyundu tough and resiliant.
In 2015, Chiyundu started his own e-payment company "BroadPay" in Zambia. He hoped BroadPay can enable the majority of Zambians who do not own bank cards to enjoy online payment services just like Alipay.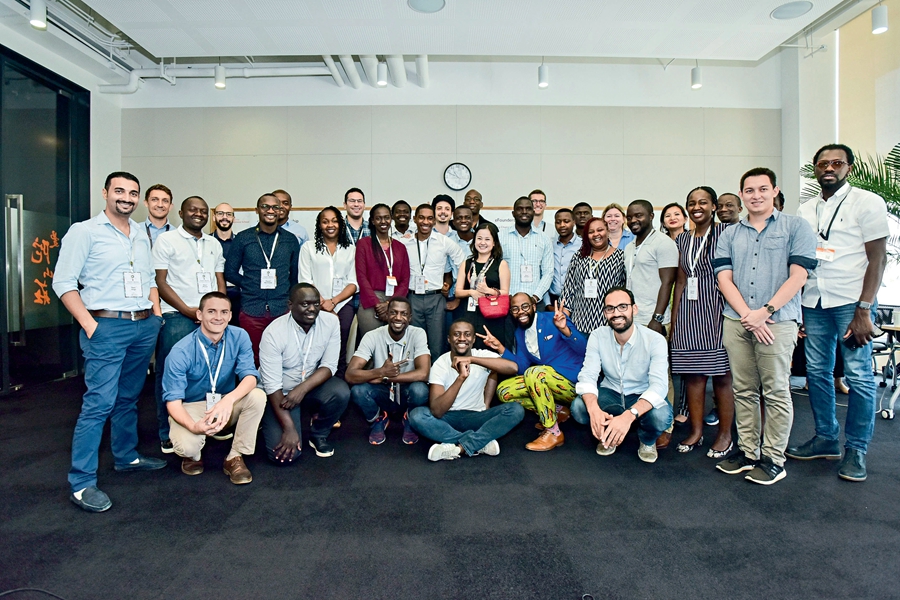 Bright Chiyundu and his classmates pose for a picture after an Alibaba training class.
Paying for goods in Zambia is difficult. "Sixty percent of Zambians do not have bank cards, so cash is still popular. But using cash is less efficient and more insecure; especially when people need to transfer between different cities, cash just can't do that." With this in mind BroadPay was born. Chiyundu said he has worked at Huawei, the famous Chinese company for two separate periods. "When working at Huawei, my Chinese colleagues used an app called Alipay to transfer money to their family and friends back in China." The app piqued his interest. "What surprised me is that in China people actually have gotten rid of their wallets. Wherever they go, they take out their phones, scan the QR code, and payment is done." China's e-payment systems inspired Chiyundu. With his computer programming background, he soon developed BroadPay, which can be used on a smartphone or an ordinary mobile phone. "At first, I just wanted to bring services to those without a bank card. But after I have my app, a new problem propped up: how can people get used to the new way of paying when they are so accustomed to using cash?" Bright found that the rural Zambian grocery stores were the answer. "Owners of grocery stores are familiar with nearby villagers, and know how to sell goods to them," he said. Chiyundu negotiated with these grocery store owners, and granted them a commission after each BroadPay payment.
In this way, Bright made deals with over 2,000 grocery store owners in Zambia; these owners in turn, taught the villagers to use the new app, creating 100,000 transactions via BroadPay.
Bright also managed to cooperate with some Zambian infrastructure companies and other commercial entities, so that Zambians can use their phones to pay their bills. "Now we have about 1,000 institutions admitting payments by BroadPay," said Bright; BroadPay has become the Alipay in Zambia.
"I knew about Taobao and Alipay, but only after I actually sat in the Alibaba office building did I realize behind them is such a huge operation." To Chiyundu, this visit to China has given him a valuable and special opportunity to elevate himself, and such opportunities are not open to every young entrepreneur in Africa.
"I didn't pay much attention to the development of infrastructure like logistics in the past. I always thought they were somehow irrelevant to my business. After learning from the developing path of Alibaba, I came to realize that the maximized success can only be gained with a complete corresponding system as backup. Taobao's success largely depends on the universal use of Alipay."
Now back in Zambia, Chiyundu is sparing no efforts to help build corresponding infrastructures, which in turn will support BroadPay. Meanwhile, he hopes he can have more e-commerce platforms accessed in BroadPay, thus making life more convenient for the Zambian people.