China has been attaching great importance to its relationship with the European continent, which has been evidenced by the first overseas tours made this year by both President Xi Jinping and Premier Li Keqiang. During Xi's state visit to Italy, China and Italy signed a memorandum of understanding (MOU) to advance the construction of the Belt and Road. Thus, Italy became the first G7 member to join the Belt and Road Initiative (BRI).
Days later, on March 27, in Boao of China's island province of Hainan, in the presence of Chinese Premier Li Keqiang and Luxembourgish Prime Minister Xavier Bettel, the West European country signed an MOU on jointly building the Belt and Road with China too. As of then, 26 European countries had joined the BRI.
Recently, France and Germany also gave their positive responses to the initiative. On March 25, while having a talk with visiting Chinese President Xi Jinping, French President Emmanuel Macron indicated that the EU connectivity strategy should be aligned with the BRI. The next day, Chancellor of Germany Angela Merkel, in a talk with President Xi on the sidelines of a global governance forum co-hosted by China and France in Paris, indicated Germany would be represented at the 2nd Belt and Road Forum for International Cooperation. She said Germany would embrace the great opportunities brought by China's new moves in opening-up and also ensure a fair and just market environment for Chinese companies in Germany.
All this seemingly indicates quite positive signals of European countries towards the BRI as they are dropping their former hesitation and suspicions to embrace the grand initiative.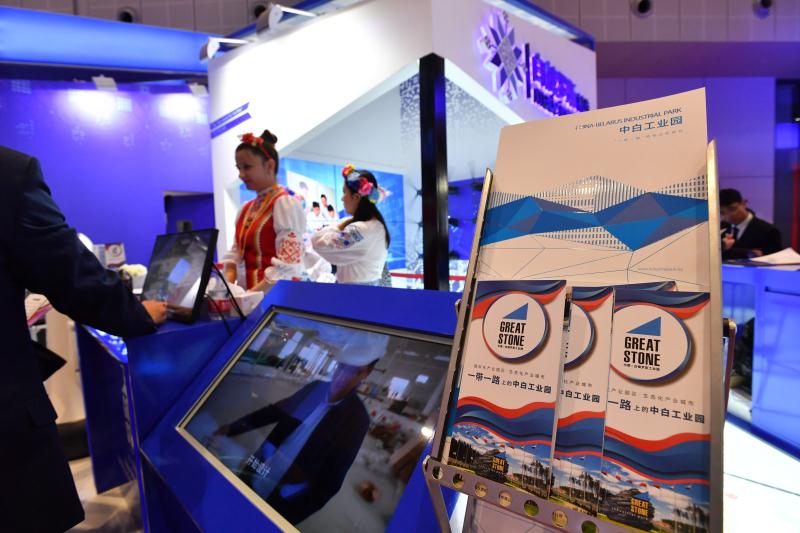 At the First China International Import Expo held in early November 2018, Belarus showcases the plan and construction progress of its industrial park jointly built by itself and China. Photo by Yu Xiangjun
The BRI's Appeal
China has now become the largest trade partner of more than 130 countries. In 2018, China's outbound direct investment was close to US $130 billion, ranking third in the world. Plus with the huge dividend generated by China's 40 years of reform and opening-up, a solid foundation for the China-proposed Belt and Road Initiative is being laid. For many European countries, China is their largest trade partner, too, and also becoming an important investment partner.
As an important trade partner of the Central and Eastern European Countries (CEECs) China has pretty large surplus with these countries. Under the BRI framework, China has signed agreements with the CEECs, promising to increase agricultural product imports from them, to meet diversified demands of the Chinese market and promote the trade balance. While attending the 8th Summit of China and CEECs on April 12 in Dubrovnik of Croatia, Premier Li Keqiang revealed that in 2018, the trade volume of agricultural products between China and the CEECs exceeded US $1.2 billion with wine and dairy products increasing by 37.6 percent and 85.5 percent respectively over 2014. In addition, Li indicated that China would further streamline the inspection and quarantine procedures to further facilitate agricultural product import.
In addition, China's abundant capital and experience in constructing and running large infrastructure projects are all urgently needed by the CEECs. Currently, major projects China has contracted in this region involve many fields such as energy, railway, and sewage treatment. "I'm pleased to see a range of new achievements made in China-CEECs cooperation. Major cooperation projects have made headway including Budapest-Belgrade railway revamp project and Peljesac Bridge project. The direct connection for freight trains from Mannheim of Germany to Chongqing in China was officially put into operation. Chinese citizens have made more than 1.4 million trips to the CEECs and tourists from this part of Europe also paid 350,000 visits to China," Premier Li said at the China-CEEC summit. All these are promoting common development of China and the CEECs. As of the end of 2017, all CEECs had joined the BRI.
In June 2015, Hungary signed the cooperation agreement with China on jointly building the Belt and Road, the first of European countries to do so. In a recent interview with CCTV, Hungarian sinologist Dr. Salát Gergely indicated that Hungary is in dire need of better infrastructure. "If you have ridden the train in Hungary, you'll find how excellent Chinese-constructed railways and trains are. They are faster and more punctual," Gergely said. He noted that around 10,000 jobs have been created by Chinese companies in his country. In his eyes, this is just the beginning.
The Belt and Road is bringing tangible development opportunities to European countries. Since the financial crisis, some major Western countries have seen sluggish economic growth. In recent years, in order to offset the impact of the European debt crisis, the European Central Bank introduced the quantitative easing policy, resulting in the continuous depreciation of the euro. In order to upgrade the competitiveness of the European economy, the European Commission proposed a €351-billion strategic infrastructure investment plan -- the Juncker Plan, which is brought in alignment with the BRI to promote connectivity between Europe and Asia, further extending the European market and boosting European economy.
In August 2018, Greece signed an MOU with China on cooperation under the BRI framework, the first West European country to do so. When Greece was in the mire of debt crisis, China not only gave it firm political support but also offered mutually beneficial economic and trade cooperation projects, which won China the trust of the Greek government and people. Today, although Greece is bidding farewell to its hard days, its economic aggregate has not recovered to the pre-crisis level, its debt burden is still huge, and the sustainable development still faces enormous challenges. Therefore, Greece is eager to get development opportunities from the joint building of the Belt and Road. By doing this, Greece can take advantage of its own strengths and build itself into an important global trade, energy, and transportation center.
Italy's joining of the BRI in March, has generated a positive demonstrative effect on other Western European countries. While meeting with visiting Chinese President Xi Jinping in March, Italian Prime Minister Giuseppe Conte pointed out that Italy has a special geographical advantage in regional connectivity, and is very happy to seize the historic opportunity to participate in the construction of the Belt and Road, and fully tap the potential of China-Italy cooperation.
Former President of the European Commission and former Italian Prime Minister Romano Prodi said that when people talk about European ports along the Belt and Road, they would mention Rotterdam in the Netherlands or Piraeus in Greece, but ports in Italy are the closest to China. He further indicated that if Italy can develop infrastructure together with China, it would be in the common interest of both countries. For Italian companies, the construction and revamp of large infrastructure projects will be an invaluable development opportunity.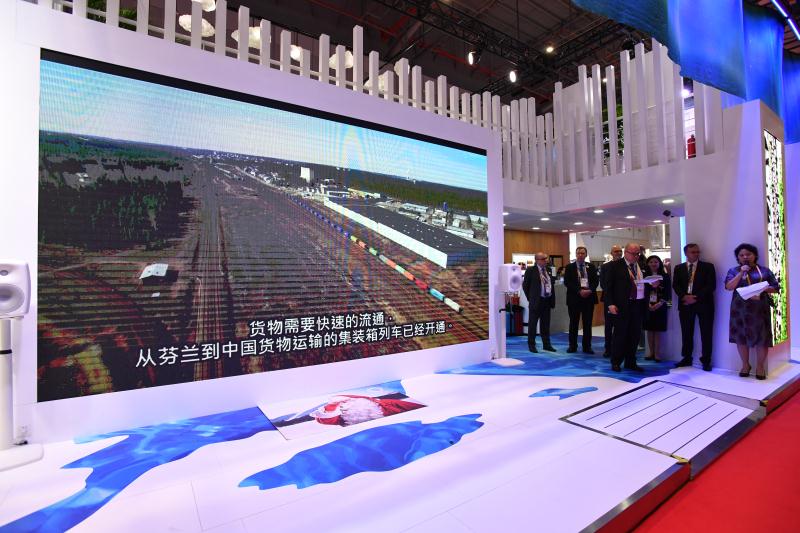 At the First China International Import Expo held in early November 2018, the Finland Pavilion holds a ceremony celebrating the formal operation of a train line which directly connects Finland with China. Photo by Yu Xiangjun
European Business World: All Set
When the BRI was first proposed, many European countries were quite skeptical with some even worrying about China's infiltration to their continent. In fact, before the views changed in the political sphere, European companies had rolled up their sleeves to work on the projects under the BRI framework.
On March 3, 2018, the German Chamber of Commerce and Industry (DIHK) announced an event organized by its subordinate chamber of commerce, aiming to help German companies to better understand the business opportunities brought by the BRI projects. Volker Treier, foreign trade chief at the DIHK, said, "It is a good thing for German firms to be involved in the BRI projects as early as possible because they are really appealing." He indicated, as 10 years later, 90 percent of the world's economic growth will be achieved outside Europe. Then, it would be good for the global business world to focus on developing those interconnected new markets in the medium to long term.
Chairman of the German Trade and Investment Association Jürgen Friedrich also endorses the view about the business opportunities presented by BRI projects. He believes that there are more opportunities in projects financed by Asian Infrastructure Investment Bank (AIIB) because the bidding process is highly transparent. Germany is one of the AIIB shareholders. He indicated that BRI projects are not only attractive to German multinationals which have already established themselves in China, but some small and medium-sized enterprises with a high level of professionalism can also benefit from it. A survey of 2,500 German companies in China by German Chamber of Commerce in China showed that about 35 percent of the companies polled believe they will benefit from BRI projects.
The French company Schneider Electric was one of the first French transportation corporations to enter the Chinese market in the 1980s. Its vice president Pierre Tabari indicated that the BRI is a very pioneering initiative proposed by China and a great platform to promote global economic and trade cooperation. He said that targeting some BRI projects Schneider Electric already set up professional teams to be better involved in the grand initiative. Tabari is quite proud of his company's visionary development strategy.
In addition, some European banks are also optimistic about the huge business potential brought by the worldwide large-scale BRI infrastructure projects. They are already making moves.
It was reported that Standard Chartered highlighted the bank's strong position in the BRI-related business when it reported its annual results in 2018. It constitutes a key part of the bank's revenue growth program, with the goal of achieving a return on equity of more than 10 percent.
Standard Chartered listed its 20 financing transactions related to the BRI during the past four years. These financing businesses involve a US $515-million financing project for a power plant in Zambia, a US $200-million project loan for a power plant built in Bangladesh by a Chinese consortium, and a US $42-million export credit for a natural gas terminal in Sri Lanka.
All of this fully shows the riveting attraction of the Belt and Road Initiative to European companies. Enterprises are the main force in the construction of the Belt and Road, and they follow the direction of the market. European companies' active participation in and support to the BRI will undoubtedly have a huge impact on the policy direction of their governments.